Countries have laws, games have rules. Anytime people come together to build something great, it's essential to put down a written framework for how we expect each other to behave. At a company, this framework is your code of conduct — a guideline for ethical responsibilities and behavioral expectations across the business.
People do their best work when they know what's expected of them — that's true not only of day-to-day work responsibilities but also of the high behavioral standards for doing business ethically and transparently. That's why it's crucial not only to have a code of conduct, but to make sure your employees know what's in it and how to adhere to it. Luckily, there's a training for that. (Ours. 😉)

What is a code of conduct?
First, let's talk about what this important document is: in short, standards, rules, and guidelines that establish acceptable behavior within the workplace.
A code of conduct, also sometimes referred to as a code of ethics, lays down the standards for workplace conduct and sets expectations for employee behavior. This is much more than a dry list of do's and don'ts: these behavioral standards are how a company's principles and values translate into everyday action.
A robust code of conduct in business covers everything from ethical behavior with coworkers to complying with applicable regulatory law.
A code of conduct typically includes guidance and expectations for topics like:
Harassment
Diversity, equity, and inclusion
Privacy and confidential information
Gifts, travel, and entertainment
Intellectual property
Workplace health and safety
… and plenty more. If there's an ethical or legal standard your company upholds in its business philosophy and day-to-day dealings, it has a place in your code of conduct.
But if a company has a code of conduct policy on paper and that paper never gets read, can it really make an impact? Great question! We make it our business to understand what effective code of conduct training looks like.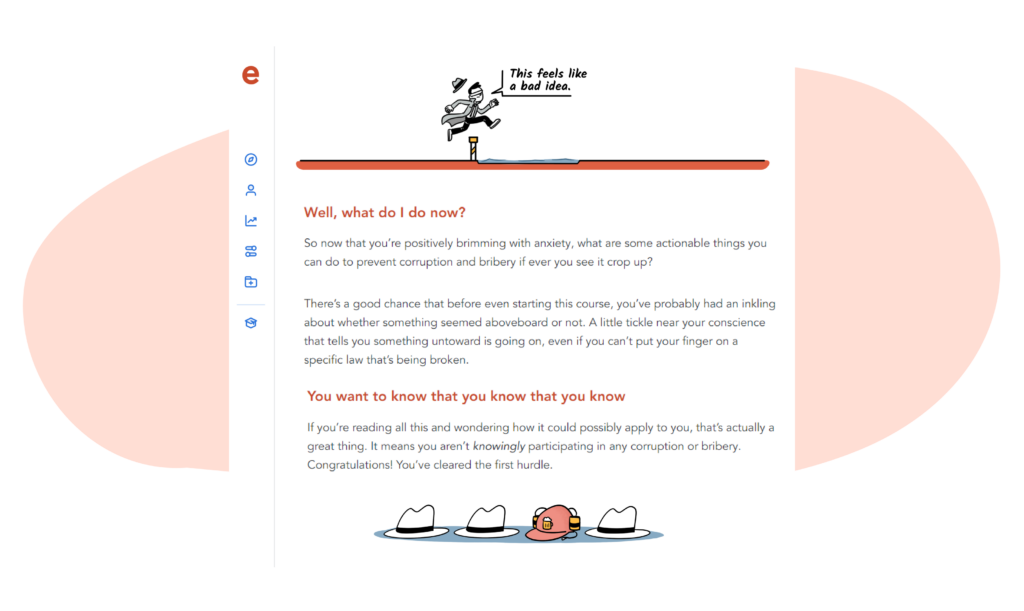 What is code of conduct training?
When such a wide swath of topics meets the high stakes of compliance, it's not enough to ask employees to read over your code of conduct policy once during their onboarding, sign an attestation, and expect it all to stay top-of-mind.
Code of conduct training lifts these important ideas off the page and presents them as discrete but interconnected pieces of a learning journey, diving into what code of conduct challenges might look like in an employee's real day-to-day.
Why does code of conduct in business matter?
The essence of any successful company's relationship with its customers is trust, but that trust can't be demanded — it's something you have to earn. Earning (and keeping!) the trust of employees, customers, and business partners alike is a matter of making clear your principles and demonstrating them in your actions.
And implementing an effective code of conduct in business lies at the heart of this concept. It sets the guidelines on:
How you establish transparency and accountability on how you're going to behave
How you expect your employees to behave
And how you plan on meeting your own high standards
Establishing a code of conduct shows that your values aren't just buzzwords on a splash page, but principles that really guide how you work. A code of conduct shows your employees how to do business in an ethical and responsible manner, and sharing these standards with the public demonstrates that you're ready to clear the bar you've set for your company.
3 reasons you need a code of conduct at your tech company
If you work at a company with customers, employees, or both (and by our calculations, this is just about every company that exists), then having a code of conduct in place — and making sure your employees know what's in it — is business-critical. Here are a few reasons why.
1. It demonstrates commitment from leadership.
Here at Ethena, we believe in tone at the top: a strong commitment from leadership in both words and actions that lets employees and customers know just what kind of company we are. At your business, a robust code of conduct can let people know that:
Your leadership takes ethical behavior seriously
Thinks through the best ways to achieve it
And commits to holding everyone accountable equally
Because employees look to leadership to represent the company's core values, ethics, and morals, this tone at the top can funnel down and set the example for behavior across the organization.
2. It educates employees on what's expected.
Don't do anything unethical, don't do anything harmful, and most of all, don't break any laws! Strongly worded and wide-ranging in scope — but as a code of conduct, this doesn't cut it.
Why? Because it doesn't actually explain what employees need to do or not do. The ins and outs of ethical and lawful business are manifold, so your employees need to have expectations clearly stated in a format they can understand and refer back to. (Spoiler: Our Code of Conduct is configurable. Meaning you can swap in and out whatever you'd like, send sections of it out as "refreshers" to your employees, and of course, it's designed in our typical, engaging fashion.)
Your code of conduct is an opportunity to sculpt the culture and values for your business, with a rigorous standard for behavior and professionalism that allows the company's values and principles to come to life.

3. It builds trust with consumers and partners.
Ever heard the dictum "Show, don't tell"? It's all good and well to tell your customers and your partners that you hold your employees to high standards, but a code of conduct is how they can see for themselves that your employees adhere to a clear and well-articulated set of instructions on everything from shared ethical principles to areas of regulatory risk.
Your code of conduct keeps your company and your employees accountable to each other, and your customers apprised of what that accountability entails.
4 shortcuts to do code of conduct training the easy way
If you've got a workforce, we've got a code of conduct training that will equip them to work ethically and in accordance with the law. So what makes Ethena's code of conduct training rise to the top? We thought you'd never ask.
1. Seamless admin experience
Isn't it always so effortless to get used to life becoming easier? Ethena's seamless admin experience will make you wonder how you ever administered training so very manually; our platform offers scheduling flexibility and integrations to meet you and your workforce where you're at, saving time at every step.
2. Employee time well spent
Gone are the days of a long, lawyerly PDF and a single attestation with no way to ensure core learnings are getting through. Ethena's platform takes learners on an intuitive journey through the essential topics of a code of conduct, and automatically saves their progress along the way so employees can pause and resume training when it works for them.
3. Content that speaks to commitment
Our content is engagingly written, factual, and values-driven, and demonstrates that your company doesn't think compliance is a snooze. We cover all the topics a code of conduct should, from the interpersonal to the regulatory, with relatable scenarios that locate workplace behavioral expectations in your employees' real working world. (And hey, we even threw in some finger puppets. You're welcome.)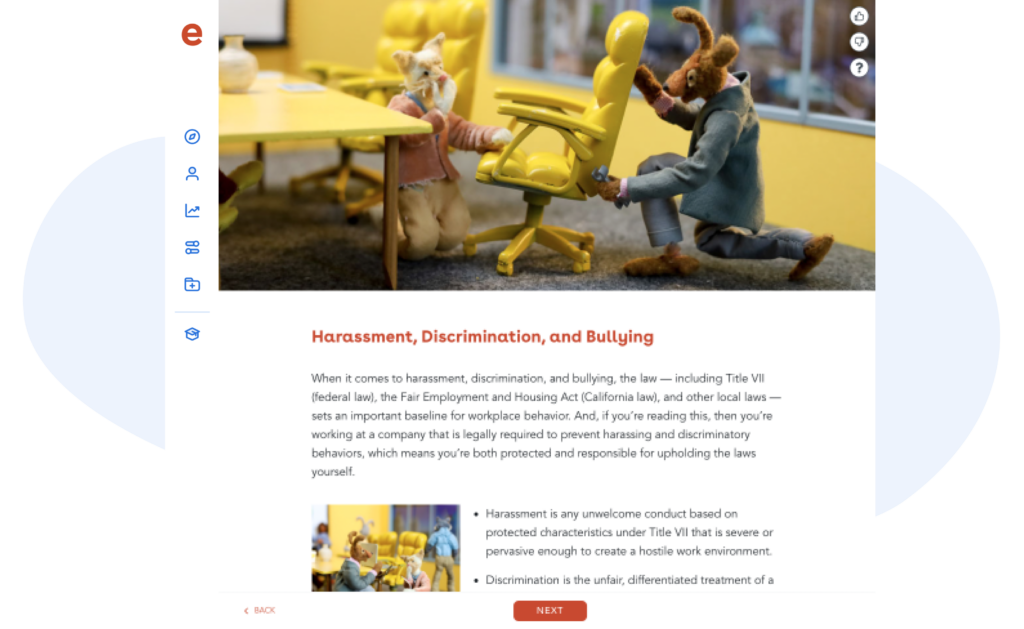 4. Rave reviews
Ethena has over one million positive reviews, is a G2 leader, and offers other high-impact courses that learners love, like our flagship Harassment Prevention course and Diversity, Equity, and Inclusion.
Get an effective code of conduct today
Code of conduct training is how you take your company standards from an uncracked rulebook to a living framework for business ethics that your employees can actually use. Companies like Airbnb, Unity, and Palantir have already built that framework with support from tools like Ethena's Code of Conduct training — so is it your turn?
Talk to an Ethena team member today, and let's build.