If a tree falls in the woods, does it make a sound?
How about this – if your company has a written Code of Conduct, but has ineffective – or nonexistent – code of conduct training, do employees actually remember it?
While the first question has had philosophy majors scratching their heads for hundreds of years, the second one is pretty simple – the answer is no, and it could be a serious – and costly – problem for your organization.
What is Code of Conduct training?
Let's first start with what a Code of Conduct is. A company's Code of Conduct is a policy that outlines the principles that all employees and contractors must follow. Depending on your industry, Code of Conduct topics could include ethics, safety, harassment, data protection, and financial crimes.
Employees typically have to sign a document stating that they have read the Code of Conduct policy and agree to abide by its provisions. Depending on the policy and the industry, some companies and government entities require Code of Conduct HR compliance training. As an example, employees working at a financial services company are typically required to take some form of anti-money laundering training.
Even if it isn't required, Code of Conduct training for employees is increasingly becoming standard practice – public companies, private companies, and even early-stage startups are developing Codes of Conduct and developing code of business conduct and ethics training to ensure their teams are on the same page about behavioral expectations.
The cost of ineffective Code of Conduct training
While Codes of Conduct have become more common and encompass a wider range of issues, leadership, legal, compliance, and HR teams are grappling with how to ensure that these codes get woven into the company's culture – that they aren't just words on a page that is signed once a year and then forgotten. They are also exploring how to effectively train employees so they truly understand and follow the codes.
The stakes for not integrating your codes into your culture have never been higher. The Equal Employment Opportunity Commission filed 93 lawsuits alleging discrimination in the year 2020 alone, collecting $106 million in fines.
But that's peanuts compared to other high-profile lawsuits brought about by employees not following a code of conduct:
A recent scandal in the headlines involved an organization agreeing to pay $380 million to victims of internal sexual harassment
An insurance provider was ordered to pay $2.67 billion – you read that right – due to anti-trust violations
An investment banking firm had to pay $46 million to settle a lawsuit alleging discrimination towards women in the workplace
A former executive at a franchise chain was ordered to pay $1.92 million in civil penalties due to insider trading violations
Compliance issues aren't just a financial problem. Organizations that don't live by their codes experience higher turnover as good employees leave for better work environments. Gallup estimates that high turnover costs businesses $1 trillion – that's with a T – each year.
In today's tight job market, we are all trying to retain good employees and recruit good talent. You don't want your organization to be in the news for any code of conduct violation.
Code of Conduct training that works
So, how do you make your codes part of your culture?
You offer code of conduct training that is informative, engaging, relevant, easily digestible, and delivered where your employees are – making it super easy for them to complete. Also, it really helps if your training isn't cringy. Employees tend to tune out training that feels like it is being conducted just to check a box. Compliance training needs to be enjoyable.
Additionally, check out what qualifies as a Best-in-Class compliance training provider. Download the report below: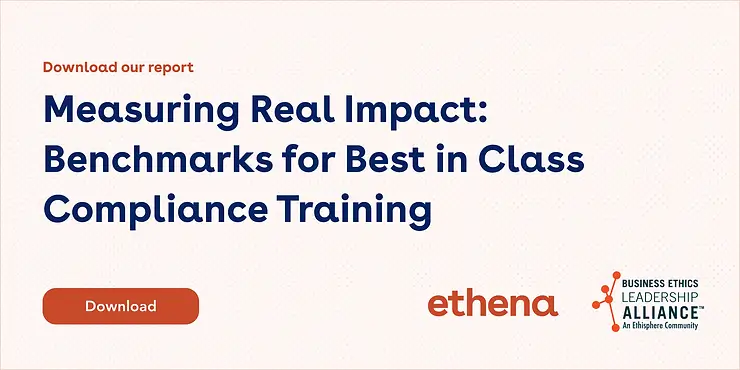 Enter Ethena
Founded by two women – a combat military veteran and a former software engineer – Ethena is changing the compliance training paradigm. With over 1 million positive reviews since its founding from learners who have tried the platform, Ethena provides a Code of Conduct training that focuses on well-timed, quality content that can be reinforced throughout the year.
Ethena offers a catalog of 25 short, engaging micro-lessons (2-5 minutes each) on topics ranging from conflicts of interest to HIPAA to Anti-bribery & Corruption training. There is also the option to build a Code of Conduct training that matches your company's specific needs, values, and corporate culture. Topics include:
Reporting
Safety
Harassment & Diversity, Equity, and Inclusion (DEI)
Fair Competition
Ethics
Financial Crimes
Company & Data Protection
Political Activities & Working with the Government
Ethena's platform delivers training where your employees spend their time (e.g. Slack, email, Microsoft Teams, etc.), avoiding disruptions in work schedules. Training on important policies and procedures can also be delivered during moments that matter. For example, a company can deliver its "Gifts and Entertainment" training nudge before the holiday season for maximum impact and retention.
With this approach, employees taking Ethena's Code of Conduct training retain important lessons and can apply them to their everyday work life.
Code of Conduct training example
Ready for a Code of Conduct training test drive? Request a sample of our Diversity, Equity, and Inclusion training: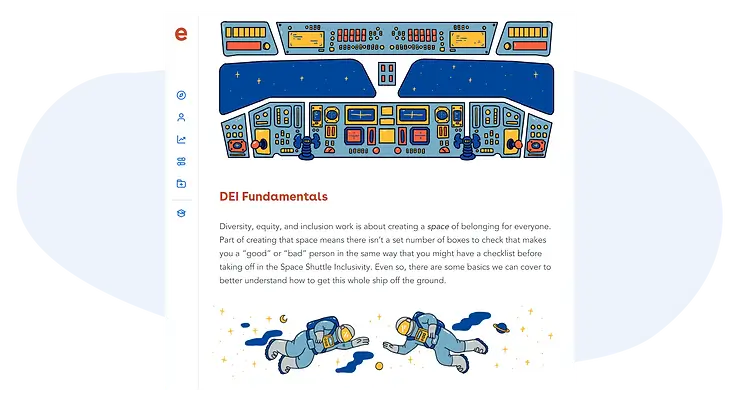 The lesson starts with a clear explanation of the topic to be covered – in this case diversity, equity, and inclusion.
The content clearly explains the employee's role in supporting a culture that encompasses DEI. On the sidebar, participants can see their progress in the course.
Finally, each micro-lesson ends with a few questions to ensure employees walk away with an understanding of the subject.
Some of these features vary for customers, but when you talk with our team, you'll learn about all of our configurability options. For example, you could potentially configure each course to stay true to your branding. Or incorporate customized content including policies and your own – Code of Conduct. You could also add in personal messages from leadership and other branded messaging. A configurable attestation notice can also be included to meet any compliance tracking requirements.
Tone at the top
Bad Code of Conduct training is a reflection of your organization's leadership and sends a clear message about the "tone at the top," a term used to describe an organization's guiding values and ethical climate. Leaders that ignore Code of Conduct training are sending a message that these policies don't really matter.
But they absolutely do matter.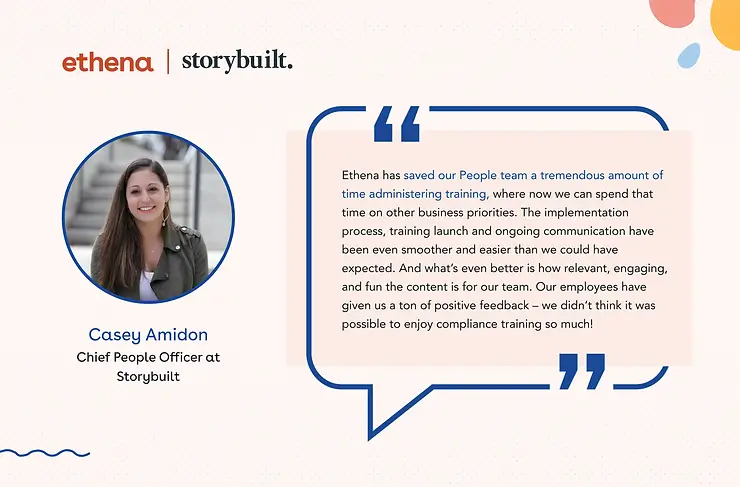 Ethena's mission is to build ethical and inclusive teams and workplaces. With effective training, you can actually move the needle for your workplace. As a set it and forget it solution, we make compliance training easy.
Let's build a better workplace. Check out more courses from Ethena – just tell us where to send the demo. Or if you'd like to see compliance training in action, request a sample today to see it for yourself.