At Ethena, we make cringe-free content that learners actually look forward to doing. Why? Because if employees are engaged in their training, they're much more likely to learn from it. In fact, as this Gallup study shows, only training that employees find excellent leads to learning.
As an organization whose values are rooted in feedback, we monitor our customer feedback channels closely. And today, we're so excited to announce that our customer satisfaction metrics have officially hit 1 million in positive ratings!
You heard that right. We've just collected over 1 million pieces of — not just feedback — but positive feedback from over 75,000 learners who train on Ethena's platform! But what does that mean for you?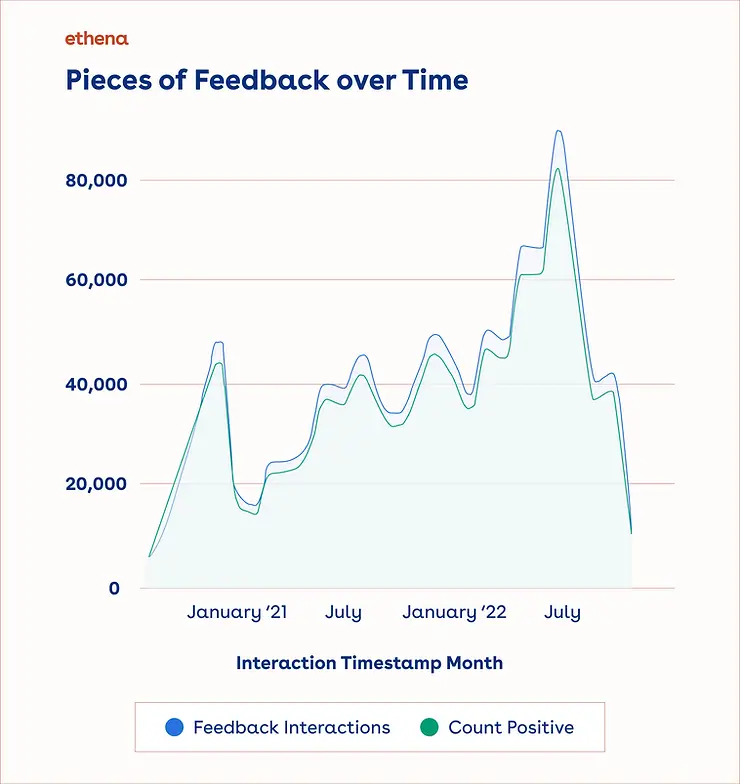 A Deep-Dive Into Our Customer Feedback Metrics
As a company focused on providing high-quality, engaging training for today's HR and compliance teams, we've always been big fans of feedback. (How else will we know if our training is actually changing behaviors? But we digress.)
Here are some more statistics if you enjoy data, insights, and those sorts of things:
We received 92% of positive ratings (that's 1,010,146 positive ratings out of 1,099,334 total ratings)????
76% of our active learners gave us feedback as they trained (which is well-above the 25% benchmark of feedback response rates)
Thanks to more than 146,000 hours of training behind Ethena's learners, we've had many opportunities to make improvements to our training content and the user experience
Learners have taken our training in 98 different countries
Learners come from an array of 262 companies (and counting!)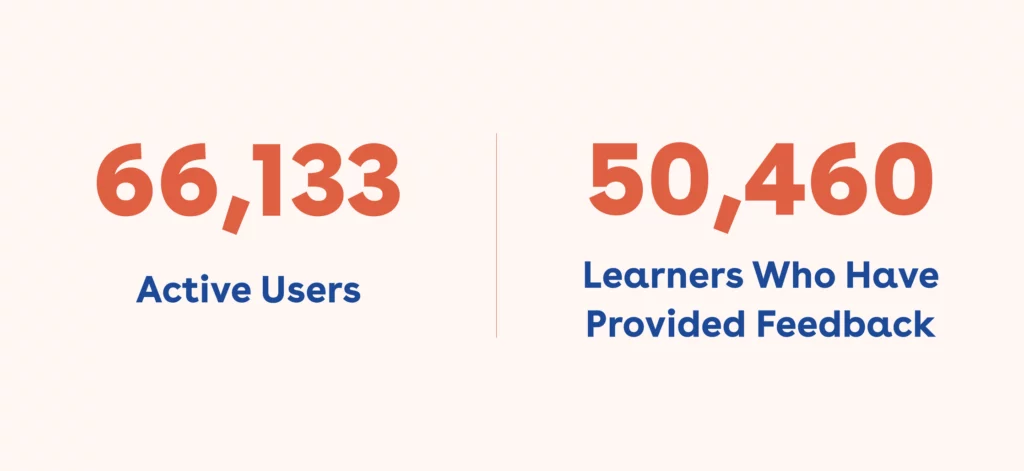 How We've Used Customer Satisfaction Metrics to Shape Our Content
Feedback from our learners and admins has continually shaped our product since we began in 2019, allowing us to create the best training content out there — from audio nudges, to graphic novels, to short videos! Not to mention we've expanded our course catalog from Harassment Prevention to four additional courses, including Anti-Bribery & Corruption, Hiring & Interviewing, Code of Conduct, and Diversity, Equity & Inclusion.
Each course we've added to our library (and there are more to come) demonstrate the kind of content our admins are asking for and that our learners love. Even research shows that learners need to like the training in order to learn from it, change their behavior, and be more prepared to address problems when they arise.
Thanks to feedback from our users, Ethena's training platform:
Is one of the easiest to access
Is one of the most modern at delivering in several content mediums (ie video, graphic novels, and more)
Offers a flexible training schedule that makes training convenient for teams and individual learners
What Happy Customers Have to Say
So having happy learners is great. And 1 million positive ratings sounds nice. But how does that help your organization? Take a look at two customer snapshots to see what this milestone could mean for you.
One of our happy customers, Tegus, had great results when they incorporated Ethena for their diversity, equity, and inclusion (DEI) efforts. Of their 448 enrolled employees:
92% of them rated Ethena positively
85% of them completed their trainings within 90 days
And that means they 100% moved the needle on showing their workforce that DEI initiatives were important to their workplace culture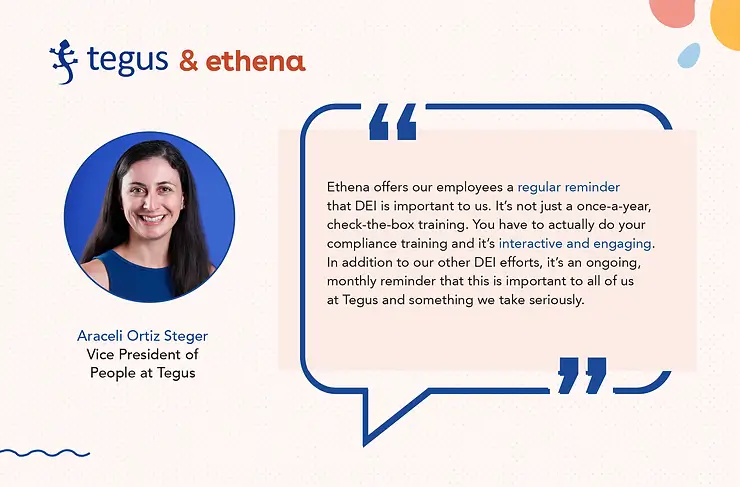 Another happy customer, Sydney-based Deputy, needed to find compliance partners that could support a new and growing team of employees who would be onboarding from around the world.
"I needed something more user friendly, admin friendly, and easier to manage. Something that could ideally be compliance on autopilot," said Global Director of People, Kaisi Guo. After implementing Ethena, Kaisi saw:
86% of employees rated Ethena positively
91% of employees completed their trainings within 90 days
They grew employee overall engagement from 65% to 82%
They were able to quickly onboard employees within different countries
"The platform is very user-friendly to navigate for our learners," Kaisi said, when asked about the user experience with Ethena. "And for our admins, the best part about Ethena is being able to set it and forget it."
Enhance Your Workplace with a Better Learning Suite
At Ethena, we're continuing to build training for your learning suite so that it meets the high standards of solving challenges for today's workplace. By arming you with a learning suite of current topics, or with the flexibility to take your onboarding global, we help you build a compliant, ethical, and inclusive workplace, wherever your learners may be. Dive into our features to learn our capabilities and how we can help you.
As we grow, we're committed to learning about what makes the greatest positive impact for our users. Reaching 1 million individual pieces of positive feedback is a major milestone, and we're already looking forward to enhancing our training content, platform, and resources to get us to the 2 million and 3 million marks and beyond! So thanks for the feedback, and keep 'em coming.
---
We pride ourselves in making cringe-free compliance training that actually changes behaviors. Don't believe us? Just watch. (But seriously, watch a sample training and see for yourself.)
If you'd like to learn more about implementing compliance training for modern day scenarios, let's talk to see if Ethena is right for your company.