People are at the heart of human resources. But how do HR generalists, People managers, and other similar roles stay focused on their people? These days, HR professionals are now tasked with addressing societal issues that face employees and providing organizational change from within – on top of payroll, benefits administration, complaints, and orchestrating employee activities.
While modern tech can streamline HR programs, not many can help an HR leader with moving the needle to embrace a more inclusive and ethical workforce. For this, HR training software is an invaluable and useful tool for HR leaders to keep track of compliance, training and retention, and employee sentiment, just to name a few.
What HR training software is out there?
Whether you are a small HR department juggling several responsibilities, or you're exploring moving some (or all) of your in-person trainings to virtual, we've compiled a list of some of the most popular HR software for you to consider:
How HR training management software works
Incorporating any of the above HR training software can relieve some of the administrative burden of everyday tasks.
But additionally, it should be designed to not only reduce administrative work, but to free up both HR leaders and employees from hours of painstaking, virtual or in-person training sessions. The best HR training software should help People leaders educate workers on company policies, allow them to track the effectiveness of the training, and automate most follow up work or compliance check ins in just a few clicks.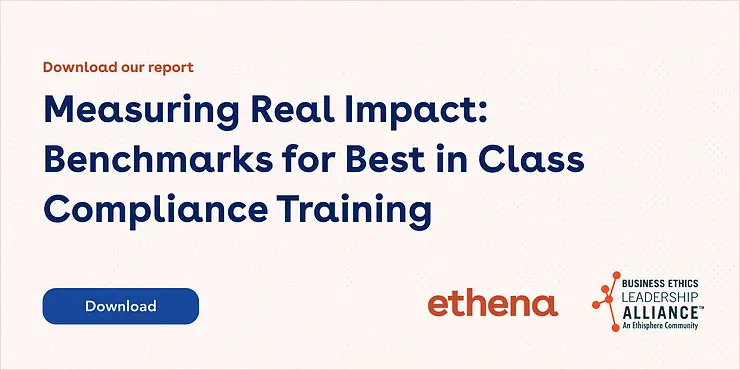 Done right, HR training platforms can impact culture
Let's take a deep dive into Ethena and why it works.
With powerful compliance training tools and engaging content, Ethena's training is helping employees navigate tricky situations, solve problems, and view human resources as a helpful, trusted partner. Gone are the days of staged and cringey scenarios in HR training sessions. You know, the trainings that end with grumbling employees saying, "that would never happen!"
Ethena training courses are different. They are produced by award-winning and experienced educators and in counsel with legal firms to make sure they check the boxes for compliance purposes. They are not only relevant to today's workers and the issues they face, but are also compelling and thoughtful. They even include topics that deal with situations arising from remote workforces, discussing politics in the workplace, and more.
Ethena utilizes dynamic content to bring difficult concepts to life so learners can engage in new ways. But there is more to just creating modern content.
At the core of Ethena's features is a commitment to provide HR training that pushes a company forward and creates compassion amongst the staff. It empowers employees to lead by example and model good behavior. That training extends beyond the workplace and creates understanding within their community.
Good HR software training courses can create real change
HR training software needs good training courses. Yes, the software is all about streamlining work for HR managers, creating great content, and affecting real change. But at its core, the content itself requires excellent HR software training courses to back it up.
Ethena has developed an array of HR software training courses designed to impact and change workplace behaviors. in-depth code of conduct training courses that will guide employees to make proper decisions in the workplace. It will help employees improve how they interact with their colleagues and customers.
The courses tackle some of the biggest issues facing the modern workforce including, but not limited to: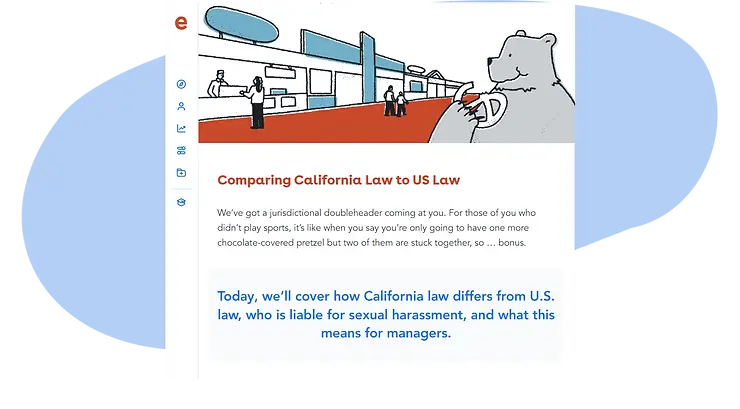 Ethena's Harassment Prevention training course covers all federal and state legal regulations for compliance, and includes modern, relatable scenarios on topics that help employees actually deal with challenges like sexual harassment.
Topics: Intersectionality, Bystander Intervention, Online Harassment, Women's Equal Pay Day, Allyship at Work, Bias, Pregnancy, and so much more.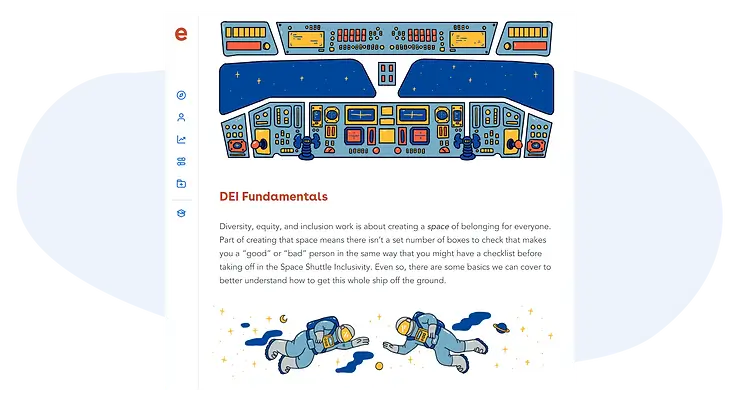 This DEI course helps learners understand, support, and celebrate coworkers with rising identities through compassion and intersectional awareness. The courses include real-life training examples with media-rich content.
Topics: DEI training and best practices, identity, microaggressions, and more.
Did you know? Companies that prioritize DEI efforts are predicted to do better and attract and retain top talent.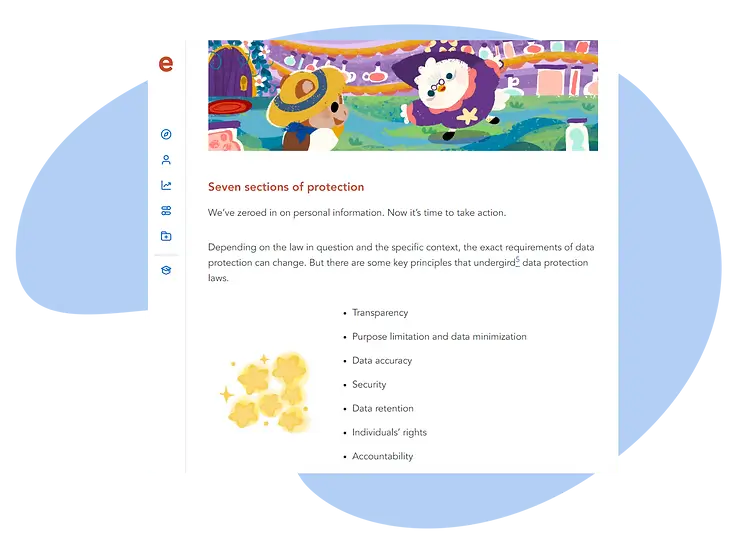 This Data Protection course covers the basics of data privacy and data security. It gives learners the tools to identify and prevent risks when handling sensitive personal information.
Topics: Privacy Basics, HIPAA, Phishing, Data Protection & Marketing, and more.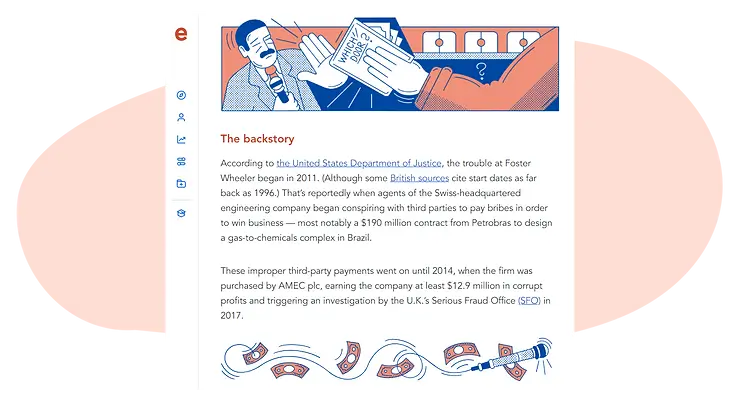 Ethena's Anti-Bribery and Corruption course gives learners a foundational understanding of the legal do's and don't's of the workplace in an easy-to-understand format. Translation? No legal jargon!
Topics: Hiring and Bribery, Booking and Internal Accounting, Political Activities & Donations, Social Media Communications, Retaliation, and more.
Looking for HR training software for your company?
We hope this roundup of various HR training software was helpful for you. If you're curious, but still indecisive, we should talk. Ethena might be the very HR training software that's right for you.
Saves time on paperwork so you can focus on people work. Ethena training integrates with several leading HRIS platforms. Your learners can complete courses when it's convenient for them, on a computer or on their phone. Ethena can also send notifications and training reminders through email and Slack. Plus, it can provide conclusive, real-time data on compliance, allowing you to truly "set it and forget it" when it comes to HR training software benefits. Ethena has been proven to save HR leaders approximately 145 hours/year from manual, compliance paperwork.
Employee-friendly training that equips and sticks. The beauty of Ethena is its commitment to quality content, and it shows. With over 1 million ratings gathered from learners, and over 92% positive ratings, it's just getting started. Thanks to its in-house content team with producers, story writers, illustrators, and more, it even produces trainings that meet Web Content Accessibility Guidelines (WCAG) to accommodate all types of learners. With effective training, HR managers can move the needle for their workplace toward an inclusive and ethical work environment.
Bring company values to life. Ethena provides HR training for the modern workplace. It's designed to help People teams and leadership show employees, customers, and the public what values the company cares about most. Assigning effective DEI training, for example, shows ethics and inclusion is a key business priority. But assigning Code of Conduct training also shows what kind of workplace behaviors are acceptable, and unacceptable, in your work environment.
If you're ready to build a better workplace, let's talk. Or request a sample training to see for yourself how our content-first focus differentiates us in the marketplace, and can benefit your workplace.