Storybuilt Chief People Officer Casey Amidon says transition to virtual and effective compliance training from in-person trainings was even smoother and easier than she could have expected.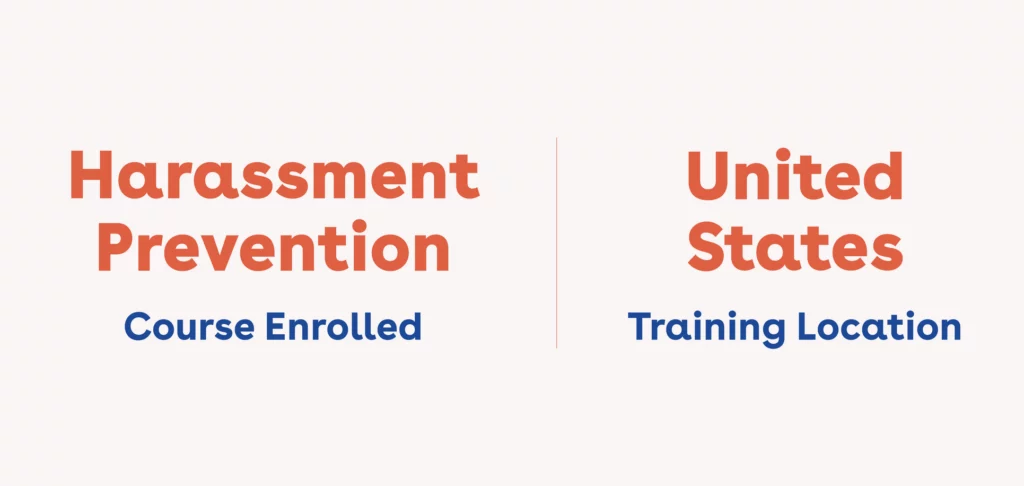 About Storybuilt
Storybuilt is a leader in urban infill design – building homes in four of America's fastest growing cities: Austin, Dallas, Seattle, and Denver. They believe in the power of urban living, and while they are not solely focused on building homes, they believe in crafting communities that offer residents a sense of belonging and connection. Whether it's through thoughtful design, top-notch amenities, or a dedication to sustainability, they're here to make city living better for everyone.
The Challenge: Losing time and resources coordinating in-person training
In the beginning, Storybuilt had nothing set in stone when it came to required employee harassment training. Instead, Storybuilt's Chief People Officer, Casey Amidon, was relying on ad hoc training year over year, often turning to in-person training sessions with employment lawyers.
However, these in-person sessions were not scalable or repeatable, and they required learners to be present for the training sessions at a particular point in time, which meant many learners would have to travel to particular locations where the training was being held. Casey's team was also losing a lot of time following up with employees to RSVP and attend.
The admin time spent by Casey and her team managing all of this was roughly 20 hours.
The Solution: Scalable and mobile training for a workforce in the field
Casey knew that as Storybuilt continued to grow, they were going to need something much more automated, but also modern, to train their employees. When she discovered Ethena, she immediately appreciated the additional resources they created to help her introduce the new training provider to the company, which would save her hours of administrative work.
Ethena's sexual harassment prevention training course would cover all of the same content that the lawyer-led sessions cover, but in a more engaging and modern format. With Ethena's software, Storybuilt admin were able to easily enroll learners in training with just a few clicks. And Ethena automatically ensured that the right learners received the right training at the right time.
Ethena's training was also mobile friendly, which was very important for their learners – many of which were in the field. And of course, Casey and team also appreciated how relevant the training was, and how applicable it was to their workforce.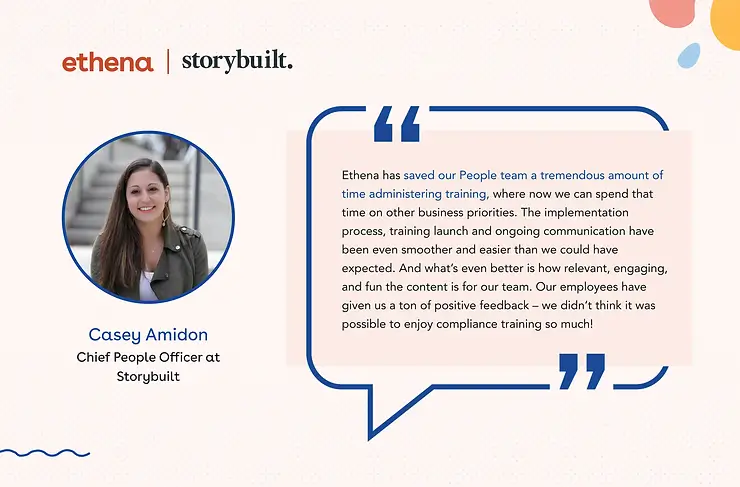 The Results: Training content that actually reaches employee learners
As of today, Storybuilt currently has hundreds of active employee learners engaging with their Ethena training. Their learners have provided a 93% positive learner feedback in regards to the content, and within 60 days, 97% of learners have completed their assigned training.
Due to the simplicity of Ethena's backend, Casey and her team no longer need to coordinate with third-party lawyers, and they're no longer chasing down their employees to RSVP or even attend their trainings. They can now schedule the delivery of training links from Ethena's bite-sized content to reach learners via email, Slack, or other preferred mediums in a fraction of the original time.
Looking for a best-in-class training solution that saves time for your People teams while delivering top-tier training content? Talk to a member of our team, or try a sample of the training.