We've all been there: It's time to get your company's compliance trainings done, but no one's actually taking it.
When you push for higher completion rates, you hear a variation of the following excuses:
Not enough time
The team's got higher priorities to tackle
I forgot
Which isn't to say that there isn't insightful data to be gleaned from this feedback.
After all, if your team is telling you they don't think your trainings are a high enough priority, that's a pretty clear indicator that there's an underlying issue (or three) that you need to tackle.
The reality is: Effective training is critical to every company's success. Whether it's a manager training or a compliance-related training (i.e. Harassment Prevention), these trainings play a critical role in a variety of People-focused areas and throughout the employee life cycle, including:
Culture-building
Message signaling
Growth and development
Retention
Risk mitigation
And more
And employees know it, too. In fact, a 2019 LinkedIn study found that 94% of employees say they would stay at a company longer if the company invested in their development.
Why do companies struggle with participation rates on company-wide trainings?
Let's reflect. If employees are so hungry for growth and development, why do employers consistently struggle to get higher participation rates on company-wide trainings? Especially on critical topics like management training, Diversity, Equity, & Inclusion (DEI) training, and Harassment Prevention.
Here are some common pitfalls:
You haven't made the connection for them. DEI training IS development. Harassment Prevention training isn't just about ticking the box, it's about building more inclusive and ethical workplaces. It's about training you as a manager and as an individual contributor (IC) on how to effectively intervene, speak up, and manage a situation, etc, etc.
The training material is ineffective. We've all seen those HP trainings that look like they were made in the 80s and 90s. The examples are condescending, they're ineffective, and they don't cover the more relevant, gray area situations employees are most hungry to learn about. In a nutshell: the trainings really aren't worth their time.

Misalignment between what you say and what you do. Perhaps the training material doesn't line up with the values or actions of your company. Or maybe you're pushing for everyone to take the training only for employees to learn that leadership itself isn't taking these trainings. If the company itself doesn't stand by the material it's putting out there, why should employees bother to take the time?
So what can you do to increase training completion rates?
First and foremost, you'll need to address any underlying issues at play, i.e. the ones listed above:
Make it clear why these trainings are important and draw a clear connection between taking these trainings and their own personal growth and development. Ex: DEI training helping you be a more inclusive leader that will then be able to maximize on their team's growth potential, being able to leverage unique strengths, adapt to different needs, etc.
Invest in high-quality, effective trainings. Your employees' time is valuable. (If you don't believe that, just check with your head of finance. They could probably run a quick calculation on exactly just how valuable even one hour of the entire company's time is worth. Spoiler alert: It's a lot.) And your credibility as a company and People team is critical. Waste your team's time with one bad training, and you'll struggle to gain their trust the next time a training is due. Pick a training that aligns with your values and actually adds value with actionable insights and relevant topics.
Get buy-in, alignment, and commitment from your leadership team. Have your manager reinforce the messaging around the importance of these trainings in their 1:1s.
Creative ways to get your company (faster) to 100% completion rates
Once the above is all in place, here are a few fun, creative ways to really get your training completions to the next level:
1. Make it a competition and offer fun prizes
Give a prize to the first team that hits a 100% completion rate or commit to a company-wide prize if the entire company gets to a 100% completion rate by a certain date. Prizes can be non-monetary (i.e. a 3-day weekend for the entire company) or monetary (i.e. expensed lunch for everyone). Bonus points if these incentives feed into your company values, like expensing lunch from a BIPOC-owned restaurant.
2. Host a few "watch parties"
Virtual trainings can feel isolating. They also make it hard to find an hour or two to block out of your calendar to make them happen. Create an actual calendar event for employees to take the training at the same time and create a Slack channel so people can share their thoughts and questions live. Not only will it build a sense of community and learning together, it will also get others excited about the training and lead to fruitful discussions and insights for the leadership and People team.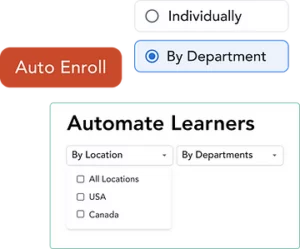 3. Have your leadership team take the first wave of trainings
Then let them share their top takeaways and favorite parts. Culture starts at the top, and that's no different when it comes to trainings. When employees see that leadership is invested and prioritizing compliance training, they'll follow suit.
Now, am I saying every training rollout needs to come paired with a company-wide competition and raffle prize? Not at all. Depending on your company size, needs, and culture, a simpler approach might be just as effective. Especially if you've already done the most important work, i.e. investing in high-quality training, getting leadership alignment and partnership, and, of course, connecting the dots for your employees on the importance of your trainings.
If you'd like to see what I do currently, check out this video snapshot of my latest training round at Ethena. Spoiler: I'm not yet at 100% completions, but 1) I'm a week into it and currently at 65%, and 2) our trainings really do make my job easier.
Ethena is a modern compliance training platform that delivers current, cringe-free content that employees actually enjoy. Request a sample course to see for yourself! If you're ready to bring complex issues to life through thoughtful real-world examples, dynamic multimedia, and actionable next steps, let's talk to see if Ethena is right for your company.