In the modern workplace, you're very likely to find Diversity and Inclusion Training within your organization's annual training curriculum. (And if you haven't seen it yet, you're likely going to very soon since more organizations have been investing in Diversity, Equity, and Inclusion efforts in recent years.) Why does Diversity and Inclusion training matter to today's organizations? Much like the often legally-required sexual harassment training, Diversity and Inclusion training provides useful resources, language, and tools for employees to prevent and address discrimination and harassment in the workplace, making daily work life a lot more enjoyable (and better overall for business).
So what exactly is Diversity and Inclusion training, and why is it so impactful for employees and businesses? In this article, we'll cover the basics of diversity and inclusion training, why it seriously matters for today's teams, and how to make your own diversity and inclusion training amazing.
What is diversity and inclusion training?
Diversity and Inclusion training (D&I), also commonly referred to as Diversity, Equity, & Inclusion training (DEI), is training that gives employees the knowledge and skills to better understand and celebrate their coworkers in a diverse and inclusive workplace. Great D&I training aims to build a culture of inclusion and respect for each other's unique perspectives and gives learners the tools they need to address issues when they arise. D&I training is often a part of an organization's greater Diversity, Equity, and Inclusion program, but implementing training can also be a great first step or goal for an organization starting to get serious about D&I for the first time.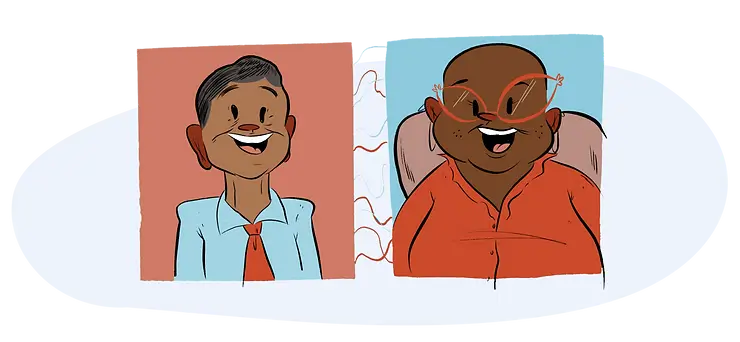 The financial benefits of diversity and inclusion training
Unlike training courses like sexual harassment training that are often required by local or federal law, diversity and inclusion training is a much-needed, but not legally-required course for businesses to provide. The good news is that a great D&I training program is well-worth the investment.
Here are a few reasons D&I training directly benefits an organization's bottom line:
1. Talent and Turnover
Diverse and inclusive organizations are more likely to attract the best candidates out there and retain them for longer. Companies with consistent gender diversity — especially in leadership roles — are perceived from the candidate perspective as more "fair." A report on workplace inclusion from Deloitte found that 80% of candidates looking for a job said inclusion was important when choosing an employer, and 39% would leave their employer if they found one that was more inclusive.
80% of respondents indicated inclusion is important when choosing an employer. – Deloitte. Unleashing the power of inclusion. (2017)
Plus, organizations with greater gender diversity have lower levels of employee turnover. A report from Coqual noted that Black men were 15% more likely to stay with a company that had senior leaders of color, and that the inclusivity of an organization played a major role in how employees of color felt about their job.
2. Performance and Profitability
Diversity and Inclusivity have a direct impact on team performance. Millennials are 23% more engaged in their work when they believe their organization cares about creating an inclusive culture. Inclusive company cultures foster employees that are 35% more likely to outperform their competitors and 70% more likely to capture new markets. Organizations with diverse teams are much better communicators, more innovative, and better overall at profitability. Companies on the high end of racial diversity generate almost 15 times more average sales revenue than those on the lower end.
. . . companies reporting the highest levels of racial diversity brought in nearly 15 times more sales revenue on average than those with the lowest levels of racial diversity. – American Sociological Association. Diversity Linked To Increase Sales Revenue And Profits, More Customers. (2009)
We should also point out here that, beyond the financial benefits of diversity and inclusion programs, having a genuine investment in respecting and supporting one another is simply the right thing to do. And providing excellent training resources is one way to show an organization cares.
Why employee engagement matters
Training in the workplace can often feel out-dated, boring, or even painful to get through, and bad training can actually cause an increase in harassment. Research shows that training makes an impact when employees are engaged with the material. In other words, the quality of the training matters, from the content itself to how it gets delivered to employees. When making DEI commitments, an organization is often looking at every element of the organization, from training to the hiring process, and DEI-related goals should be tracked as much as any other major organizational goal. (If you're curious about making your own DEI goals, check out our recent blog post on setting goals and how to measure them.) One such way to gather data is by a DEI audit or through employee surveys, which can help you identify and prioritize DEI-related issues to address.
The important thing to remember is to tie diversity and inclusion into the mission of your org, and communicate this to your team when conducting surveys or providing additional training. Ethena's Diversity, Equity, & Inclusion training, for example, has both foundational course content and additional, shorter training sessions that HR leaders can easily assign at key moments for year-round impact.
Does diversity and inclusion training work?
We understand where your coming from. You've made the business case to the executives, you got the approved budget, but now it's a question of: will this training move the needle forward at the company?
Well, it depends. It depends on the quality of the diversity and inclusion training you opt for.
What makes great diversity and inclusion training
If you're already looking for a D&I training provider, you may be looking to cover a specific topic, like Bias and Unconscious Bias or Microaggressions. But great D&I training covers the basics of diversity, equity, and inclusion and gives trainees the tools they need to be better, more inclusivity-conscious team members in their daily work life. Additionally, you may want to consider training that:
Has excellent, diverse, and vibrant content (i.e. presenting topics in multiple media like text, audio, video, in-person presentations, etc.)
Covers relevant topics and workplace scenarios that teams can recognize from their daily life (whoever thought we'd need a training session on microaggressions in a remote workplace?)
Is easy to access for the employees (if it's through an online provider) and easy to deliver for the HR leaders.
Is a little obsessed with high-quality training (learn why we don't settle to make mere "check-the-box training" from our founder herself.)
Real diversity and inclusion in the workplace goes beyond training
The best part about good diversity and inclusion training is it doesn't just stop at the end of the training lesson. You'll see more employees speak up. You'll hear more challenges early. And you'll see your workplace culture shift towards a more inclusive culture because you chose an effective training provider.
If you're looking for an online training provider that checks all these boxes and more, request a sample training to check out Ethena for yourself and see why our diversity and inclusion training is different. Or if you'd like to see if we'd be a good fit for your company, let's talk!