Have you ever participated in an office fire drill? At the time, it might have felt like a tedious interruption to your day. But imagine if drills didn't exist. What would happen if, one day, your office started to fill with smoke? Everyone would probably panic. You might waste precious time discussing different ideas — Do we take the elevator or the stairs? Which staircase leads to which exit? Not to mention figuring out a "leader" for the group.
A drill, on the other hand, gets everyone on the same page before the situation happens. Knowing the rules and regulations not only keeps you safe, but creates a shared understanding of how to keep each other safe, too.
That's the real power of compliance training. From workplace safety to harassment prevention, training gives employees a shared framework for:
Navigating tricky situations
And more
It's not just about following the law; it's about establishing group norms. In fact, when you approach compliance training as the foundation of building organizational culture, it becomes more effective, engaging, and (gasp) even enjoyable.
What is compliance training?
Compliance training is mandated education for employees on the relevant laws, rules, and regulations dictating the activities of an organization. It can include both regulatory compliance (policies set by third-parties, such as local governments or federal agencies) and corporate compliance (policies an organization sets for itself, like confidentiality or internal values).
Compliance training vs. other types of training
Compliance training is one of many different types of employee training. While most employee trainings share a similar purpose and even format, the necessity, consequences, and frequency of compliance training differs from other kinds of educational content.
How they're similar: All training educates your employees on their roles and responsibilities at work. Training of any kind also builds community and enhances individual skills. Lastly, professional training, no matter the topic, should be delivered in a flexible, manageable, and measurable format.
How they're different: Compliance training is mandatory and there are penalties for not providing it, while general employee training is not legally required. In addition, while general training may only be delivered once during an employee's tenure (such as orientation when an employee joins the organization or management training when someone is promoted), compliance training should be recurring depending on state or federal laws. For example, the Occupational Safety and Health Administration (OSHA) requires employees who work in hazardous conditions to receive CPR training annually and first-aid training every three years.
Organizations are required to offer different types of compliance training based on their size, industry, state laws, federal laws, and more. Common types of compliance training include:
Common types of general employee training include:
Orientation and onboarding
Leadership coaching
Department-specific training, such as customer service or sales
Technical and product training (such as how to use a new learning management system or analytics tool)
Time management
Team building
Why is compliance training important?
At the bare minimum, compliance training ensures your organization is operating within the law when it comes to key areas like fair employment, health and safety, data protection, and more. The most effective training covers how compliance applies to everyone's job functions — from leadership to entry-level employees — the consequences of non-compliance, and how to report misconduct or unethical behavior if you see it.
However, there are multiple other advantages to investing in compliance training beyond reducing risk, such as:
A safe work environment
An inclusive company culture
Higher employee engagement
A positive business reputation
Shared values and ethical behavior
Accountability (including bystander interventions)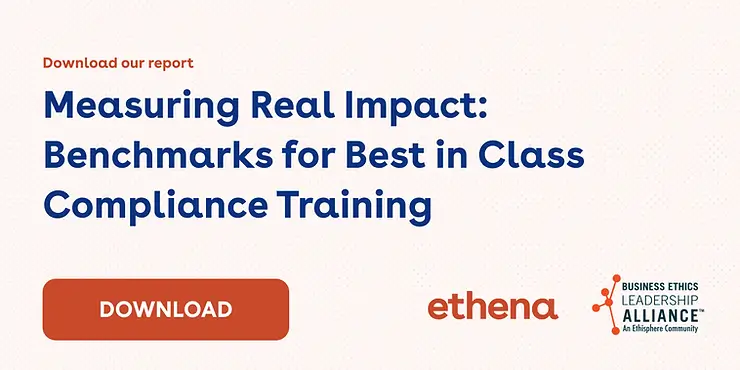 While many organizations approach compliance training as "checking the box" from a legal standpoint, understanding compliance is about so much more than avoiding lawsuits or penalties. Ultimately, compliance training is about doing better, as a company and as individuals.
How often is compliance training required?
The frequency of compliance training depends on where you're located and the training topic. For example, in New York, sexual harassment prevention training is mandated every year; while in California, the same training is mandated every two years for employers with five or more employees. If your company operates across different states — or different countries — Ethena has the flexibility to customize and automate trainings by location, department, or individually — with just a few clicks. There is also the capability to put annual trainings on autopilot with our "set it and forget it" configurations.
How to make compliance training fun
Ethena takes a fresh approach to compliance trainings, using a mix of descriptive text communication alongside audio bites, illustrations that transform lessons into graphic novels, and video clips — ranging from a Vogue-style questions interview about a person's pronouns to an unexpected music video (complete with shimmery background) on bribery and the Foreign Corrupt Practices Act (FCPA). The goal is to make training content dynamic, informative — and surprisingly, fun.
What to look for in compliance training
Compliance and ethics training is mandatory, but that doesn't mean it has to be mundane. Unfortunately, that's what often happens: According to a 2021 Gallup study, only one in four employees would rate their training as "excellent." Lackluster training leads to lackluster results: People who rate compliance training as less than excellent also feel less confident in reporting non-compliance (such as harassment or bribery). On the other hand, research shows that engaging and relevant training leads to increased confidence.
The big picture here: Only training that employees find excellent leads to learning; and, learning leads to changed behaviors — which in the world of compliance training, is really the whole point. Effective compliance training can be, dare say, fun and angst-free, as we show in our beyond check-the-box trainings.
So, what makes an "excellent" training? Here are a few elements to prioritize when evaluating potential partners and products:
Saves you time. Today's training requires a tech-first approach. Instead of conducting an in-person compliance training program or building your own online training, partnering with the right compliance software provider will save you time, effort, and money, as well as improve results.
Automate the administration. Look for a training software that significantly reduces administrative tasks, provides engaging and relevant course content, offers flexibility, and delivers data-driven impact reports. That way, everyone gets what they need — employees gain access to multimedia trainings that can be embraced by different learning styles while organizations save time for themselves (and employees alike) through easy-to-access automated training assignments.
Reduce training fatigue. Employees need training that meets them where they are: Corporate and regulatory compliance training should be flexible and manageable alongside their work and personal lives. For example, in a recent joint report with Ethisphere and the Business Ethics Leadership Alliance, we found that compliance training should be limited to 3-5 hours annually (broken up into micro-learning sessions) to improve retention and reduce training fatigue.
Give opportunities for feedback. Your training platform should provide employees with opportunities for feedback through mid- and post-training surveys. When learners are prompted to share their thoughts on the training, they're not only more engaged with the material, but also helping you improve your program in the long term.
Has customizable content. Compliance training shouldn't be one-size-fits-all. Look for a provider that can adapt training programs to fit your needs, such as adding in your own corporate policies, including industry-specific content, or offering scenarios relevant to employees' job functions.
Provides easy and accurate reporting. The main determinants of success for compliance training are completion rate, value for learners, and impact on employee behavior and organizational culture. Find a provider who offers data-driven training records and reports on key success metrics, such as progress, completion rates, and employee engagement. You should also work with the provider to define your training goals (for example, after anti-harassment training, you may want to track whether harassment complaints to human resources increase or decrease).
Setting a new bar for compliance training
When done right, compliance training is a critical part of keeping employees informed, safe, and inspired — and showing that companies are prioritizing organizational culture. Compliance training with the right partner not only can be creative but it can also make for better workplaces. Anti-harassment trainings, for one, encourage a "speak up" culture where people feel comfortable reporting issues that go against a company's Code of Conduct.
Ultimately, an effective training program helps support companies in mitigating risk. Ethena raises the bar with its innovative training methods, which are just as accessible in the office as they are during a leisurely lunch break stroll.
Ethena is a modern compliance training platform that delivers current, cringe-free content that employees actually enjoy. Request a sample course to see for yourself! If you're ready to bring complex issues to life through thoughtful real-world examples, dynamic multimedia, and actionable next steps, let's talk to see if Ethena is right for your company.