Everything you need to know to get your team compliant in the state of Maine
When it comes to training both new recruits and seasoned employees on state-specific compliance requirements, understanding the law can feel like learning a foreign language, especially when confronted with a pervasive, important topic like harassment.
Since harassment prevention training is the best tool we have to eliminate offenses in the workplace, we'll take a closer look at everything you need to know to about Maine's sexual harassment training and other requirements. By the end, the training requirements, topics, and compliance checklist will feel less like learning a new language and more like brushing up on an interesting subject you learned in school!
Before we begin, please note that the following information is not legal advice nor all-encompassing.
How is sexual harassment defined in Maine?
Sexual harassment is a form of sexual discrimination that violates the Maine Human Rights Act. (It is worth noting that the Maine Human Rights Commission takes this a step further and states that harassment on the basis of any protected class is a violation.) Unwelcome sexual advances, requests for sexual favors, comments, jokes, acts and other verbal or physical behavior of a sexual nature or directed to a person because of their sex will constitute sexual harassment when:
That conduct unreasonably impact or interferes with an individual's employment, work performance
That conduct creates an intimidating, hostile, or offensive work environment
Submission to that conduct is made a condition of employment or is made a basis for employment decisions.
In Maine, the DOL has noted that sexual harassment can occur in a vast variety of circumstances which include, but are not limited to:
Both the victim or harasser can identify as male or female (or presumably any gender), and the victim or harasser does not have to be of the opposite sex for harassment to occur
The harasser can be an employee, non-employee (for example, a customer), co-worker, agent, supervisor, and even a manager in a separate department
The victim can be anyone impacted by the offense, not just the direct victim
Sexual harassment does not have to include economic impact or negative employment action taken against the victim
The conduct must be unwelcome
Sexual harassment can come in many shapes and sizes. Maine laws are clear that all employers must act to ensure a workplace free of sexual harassment by implementing certain minimum requirements:
Requirements for Employers with 15 or more Employees:
Education and Training
Compliance Checklists
Requirements for Every Employer:
Workplace Posters
Employee Notices
Enforcement
Penalties
Maine's sexual harassment training requirements
Like many employers who have been tasked with sexual harassment education for your company, you've likely turned to the internet (nothing a good, ol' fashioned Google can't solve) to understand the general training requirements needed to get your team compliant. By the time you've made it to our humble blog, you probably already know that although sexual harassment training requirements are very similar from state to state, most states have some nuances that employers need to be sure to cover in the training they offer.
As with most states, Maine provides in-depth guidelines on the training requirements needed to comply with applicable laws and even provides government resources to ensure employers are successful with training deployment.
The state of Maine requires that any employer with 15+ employees comply with the following training requirements:
For new hires, employees will need to undergo training within one year of hire
Supervisors must undergo training within one year of hire and/or stepping into a supervisor or managerial role
Both employers located in, or simply doing business in Maine, must provide training
Employers in both the private and public business sectors must comply with training requirements.
Topics that should be included in Maine's sexual harassment training
Now that we understand who is required to conduct Maine's mandated sexual harassment training and the training "must-haves," we'll dive into the bread and butter of sexual harassment training:the subjects you need to cover.
Below is a list of topics that the state of Maine requests that all employers cover:
The illegality of sexual harassment
The definition of sexual harassment under both state and federal laws
A description of sexual harassment
Examples of sexual harassment with examples
The internal complaint process used within the company and how to file a complaint
The legal resources available through the Commission
Clear directions on how to contact the Commission to file a complaint or receive resources
The victim's protection from retaliation from harassers
As always, employers can implement training on topics that go more in-depth, but these are simply the ones that are required to be covered by the state of Maine.
On top of the minimum requirements laid out by the state, supervisors and managers must receive additional training on specific responsibilities that those in a supervisory position and managerial employees must take to ensure immediate and appropriate corrective action in addressing sexual harassment complaints.
Compliance checklist
One of the great things about sexual harassment training in the state of Maine is the number of resources the commission provides employers on the topic–one of those resources being a compliance checklist. (Check out the Commission's sample checklist here.)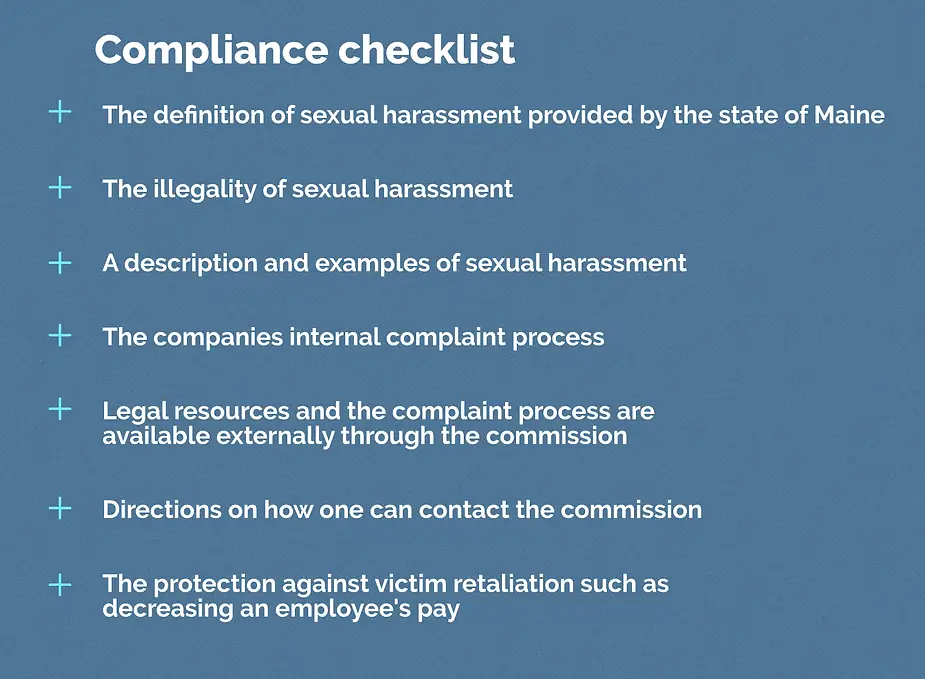 Additional Requirements for all Maine Employees
The state's requirements don't stop at who needs to be trained and when. Maine's law on sexual harassment suggests workplace posting, employee notifications, and a well-crafted compliance checklist will create an effective sexual harassment training program.
So what do each of these elements entail?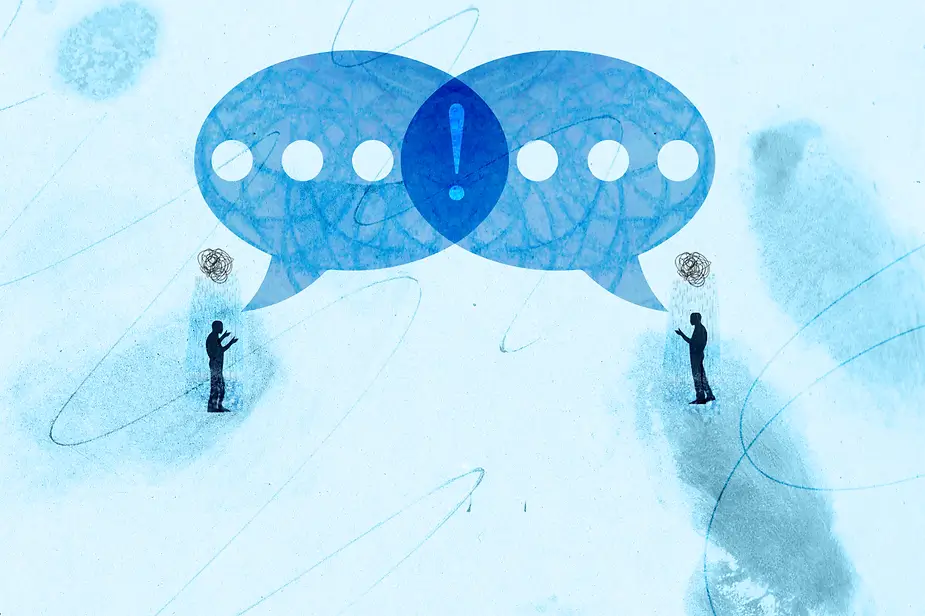 Workplace posting requirement
Maine has very specific poster requirements (including literacy standards). Maine has made a poster available which meets those standards, Maine Sexual Harassment Poster, which employers can reproduce, reprint, and hang inside their workspace.
Employee Notices
Under Maine law, each employer should issue written notice to employees of:
The definition of sexual harassment provided by the state of Maine
The fact that sexual harassment is illegal under both state and federal law
A description and examples of sexual harassment
The company's internal complaint process
Legal resources and the complaint process are available externally through the Maine Human Rights Commission
Directions on how one can contact the Maine Human Rights Commission
The protection against victim retaliation such as decreasing an employee's pay
Not only should this notice be sent to employees annually from the employer, but it should also be delivered in a manner that ensures it was successfully received by the employee. One example of this is including the notice alongside their pay stubs.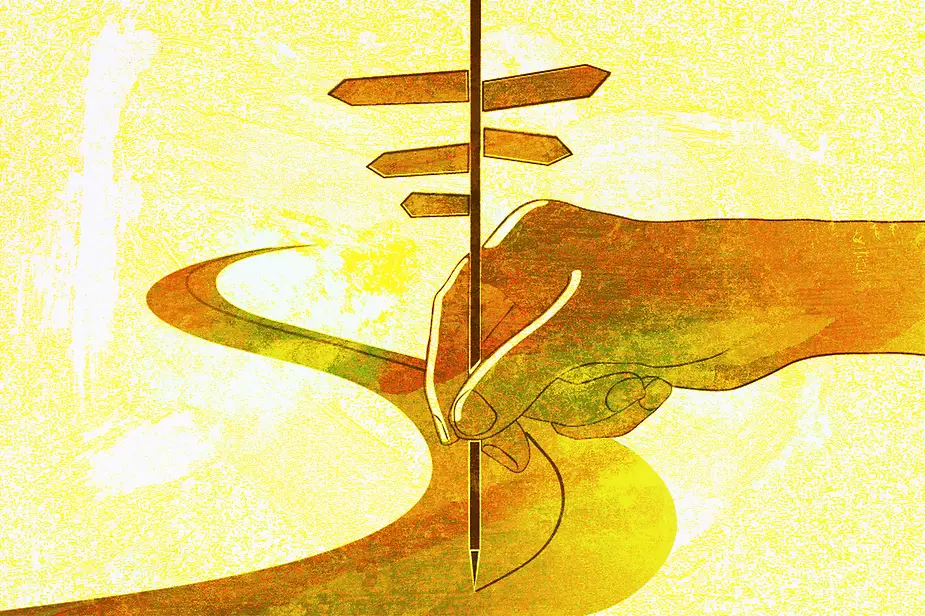 Are employers required to keep records of training?
it is mandatory for Maine employers to keep a record of any sexual harassment training conducted. This record should also include an account of employees who have received the training. These records should be made available for Maine's Department of Labor and kept internally for at least three years post-training. For teams training with Ethena, our platform provides up-to-date data that can be downloaded at any point of the training process.
Enforcement and Penalties
What are the penalties for not complying with training (or other) requirements under Maine's sexual harassment laws?
Both Maine's Department of Labor and the Human Rights Commission have the power to enforce these training and other requirements, including the assessment of fines. Complaints and inspections can lead to penalties, so make sure you take a proactive approach rather than a reactive one.
---
Although the state of Maine does a fantastic job of providing resources to employers when it comes to sexual harassment training, it can still feel incredibly daunting and overwhelming to execute training that complies with state orders, especially with such steep fines and violations set in place. Luckily, third-party e-learning experts like Ethena are here to help! Request a sample of our Harassment Prevention training to see for yourself how our training was designed to impact workplace behaviors. Or if you're ready to discuss details, talk with us and let's see if Ethena is right for you!
Please note this is not legal advice, nor does it contain every detail or requirement of the applicable laws: it is provided solely for informational purposes and is not intended to be relied upon. If you have questions about these laws, please consult your legal counsel.