Run-of-the-mill HR training courses aren't getting the job done. Sure, they check the annual compliance training box, but they don't impact company culture or create more inclusive workplaces. Heck, sub-par training courses actually do more harm than good.
But you don't want just any check-the-box training course, do you? You want change. You want progress. You want a great work environment.
So do we.
That's why Ethena takes a revolutionary approach to HR training programs. We create online training that's up-to-date, memorable, and downright entertaining. Yes, you read that right — your employees will actually watch these trainings rather than scroll through TikTok until an arbitrary quiz question pops up (you know what we're talking about).
Your employees need training to become better team players. It's good for them, your business, and your bottom line — not to mention the government legally requires many of them.
Below, we'll walk you through the 10 most important HR training courses your employees need in 2023.
10 HR Training Courses Your Company Needs
HR training programs can help you automate your HR training course process. No more weeks of planning in-person trainings. And no more reliance on outdated online hr training courses from other providers. Use the HR training program built for the modern company, with the data to back up its effectiveness, and who's suite of HR training course offerings continues to expand.
1. Harassment Prevention
The government requires employees to take harassment prevention training to learn (and comply with) federal and state regulations. Ethena's Harassment Prevention training course goes above and beyond checking this box by producing a quality course. It covers modern-day scenarios your employees need to foster healthy and inclusive workplaces.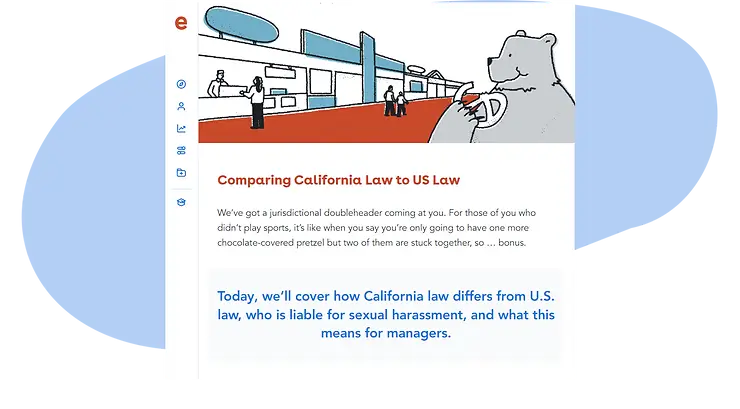 It's not enough to know the rules — your employees need to know how to navigate tricky situations when (not if) they happen. This course teaches them everything from bystander intervention to equitable feedback. They'll complete the training understanding how to handle office relationships, different cultures, and even the brand-new hire who announced she's pregnant.
See for yourself. Request a free sample of our Harassment Prevention training.
2. Diversity, Equity, & Inclusion
Diversity, equity, and inclusion (DEI) is an ever-evolving topic that employees desperately need to understand building better workplaces. However, you can't expect your team to learn these concepts with a training that delivers a dictionary of unfamiliar terms and a multiple-answer questionnaire. They need engaging, actionable training that helps them understand, support, and celebrate each and every employee at your workplace.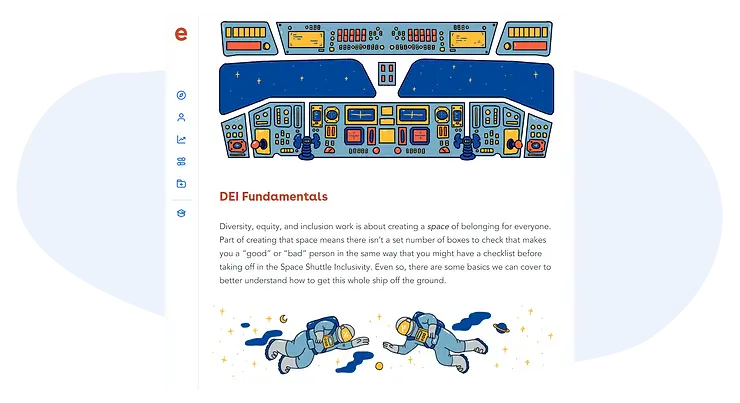 Our DEI training course doesn't beat around the bush. We tackle complex issues (like bias, identity, intersectionality, and politics at work) with a combination of dynamic content that includes:
Relevant and timely real-world examples
Vibrant comics
Original cringe-free videos
Audio lessons
Visit our DEI course page to request a fully functioning sample to see it in action.
3. Anti-Bribery & Corruption
Anti-bribery and corruption training supports the basics on all the legal do's and don'ts when it comes to operating a business ethically. This course isn't just for your executives and upper management — even your entry-level employees can find themselves in a pickle. The consequences of bribery and/or corruption could involve not just a slap on the wrist. Scan any news outlet for the headlines to find the latest scandal in the business world — many involve heavy fines or even the potential for jail time.
*Gulp*
Our Anti-Bribery and Corruption Training helps your employees spot red flags, avoid illegal activity, and report violations when they happen. This is a can't-miss training because if your employees (with or without permission) engage in poor practices, your entire business could be at risk for being penalized.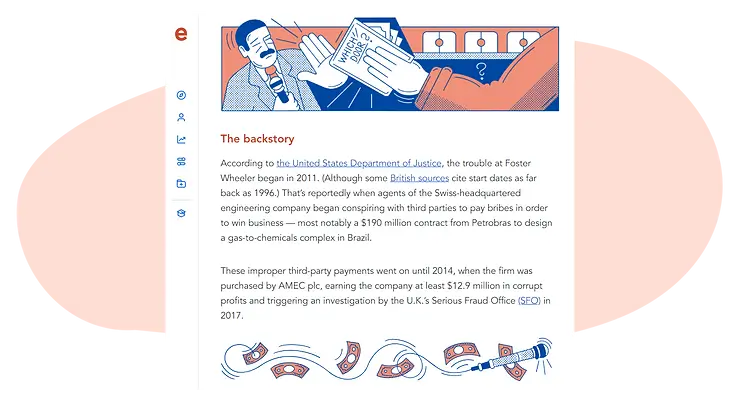 Watch a sample of our training in action to get an idea of its effectiveness.
4. Hiring & Interviewing
Better workplaces start with inclusive hiring and interviewing processes, but bias, conflict of interest, and exclusion can stop you at the gates. When it comes to picking your team, save the go with your gut feeling for the buffet, and follow proven best practices instead.
Our Hiring and Interviewing HR Training Course trains your team to recruit the right way. We'll help your recruiters become aware of discrimination laws and protected classes while helping to prevent bias from creeping in at various interview stages. We'll even show you how to write inclusive job opening descriptions that give you (and your candidates) a better shot at landing the most qualified team members.
Grab a sample of our Hiring and Interviewing Training.
5. Code of Conduct
Remember signing up for that application or buying that service and skipping the 30+ pages of tiny words to sign and date your name at the bottom? That's how most employees treat your Code of Conduct. It's way too long to read … so most employees don't read it.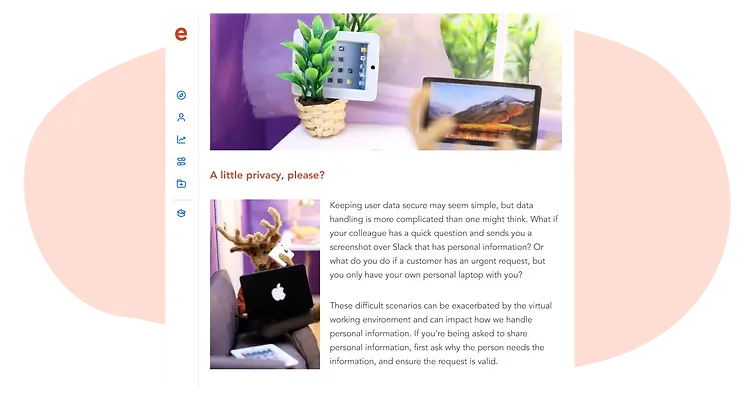 Code of Conduct training covers a gamut of topics, including business ethics, financial crimes, data protection, political activities, and more. It's a lot. We focus on the issues most relevant to your business and industry to give your employees the exact training they need to stay out of trouble (without drowning them in jargon). See how our Code of Conduct Training is different.
6. Data Protection
Data protection (or lack thereof) can potentially make or break your business. Every employee with even simple access to an email account and Slack channel can put your company and customers' sensitive information at risk. Times are changing, and yesterday's instruction about putting papers in the "to-shred" pile just doesn't cut it anymore.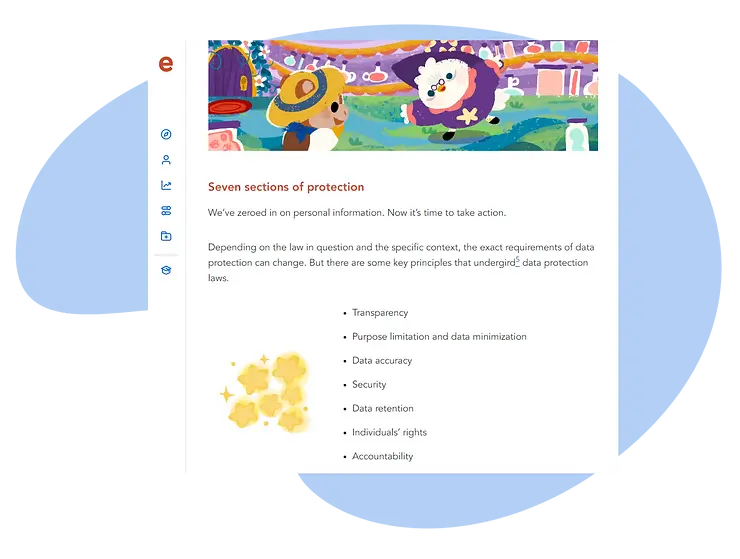 Your employees need up-to-date training that's relevant for in-office, remote, and hybrid employees. Our Data Protection Training explains modern-day phishing, cybersecurity best practices, and proper data handling tips to help protect your employees, customers, and business.
7. Anti-Money Laundering (Coming Soon)
Ignorance can't be an excuse. When it comes to money laundering, your business (and its employees) are either malicious or negligent — and both are grounds for penalties, fines, and jail time. Train your employees to detect, prevent, and report money laundering and other financial crimes with this comprehensive course. Ethena will be launching this course in December 2023.
8. Bystander Prevention (Coming Soon)
Just because you didn't commit the crime doesn't mean you're innocent. Bystanders have a duty and obligation to prevent harassment and illegal activity, but it's not always intuitive how to handle complex issues. Teach your employees when (and how) to intervene to create a safer workplace for all. This is an add on supplement to our Harassment Prevention training, as some states will have new laws going into effect that will require it. For everyone else, however, it is still a good best practice to prepare your employees to speak up when they see unacceptable behaviors in the workplace. It helps create a safe workplace if they know everyone has each other's back!
9. Insider Trading (Coming Soon)
Perhaps a little specific to the finance industry, however every business has employees who have access to insider data and decisions before the public does. How to handle this knowledge, and how to be ethical with it (think personal stocks, investments, options, and more) is essential. Insider Training HR Courses walk your team through best practices on how to spot non-public, inside information and how to avoid potential conflicts of interest.
10. HIPAA (for Non-Healthcare Settings) (Coming Soon)
The Health Insurance Portability and Accountability Act (HIPAA) and its rules aren't just for hospitals and healthcare providers — your business and employees likely need to follow the regulations, too. Consultants, advisors, insurance agents, attorneys, accountants, and even technology companies have a legal-bound obligation to protect patient and/or medical data. HIPAA HR Training Programs teach your employees how to safeguard sensitive information from impermissible uses and potential security attacks.
Streamline Your HR Training Programs With Ethena
Providing above-and-beyond HR training programs for your employees doesn't mean your HR team needs to work overtime. We think it should be the opposite.
Our compliance training software provides HR training courses designed to simplify onboarding, execution, and maintenance with the latest-and-greatest technology:
Smart assignments and reminders: Deliver the right content at the right time automatically with pre-set criteria.
No more manual follow-ups: Our automated workflows save HR teams an average 145 hours/week. Save time on paperwork so you can focus on people work.
Support compliance by location: Whether your employees are domestic or international, our configurable training can be automated to send only relevant trainings to the right employees, departments, and roles. Just set it and forget it.
Actionable tracking: Ensure compliance and engagement with dashboard widgets and automated, bulk reminders.
HRIS integrations: Enroll your employees in no time with human resources information systems (HRIS) integrations or CSV uploads.
Easy access: Make it easy for learners to log in and start learning with magic links and app-native notifications.
Real-time updates: Monitor progress and gain actionable insights from your admin hub.
Schedule time with a member of our team to see how Ethena can save your HR team time. Leave the HR training courses to us so you can focus on building a better workplace.