The numbers are in: Millennial and Gen Z workers are committed to applying to and working for companies that exhibit real dedication to diversity and inclusion — more than any generation before! And as Millennials are set to make up 75% of the workforce by 2025, the companies they're working for (and are beginning to lead!) reflect this evolution in their goals.
We're seeing company initiatives that challenge bias, celebrate diversity, and make accommodations for better inclusion, spread across the country. One major place this is taking off is within the hiring process. Perhaps your company has made the shift to writing more inclusive (and frankly, more inspiring) job descriptions.

You now want your hiring process to mirror the Diversity, Equity and Inclusion (DEI) initiatives your company is committed to upholding. Adapting interview questions to better understand peoples' values, rather than just their bullet point experience, helps your team continue to grow.
The tired interview questions of the past are no longer cutting it. Previously, questions regarding diversity and inclusion may have been implied in interviews, rather than asked outright.
An interview question like: "Tell me about a challenge you've faced at work" could garner a response about the time someone's favorite Keurig pods were delayed for a month.
But questions like this don't create an opportunity for applicants to showcase their beliefs and lived experience related to diversity and bias, or how they will strengthen your team. Instead, hiring managers are now using questions that prompt thoughtful, direct, and inspiring answers about diversity.
Thankfully, you don't need to be a master at prose to gather prospective employee responses that wax poeticism on diversity and inclusion efforts. We've put together a list of questions that will help you to find the teammates you're really after.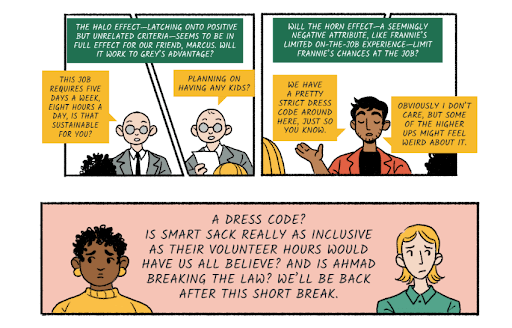 Are your diversity initiatives merely performative?
Adapting to a diversity-focused interview process isn't about beefing up DEI initiatives for show. If problems already exist, there are no amount of brilliant, diverse, and inspiring new hires who can outweigh those issues. Hiring in the hopes of overcompensating for a group of homogenous, non-accommodating leadership or staff won't work.
Those new hires will only end up exhausted and downtrodden, and we know that when this happens employees are fine with parting ways with a company for greener, more inclusive pastures.
Thankfully, the path from A to DEI (see what we did there?) is as easy to find as the yellow brick road. Start with making DEI training an integral (and recurring) course at your company.
The benefits of a great DEI training course are numerous:
Diverse companies are better at retaining talent
They inspire more productivity
And they see all of this reflected in growth and profit
Feeling inspired yet? We hope so! Seeing diversity become the new norm in the modern workplace is one of the things that sends happy little shivers down our spine. If your team is ready to define your company's DEI philosophy, downloading our free DEI philosophy template is a great place to start.

How to revamp your hiring process with interview diversity questions
Ok. So you've put in the work and watched your company's diversity and inclusion initiatives flourish. Now, you want to hire more teammates who will help water the garden and watch that baby grow.
Ethena's Values Interview template is a great jumping-off point for a refreshing splash into the diversity deep end. Use it to ask yourself and your team: which values and practices do we want to see reflected in the next person we ask to fill this role?
Next, take a look at our list of the best diversity interview questions you can ask prospective hires. That way, the applicants who already have a green thumb are sure to stand out ahead of the crowd.
Interview questions about diversity
Download our Interview Questions About Diversity Template to get started. You can use our questions as-is, or as a solid foundation as you build your own diversity interview questions.

As you make your own, be sure to think about:
What specific company initiatives can you assess in the interview process?
How can you incorporate real diverse workplace culture examples into these questions that help show both you and the applicant if they're the correct fit for your team?
Take your commitment to DEI even further in your hiring process
You've posted an inclusive job description, have your list of diversity interview questions ready to go, and now your application inbox is filling up. You're ready to book the meeting room (or set up the Zoom link) and get started! What else do you need to know before walking into the (physical or digital) room as a hiring manager?
We know that many types of bias are able to sneak their way into our normal workday processes, even when we are actively on the lookout for them. The same is true during the hiring process. Societally ingrained tendencies towards age bias, affinity bias, and anchoring bias (among many others) can keep even the best candidate from rising to the top, no matter how great your diversity questions for interviews are.
Excellent hiring and interview training can help you prevent these intrusive biases from making an unfair candidate assessment. Ethena's Hiring and Interviewing training educates learners on inclusive interview processes, the legal landmines to avoid in interviews, and how to tackle those underlying biases at the process and individual level.

And the best part? You don't need to teach it across your company! Just auto-assign our training to the hiring managers who need it before they start interviewing so everyone is easily trained and kept abreast of the latest DEI considerations.
Ethena supports your DEI initiatives long after your diversity interview questions help you find the right fit
Interviewing, hiring, and now training? You've got a lot on your plate! With Ethena's streamlined HR software integrations, we help make sure that effective DEI training doesn't add to it! At Ethena, we are committed to creating DEI training that is as easy for learners to use as it is for HR teams to incorporate. And because Ethena is made with the modern learner in mind, our DEI training will continue to help promote lasting diversity and inclusion long after Millennials are running the show.
Ready to incorporate easy-to-use DEI training that prepares your new hires to support a diverse workplace? Check out a sample of our DEI training to get you started! Want to learn more about Ethena's learner-friendly compliance training that now has more than 1.2 million positive ratings? Let's talk.