Employee training programs are no joke – there's a lot of time, effort, and money that goes into running a thriving training program, let alone making one from scratch. For some organizations, they've read the tea leaves, and they're already saving time by upgrading from in-person to automated compliance trainings. But for others, where do you start?
Typically everything starts with shopping around for a training provider that not only covers the courses you need, but a provider that actually delivers on the promise of getting teams trained while taking all the work out of administering it.
Unfortunately, for teams looking for the right training partner, confusing back-ends, additional login information, and inconvenient training experiences are more common than you might think.
Enter: Ethena, a training platform that makes training convenient, accessible, and engaging for employees But don't just take our word for it, we've recently celebrated over 1 million positive ratings from learners! But what about the administrators actually responsible for the training program? Sure, Ethena makes training assignments, reminders, and delivery as easy as clicking a few buttons, and administrators can track engagement and completion data within seconds. But for the discerning leaders looking for training that's as convenient as possible, the right software integrations are top of mind.
Let's break down the types of software integrations Ethena provides and how they can save your HR team tons of time (and a few tersely-worded emails to the customer support).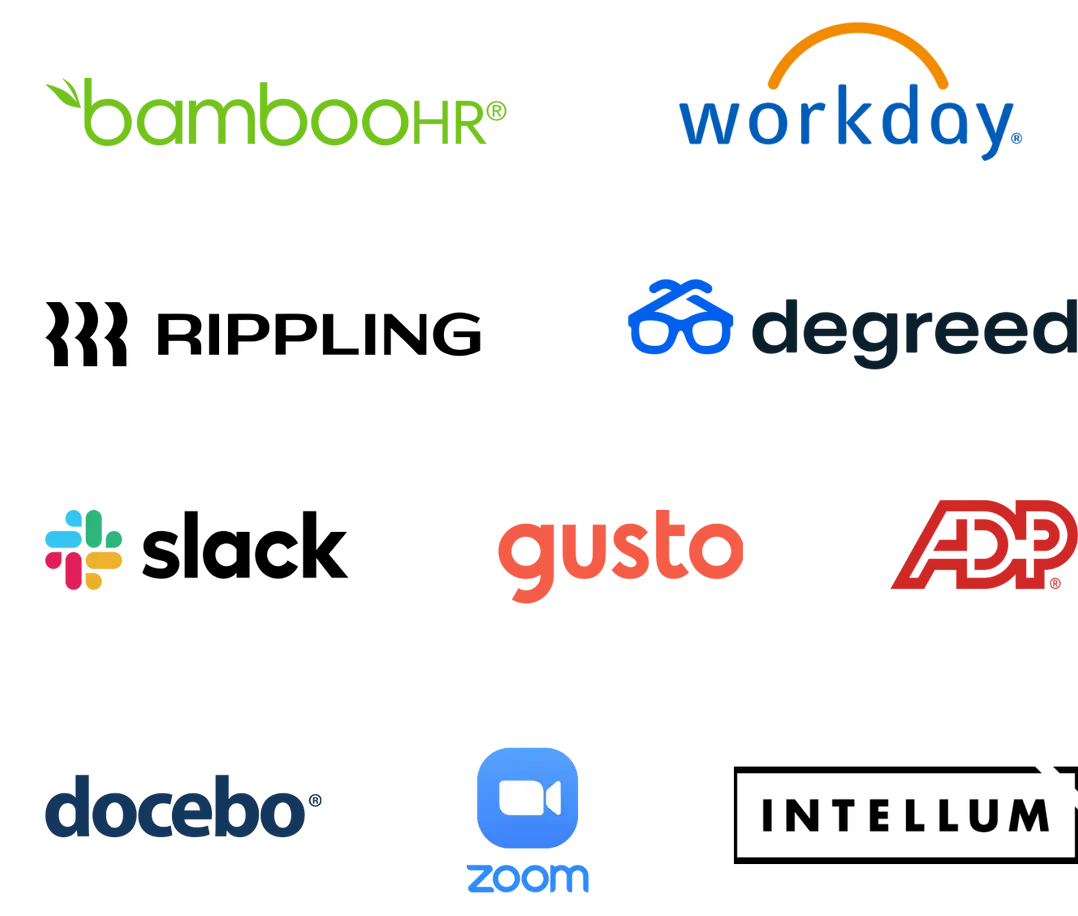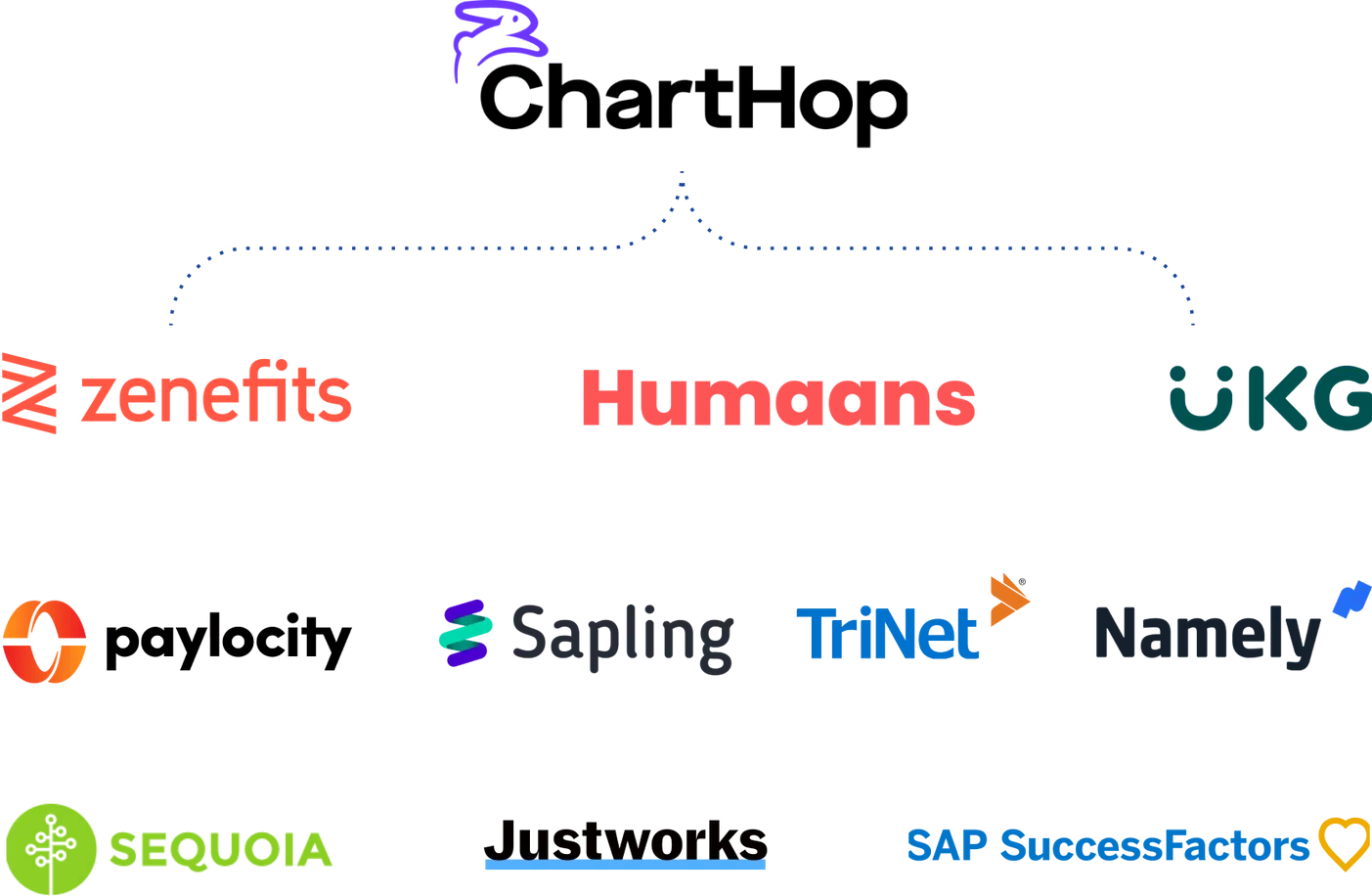 HRIS integrations: putting your training program on autopilot
Onboarding an entire organization onto a new training platform is often a headache. When your training provider and your Human Resources Information System (HRIS) don't connect, HR teams often spend days, weeks, even months out of the year continually checking in on the training platform, manually uploading new hires, and managing an entire training program for a growing, changing workforce. That's why HRIS integrations matter!
What is an HRIS integration?
No two integrations are exactly the same, but in a general sense, HRIS integrations connect an HRIS with another application (like Ethena's training platform) in order to smoothly share and sync data between the two systems. For example, if you integrate your HRIS with Ethena's training platform, changing employee data in your HRIS (like onboarding a new group of employees) is automatically reflected in Ethena's training platform – you can even set Ethena to enroll new employees to required training automatically!
Ethena's 15 HRIS integrations that save you time
Let's be honest, no one wants a training solution that gives them more work to do. Luckily for us, Ethena's 15 HRIS integrations are designed to do the opposite by automating training assignment, delivery, and updates to match your employee base within your HRIS platform. We're constantly evaluating more potential integration partnerships, but currently, here's the list of HRIS integrations we can partner with that will help you see compliance training success:
BambooHR
Workday
Humaans
Rippling
ADP
Gusto
UKG
Paylocity
Sapling
TriNet
Namely
Zenefits
Sequoia
Justworks
SAP SuccessFactors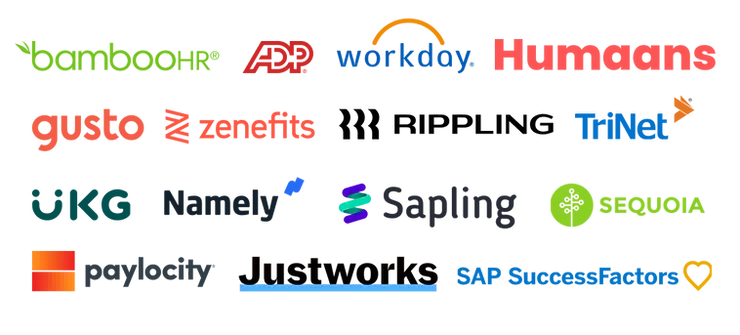 So how exactly does my HRIS integration and Ethena save me time?
Outside of removing manual processes like uploading every. employee. ever. into Ethena, you can get launched and onboarded in literally five minutes. No seriously, after a no-nonsense chat with our sales team, you're just five minutes away from completing onboarding and assigning trainings to your employees!
Automated, personalized training assignment
Ethena's delivery system automatically delineates employee information to deliver location- and manager-specific training courses to employees. That means that no matter where your teams are training from, across the U.S. or even internationally, they're receiving training that satisfies their specific local compliance requirements.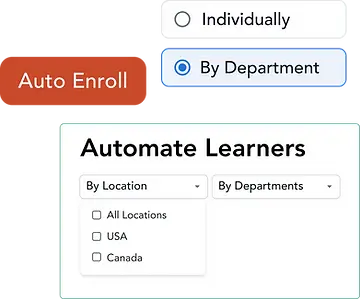 No more manual compliance processes or checklists. Managers can also receive training that covers additional responsibilities and best practices relevant to the courses. And Ethena even provides data insights and instant dashboards for reporting, so you can quickly measure things like:
Completion rates
Employee sentiment towards certain topics
Compliance status
And more
Depending on how automated you'd like your training to be, you can also auto-enroll new employees to the same courses that the rest of your team trains on, like annual Harassment Prevention training, company policies in Code of Conduct, or culture and communication resources in Diversity, Equity, & Inclusion.
How does it work?
When you integrate your HRIS system with Ethena, only the bare essentials of employee data are moved from one platform to another, ensuring that the most sensitive of information stays where it should be. Ethena is SOC 2 certified, so teams can trust Ethena to keep their data safe.
Some HRIS's are the exception, but for the most part, administrators are able to integrate Ethena with their HRIS on their own! (Although Ethena's Customer Success team provides dedicated support for the onboarding process.)
What employee data does Ethena use?
Some HRIS's slightly vary, but generally Ethena will pull the following employee data:
Employee Name
Email
State
Work State
Employment Status (are they currently an employee)
These are pulled via your HRIS integration and into the Ethena platform. Using this information, Ethena's automated assignment and delivery can now handle the administrative work for you.
But what about SCORM files?
Depending on the companies you've worked with in the past, you may not even have heard of SCORM (Shareable Content Object Reference Model) files. An easier way to think of SCORM files are like plug-in-and-play training courses, which can be made in-house or by a training provider.
So, you may be asking yourself: why doesn't Ethena provide SCORM files of its courses? Wouldn't that make it easier for some teams to use? Here are a couple of reasons why we don't provide our courses in SCORM format:
Seamless updates: Teams training with Ethena can trust whatever training they're taking in that moment is the most up-to-date, without needing to redownload a new SCORM file every time they want to train.
Accessibility: Because we host training on our own platform, we're able to make training more accessible and optimized for mobile devices, so you can listen to your training on a walk for a change of pace. Or for employees who require accessible accommodations, our training follows Web Content Accessibility Guidelines (WCAG).
Reliable reporting: SCORM files have a tendency to lose track of your progress in a course, and they often require some custom code to remedy the issue. Raise your hand if you'd rather not have to take your training twice.???? Luckily, no matter where you step away from training, Ethena's platform automatically saves your progress every 30 seconds, allowing you to pick up right where you left off.
LMS integrations: keeping your data in one place
For teams using programs like Degreed, Docebo, and Intellum with an LMS (Learning Management System) integration, you can bring Ethena to your home platform with some guided support from Ethena's implementation team.

LMS's are a bit more complex than an HRIS, so let's use Ethena's partnership with Degreed as an example, which is actually in its own top-tier category as a Learning Experience Platform (LXP). With a live integration, Ethena lessons appear within the Degreed platform as assigned articles, so employees can find their training where they're used to finding it. (Employees are brought to the Ethena platform while doing their training and returned to Degreed when finished to keep things consistent.) Plus, Ethena's learner completion data is synced to Degreed's reporting function, so admins can track Ethena alongside other Degreed courses.
If you're a team using an LXP like Degreed, or some other LMS, having all your training in one place just makes things convenient, which makes training easier to complete and on time!
SSO integrations, because who wants another login for training?
Speaking of convenience (honestly, what's an integration for if not convenience?), Ethena works with any SSO (Single Sign-On) integration, allowing your admin team to sign on to the platform with one click.
Notification integrations: engaging employees where they work
While we're on the subject, let's talk about how easy Ethena makes it for employees to get into their training. If your workplace uses Slack, Zoom Team Chat, or email for daily communication, integrating these programs with Ethena makes accessing training as convenient as possible.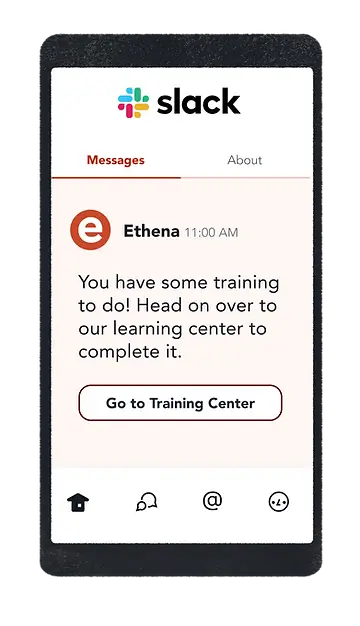 Ethena's platform delivers training via magic links (and reminder messages) directly to employees via Slack or Zoom Team Chat DM (or email), meaning that training arrives in the spaces where employees are already working. Plus, magic links take employees directly to their current training with one click, completely eliminating the need for additional login information.
Our integration software saves you time (and a couple headaches)
There are so many reasons that teams love Ethena: engaging multimedia content, convenient and accessible training, and a top-tier admin experience. But playing nice with software integrations is a huge added benefit that we cannot overlook!
If you're interested in learning more about how Ethena could be the perfect training solution for your team, let's get in touch. And if you'd like to try it out for yourself, request a sample of our training.