Finding the right software-based training solution can be a complex process, but if you know what you're looking for, you can make the search much easier. As a best in class training solution ourselves, we have a few thoughts on what makes an excellent employee training platform, some of our favorites out there, and what to look for when considering partnering with a new platform.
What is employee training software?
Employee training software is a program that teams use to manage employee training courses, with services ranging from training analytics, training delivery, and even training creating tools. These tools are used primarily by HR/People teams, or Learning and Development (L&D) teams to solve a handful of training headaches. Scenarios for their use include:
Standardizing training for hybrid or remote teams
Tracking compliance processes to save time for HR administrators (creating and managing a training program takes a lot of work!)
Providing additional resources to employees, like Codes of Conduct
What is an employee training platform?
An employee training platform is similar to employee training software and provides all the same services listed above, but these platforms are typically more aligned with or operate as Software-as-a-Service (SaaS) solutions, making them invaluable for remote teams.
Employee training platforms typically host a catalog of courses with built-in feedback, reporting, and support options for employees and admins alike. With employee training platforms, you're likely to see something a bit more flexible and innovative than a traditional employee training software.
What to look for when evaluating training platforms for employees
What should you look for when searching for a training platform for your employees? Below are the major things to keep in mind:
Courses: Does the platform cover the subjects your team needs?
Admin Experience: Is the training platform easy to use? How much time and work does the platform save your HR/People team?
Content: Is the training content good and engaging?
Engagement: Are employees actually completing their training on time and rating the training positively?
Training Delivery: Can my employees access and complete the training easily?
Integrations: Does the platform integrate with your existing human resources information system (HRIS)?
Customer Support: Does the platform provide customer support for onboarding training to keep it running smoothly?
Ethena's training platform is designed to deliver high-quality, engaging, location- and manager-specific content directly to your employees automatically, making training convenient for learners and administrators year-round.
Roundup of the best employee training software
1. Navex
An excellent choice for global teams, this employee training platform is a great choice for HR teams especially concerned with addressing the risk management and compliance areas of training.
Navex has a host of courses, from things on the compliance end (Global Data Privacy, Antitrust & Competition Law, Conflicts of Interest, and Cybersecurity) to anti-harassment and culture courses (Diversity, Equity, & Inclusion, Discrimination-Free Workplace) to more practical trainings for daily operations (COVID-19 and the Workplace, Working Remotely).
Pros: Navex's platform works best for larger, more international teams, and provides a handful of benefits like multiple HRIS integrations, translation options, and excellent analytics and reporting capabilities, including customization options.
Cons: On the other hand, the training experience feels a bit . . . outdated. Navex's training content contains animations and recorded audio that feels more like you're on hold for customer service than in a training session. Training content needs to be engaging in order to make a positive impact on employee behavior.
2. EVERFI
Committed to "driving social impact through education to address the most challenging issues affecting society," EVERFI offers a variety of course packages that administrators can choose from to best fit the top needs of their organization.
Their major packages are Global Ethics & Compliance, HR & People, Harassment and Inclusion, and Diversity, Equity, & Inclusion. Beyond their employee training programs, EVERFI also offers various Community and Financial Education courses.
Pros: Founded in 2008, EVERFI has been around for a bit in the employee training platform space, and it shows in their catalog of content, which includes a diverse suite of offerings, including in K-12 education, financial education, and more. Also included is a huge backlog of supplemental materials for administrators and educators who need extra support.
Cons: EVERFI's content is largely focused in the education industry, meaning HR leaders aren't likely to find some of the more specialized courses they'd need for their teams. The best employee training software will curate content that specifically addresses the needs of your team, and it is far more likely to stick.
3. Emtrain
As a company focused on skill-based learning, behavioral change, and digestible microlessons, we're a big fan of Emtrain as an employee training program. (Also, just like Ethena, they're women-founded and women-led!)
What makes Emtrain special is its focus on training bandwidth (training fatigue is real, according to compliance leaders) and its benchmarking tools. It allows People teams to track their organization's progress with helpful insights to track changes over time. Their course library includes Ethics & Compliance, Workplace Harassment, and Diversity & Inclusion courses.
Pros: Much like Ethena, Emtrain offers microlessons to focus on specific topics while keeping training light and convenient for working teams. Emtrain also has a relatively large customer base and the experience that comes along with it.
Cons: Training content from Emtrain is good, but it often fails to go beyond the basics. The best employee training platforms need their content to go far above what we might find in a cursory Google search. (For example, Harassment Prevention training includes lessons on Mental Health, Online Harassment, Managing Remote Teams, and more to address remote workplace issues.) Plus, the HR administration experience isn't exactly convenient. It often requires HR teams to spend days of work each to make sure employees are meeting training requirements while onboarding new members, which is a major pain point HR teams care about when shopping for an employee training platform.
4. KnowBe4
KnowBe4 boasts "the world's largest security awareness training and simulated phishing platform." It has over 1000 interactive modules, videos, games, posters, and newsletters largely focused on security awareness training. Larger organizations with serious concerns about cybersecurity and data protection are likely to find a great solution with KnowBe4.
Pros: If you're looking for cybersecurity-related training, KnowBe4 has you covered, with over 60+ built-in reports. Enterprise-sized organizations looking to cover their security training will most likely find what they need here.
Cons: Security awareness training is infamously . . . not exciting, and KnowBe4 is no exception. Compliance training is also an additional add-on, so if compliance training is your main focus, you may need to consider another provider.
5. Cornerstone
With "20+ years of leadership in talent and learning," Cornerstone is a major player in the employee training platform industry. With many users using Cornerstone in 180 countries, larger companies looking for international training solutions may find a great fit with this platform.
Pros: Cornerstone has many courses covering a wide variety of workplace-related topics, and the content feels modern and engaging. If you're looking for a Learning Management System (LMS) as well, Cornerstone has their own, with built-in discounts if you're buying the LMS and a course together. Cons: While Cornerstone has a huge customer base, their customer support doesn't provide a ton of hands-on assistance. For admins looking to onboard a new LMS and schedule training content, they may find Cornerstone's HR administrative experience not very intuitive. With little hands-on assistance for getting your training program up and running, an administrator will have to do a lot of manual troubleshooting, self-service solutioning, and more.
6. Ethena

Founded in 2019, Ethena was the brainchild of a military veteran (CEO Roxanne Petraeus) and a software engineer (CTO Anne Solmssen), who felt that modern workplace training felt more like a "check-the-box" experience rather than one that actually made a positive impact in the workplace. Ethena's one-two punch is its focus on top-tier training content that is relevant to today's times, that engages learners so they actually learn, and that offers an automated HR administrator experience to make training convenient to access and effortless to manage. Started originally as a Harassment Prevention provider that provided monthly continuous learning microlessons, Ethena has grown exponentially over the past three years, growing to host a variety of topics. Today it includes courses from Diversity, Equity, & Inclusion to Data Protection – all with Ethena's signature content, inclusive focus, and flexible administrator experience.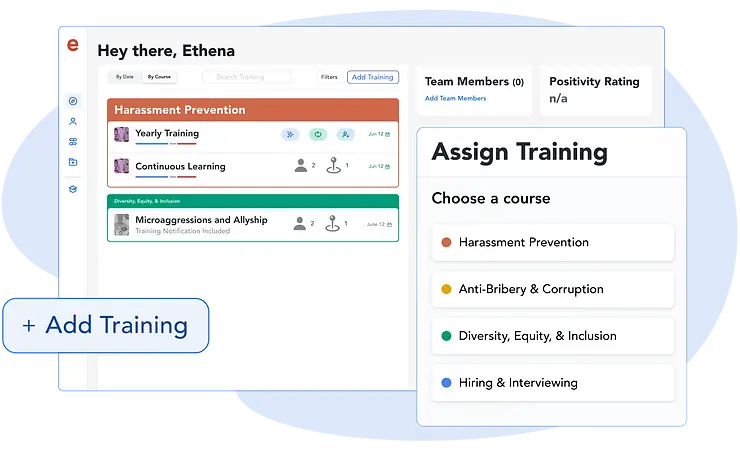 Pros: Ethena's platform allows for automated delivery based on managerial status and location. This means all administrators would need to do is assign training courses to their team, and Ethena will automatically deliver unique training content to each employee to satisfy compliance requirements. It will know based on every employee's location when to resend compliance trainings, and which ones, depending on various compliance laws, and it can take care of all the follow up until training is completed – so you don't have to.
With many HRIS integrations (or a CSV upload), Ethena can also easily integrate into your existing workflows and software. Now automatically onboard new hires or accommodate promotions in just a few clicks.
Ethena's analytics also gives administrators insight into how their employees like their training (77% percent of employees on the platform have given feedback on their experience) as well as completion rates. Administrators can even check up on team members individually through the platform or ask Ethena to do so automatically.
For HR teams, Ethena saves days of administrative time and paperwork, so they can focus more on people work.
Ethena's training content ranges from audio options, to videos, to graphics novels, and more, making training feel dynamic and exciting. It's even compliant with Web Content Accessibility Guidelines (WCAG), so employees who need, say audio-only versions of training can be accommodated.
Training is delivered to employee inboxes via magic links, so there's no need to remember a new LMS login – simply click the link to get directly to training! And their training is autosaved, so they can leave and pick up their progress wherever they left off.
Cons: As a relatively new employee training platform, Ethena's course catalog is still growing. With currently six courses live, teams are likely to find their major needs covered (Harassment Prevention, Code of Conduct, Data Protection, etc.), but they may not find their more specific needs covered. With three courses launched this year alone, and at the time of this writing, three more in the works, People Team leaders can trust Ethena will add more courses on the horizon very soon.
5 things you need to look for when evaluating training platforms for employees
Partnering with the right training solution can mean major benefits for your organization. Beyond checking HR compliance and training needs off your list, a great employee training platform can give some serious time back to your organization with automation and smart analytics. Consider what priorities are must-haves for your organization and aim for these first in your search.
Below are 5 areas you need to consider when searching for your next employee training platform:
1. Quality of Content and Courses Offered
Bare minimum, you're looking for a training solution that can cover the subjects you need to cover. Think of the courses you need taken care of first (compliance-related courses like sexual harassment prevention and anti-bribery come to mind). The ideal provider will have most, if not all of the courses you're looking to cover through their software. Even better if the provider offers all the courses you need covered as well as some courses you're looking forward to implementing in the future.
What really sells these course libraries, however, is consistently excellent training content. If the content is engaging, relevant, and contains practical advice for key workplace issues like reporting complaints and bystander intervention, employees are much more likely to complete their training on-time and retain more information. A variety of content options, like video, audio, and even graphic novels, is a major benefit to making training exciting, rather than just a requirement from HR.
2. Good administrative Experience and HRIS Integrations
People teams can often overlook the administrator experience of a training solution for other benefits, like course offerings or pricing. An excellent admin experience (and the right integrations) is essential to finding an employee training software that actually saves your team time (and money).
Does the platform automate training delivery, onboarding, and analytics?
Does it integrate with your HRIS for easy onboarding and tracking?
Does it have a track record for saving People teams time?
The best employee training platform delivers an admin experience that:
Allows your admins to easily check up on training at-a-glance, giving them more time to check in on folks falling behind
Allows admins to be as hands-on or as hands-off as they need to be
Is supported by an excellent customer service team
Can unify your training under one platform to make it easier for your employees to access and complete their required courses
3. Employee Accessibility
A great way to get your employees to dislike their training is by making their training difficult to take, hard to find, or both.
How does the employee training platform deliver its training to employees – in their inboxes, on an app, or via company-wide announcement?
Do they have to memorize another username and password to access the platform?
Think about each training solution's barriers to entry: how many hoops does an employee need to get through to get to their assigned training? This is especially important if your line of business requires more frequent trainings. Your goal should be to remove as many barriers to entry as possible for your employee learners.
4. Feedback and Analytics
Most employee training platforms provide some form of completion metrics and analytics, but the best training platforms take it one step further.
How does the training platform source feedback from employees before, during, and/or after they train?
The ideal platform should be able to collect feedback from employees painlessly, so you can have a better understanding of:
What training is resonating with your employees?
How many employees are completing their training on time?
Employee sentiment on how certain topics are being digested?
With data comes more insightful decisions. Prescribe in-person conversations for training topics to certain departments that need it. Or don't. Much like the admin experience, a great analytics tool will allow you to be as in-depth or high-level as you'd like.
Additional options for custom pulse surveys and other notifications are an added benefit.
Looking for a best-in-class employee training platform? Try Ethena
As a training solution, Ethena really shines by having the best training content out there. Paired with an excellent admin experience, easy employee and administrator accessibility, great analytics tools, and smart automation, it's in a class all its own when it comes to employee training platforms.
Its content is engaging, memorable, and (dare we say) enjoyable! 92% of Ethena's active learners on the platform rated Ethena's training content positively, like Harassment Prevention, Code of Conduct, Diversity, Equity, & Inclusion, and more. Ethena's training is also built to train over time or all-at-once, so teams looking to provide monthly or quarterly training refreshers can do so via the Ethena platform to keep important lessons and resources top-of-mind.
Looking for a new employee training solution that employees and admins love? Try Ethena. And if you'd like to see what our training is all about, request a sample training today