We know. We know. Searching for HR compliance trainings is not the most exciting task for today. But at Ethena, we promise, we're really good at revamping boring trainings into something new. How we approach our creation of engaging content is like what Poke bowls did to sushi. Or what balayage and ombre hair color did to outgrown roots. It repackaged them into something new and made them – exciting.
Let's dive into how (creating engaging training content that is. We can't tackle poke bowls and balayage today).
What is HR compliance training?
HR compliance is the process of aligning organizational policies and processes with relevant regulations and laws. This can include aligning policies that relate to a specific industry, or to the location of the organization or its employees. (For a more detailed overview of HR compliance, check out our 4 Best Practices for Easy HR Compliance.)
HR compliance training then, is the training and education that compliance regulations require, like annual Harassment Prevention training, for example. The purpose of this training is to educate employees about the laws and regulations that govern their day-to-day work activities. But in a broader sense, HR compliance training is a way for organizations to:
Make sure their employees know what behaviors in the workplace are acceptable
Which ones are not acceptable
What best practices there are for addressing wrongdoing in the workplace
What steps and policies are available to employees to take action
Empower their employees to speak up
5 Reasons why HR compliance training for employees is needed
If you're reading this, there's a good chance that you've participated in some form of HR compliance training before. And if you have, you probably have a good understanding of the base-level purpose of HR compliance training: protecting employees and organizations from harm. But lets dive into this topic more. We believe there are five main reasons why HR compliance training is needed.
Reason #1. HR compliance training protects employees
HR compliance training educates employees on the laws and regulations related to their work for a number of reasons. On one hand, compliance training brings awareness to regulations that may not be obvious, helping to prevent anyone from making a violation unknowingly. On the other hand, compliance training underlines what behavior is acceptable and unacceptable in the workplace, so employees can better protect themselves and each other from potential harm or misconduct.
Reason #2. HR compliance training protects businesses
Businesses that don't follow compliance regulations and laws are at risk for a myriad of penalties, including hefty fines, expensive legal proceedings, and an overall reputational disaster. Scan the headlines of the Wall Street Journal or other business-focused publications. Any stories related to a scandal – they probably occurred from a lapse or lack of effective HR compliance trainings. From conflicts of interest, to sexual harassment, to tone-deaf PR nightmares – many of these issues could have been avoided if the organization invested in quality Hr compliance training courses like Diversity, Equity, and Inclusion or Code of Conduct.
To prevent this, often larger businesses will employ a compliance officer (or on the executive level, Chief Compliance Officers) to help develop compliance programs and training to make sure the organization is operating within guidelines.
But in many instances, especially for businesses with a smaller employee base, the responsibility for compliance and training can rest on the shoulders of the HR and Legal teams for an organization.
Reason #3. HR compliance training is an opportunity for company culture
If you've participated in compliance training before, you know that some training . . . just misses the mark, even if the information in the training is valuable. Poor compliance training often aims to have employees complete the training to meet compliance requirements, and that's it. When the aim is to simply "check the box," typically the training quality (and employee experience) suffers. And in many cases, bad training can actually cause an increase in discrimination and harassment.
Ethena was co-founded by two women originally as a Harassment Prevention provider. Fed up with the lack of change in sexual harassment in the workplace, they decided to make HR compliance trainings that were designed to change workplace behaviors, and not just merely "check a box."
Reason #4. Online HR compliance training can be more effective than in-person trainings
Great HR compliance courses seek to actually impact employee behavior and foster a healthy, thriving company culture. In the best cases, HR compliance training should feel easy to access, understand, and complete. It should drive key lessons and helpful resources home. Plus, when training feels relevant to daily work life, employees enjoy it, and they are that much more likely to apply what they've learned. But don't take our word for it. We've hit 1 million positive ratings for our trainings from learners all over the world, and we're just getting started.
Reason #5: Best-in-class HR compliance courses move the needle in your organization
The best way to know if your HR compliance courses are effective? Take a look at your workplace culture. Is it improving? Or is it stagnant?
HR compliance training that provides insights and best practices for being more inclusive and promoting diversity has major benefits in the long-term, including better employee engagement, retention, and productivity.
Take a look at what Ethisphere has to say on HR compliance trainings, and dig into their data on what makes a Best-in-Class HR compliance training.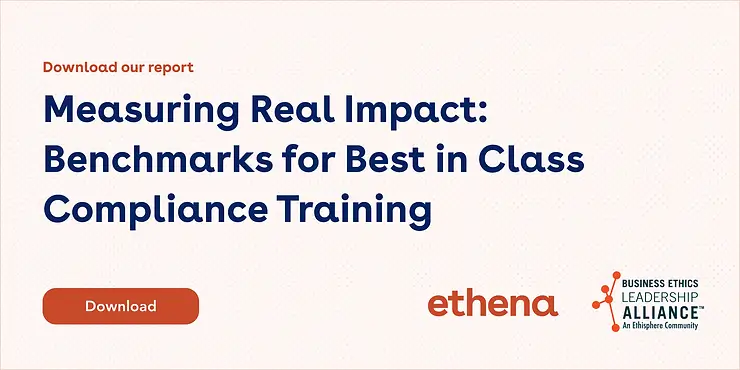 What are typical HR compliance training topics?
Some of the major topics covered in most HR compliance training courses include, but are not limited to:
Policies and procedures of an organization
State, federal, and industry-specific laws and regulations
Harassment and discrimination
Diversity, equity, and inclusion
Reporting procedures
What HR compliance training courses cover those topics?
Let's dive into the kinds of courses that can cover some of the topics listed above. While browsing for compliance training, you're likely to find:
Cybersecurity (coming in 2023)
Unconscious Bias
HR leaders looking to cover multiple subjects will need to do a little research to find out which topics each provider has in every course. For example, Ethena's Harassment Prevention training was utilized by research platform Tegus to support their Diversity, Equity, and Inclusion initiatives. They also used Ethena to keep their growing teams compliant with annual harassment training requirements as well.
What is the benefit of online HR compliance training?
There's more than one way to train, and with more teams working remotely, training software that helps teams train remotely can be a lifesaver for a busy organization.
Online training platforms, at their best, save an organization a serious amount of time and effort while keeping their employees engaged and on-time with their training needs. Ethena's online training platform, for example, automatically delivers location- and manager-specific training to employee inboxes, including training reminders when folks are falling behind. Combined with a best-in-class admin experience that tracks employee engagement and completion metrics, Ethena's training platform can save admins days of work they'd need to commit when administering compliance training manually.
Additionally, when online training platforms make training easy to access and complete (as well as provide feedback on training), employees are that much more likely to complete their training, especially when organizations don't over-train and cause burnout.
Why Ethena is the best training provider out there
If you're looking for training that makes a real impact on your company culture and the weekly workloads of your HR team, Ethena may be the solution for you.
Ethena's training content is second-to-none, with timely references, a variety of media options, and an astounding 92% learner feedback rating from 50,000+ employees training on the platform.
Plus, Ethena's admin hub automates the training process, assigning and delivering training to employees – even integrating with your HRIS, making onboarding new hires a breeze – all with completion and engagement metrics at your fingertips. Administrators training with Ethena save precious time and resources, so they can invest more time in supporting their team.
Get your employees HR compliance training that works
Want to learn more about what makes Ethena the best HR compliance training provider out there? Let's talk!
And if you're interested in our course content, try a sample training session and see what all the buzz is about!