In the post-2020 world, there have been plenty of internal efforts to address inequalities in the workplace and foster more inclusive company culture. This includes a greater emphasis on training, especially training that addresses bias as it manifests in the workplace. One such training is "unconscious bias training," which educates employees in the ways in which we act on bias without realizing we're even doing so.
If you're looking for unconscious bias training and wondering how to make it work for your teams, we've got you covered. Below, we'll cover what unconscious bias training is, why it matters, and how to make an impact with it.
What is unconscious bias training?
Let's first start with defining unconscious bias. An unconscious bias is one or more stereotypes, generalizations, or assumptions about certain groups of people that someone makes quickly (perhaps a snap judgment) without realizing they've made the leap.
Unconscious biases, like many discriminatory biases, are influenced by an individual's personal experiences and cultural background. You may also have heard of the term "implicit bias," which is often used interchangeably to mean the same thing.
Unconscious bias training, then, provides trainees with a greater awareness and understanding of the biases, both conscious and unconscious, that exist in our workplace and greater society. This includes recognizing the many ways in which unconscious biases affect an organization, such as:
The hiring process
Career advancement
The ways we communicate with one another on a daily basis
What is the purpose of unconscious bias training?
On the surface, the purpose of unconscious bias training for employees seems to be an awareness-based goal – that is, if employees are aware of their unconscious biases, they'll be sure not to act on it and therefore eliminate it from the workplace.
But unconscious bias training on awareness alone does not seem to do the job. Effective unconscious bias training should prioritize changing behaviors. Many unconscious bias trainings don't actually affect employee behavior, and in some cases, lackluster unconscious bias training led to fewer career advancement opportunities for Black men and women. (If you're an avid Ethena reader, you've heard us talk about the consequences of bad training before.)
The main priority and purpose of your unconscious bias training should be to change behavior. Employees who take the training should leave with
A good sense of their biases
Practical tips to manage them
Ideas to challenge and change their own behaviors,
Ways to track their progress over time (for this last point, continuous learning is a great way to tackle this)
Does unconscious bias training work?
The first step to addressing discrimination or wrongdoing in the workplace is awareness. And unconscious bias training arms employees with the skills they need to address some of the most-pervasive and often-unspoken issues in their workplace. A study from The Equality and Human Rights Commission argues "the evidence suggests that raising awareness of bias is the aim most often achieved…[and is] effective for reducing implicit bias, but it is unlikely to eliminate it."
And in one study of university students by University of Wisconsin researcher Patricia Devine, unconscious bias training attendees were able to notice and distinguish bias in others more than their colleagues who had not taken the training after two weeks, and they were still able to do so two years after training. This particular training included awareness training, testing, and training on strategies to identify and overcome bias when they recognize it.
Long story short, great unconscious bias training does work, and its positive effects are long-lasting.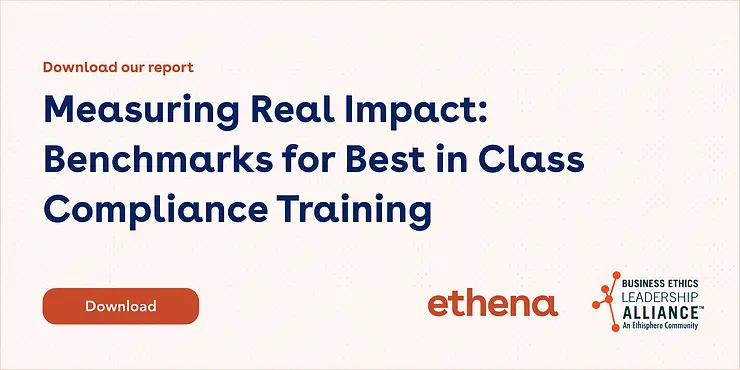 What types of unconscious bias training are out there?
Unconscious bias training can be delivered in a number of familiar formats – in-person, online, etc. – but you may have seen more than one kind of unconscious bias training in your search. Some of the common unconscious bias training courses address:
Gender bias
Racial bias
Sexual orientation bias
Age bias
Disability bias
Religious bias
Other common biases, like confirmation bias, anchoring bias, or the halo effect
If you're training to address unconscious bias, you'll likely be looking for a training course that covers most, if not all of these topics. And if you're specifically training a hiring or management/executive team, you'll want to be extra careful about covering all of these since these biases play a major role in hiring and career advancement for people from marginalized communities.
How does unconscious bias training work for employees?
From the employee perspective, what is unconscious bias training like, and how does it help change behavior?
Unconscious bias training that works
Effective unconscious bias training needs to give employees the context they need to actually identify bias in the workplace (and in their own work) and the practical strategies they need to challenge and address bias when they see it. This can be done in a number of ways (depending on how you administer training), but what matters most here is that the training content itself is high-quality and relevant to the employees taking the training.
An even better (and more common) approach to unconscious bias training is to include the training as a part of an organization's larger Diversity, Equity, and Inclusion strategy. If an organization proves that they value and are committed to challenging bias and discrimination, employees are much more likely to make a genuine effort in their unconscious bias training (and generally be more productive in an inclusive organization).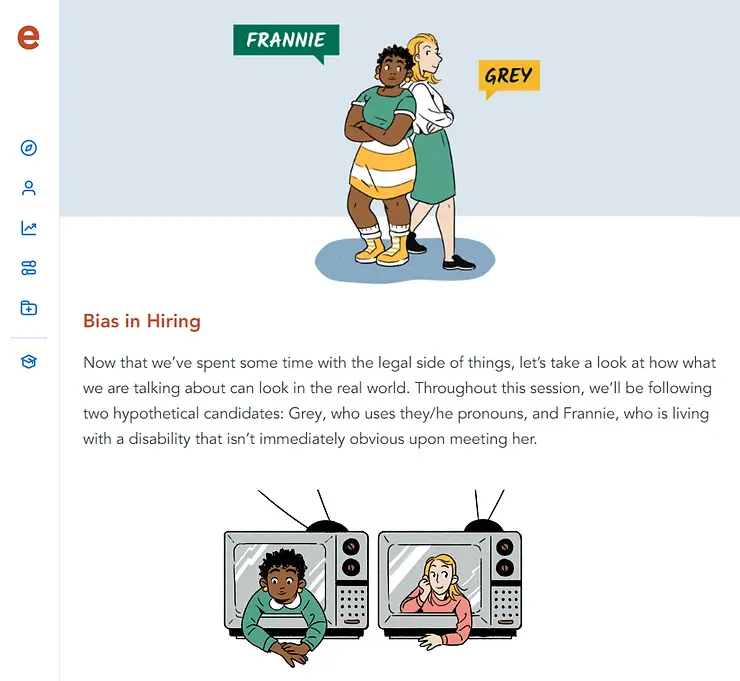 Why Ethena's training goes above and beyond traditional unconscious bias training
If you're looking for the most-effective training out there for inclusive learning, Ethena's best-in-class training solution has you covered. Ethena's course content is second-to-none, with engaging and relevant videos, graphic novels, and audio options to connect with learners. All of Ethena's courses underline the importance of inclusivity in the workplace, like Ethena's Harassment Prevention course, which has been used by companies like Tegus to support their internal DEI efforts.
Ethena's training platform makes training convenient to access, with one-click magic links that take learners directly to their training via their computer, phone, or tablet. How do we know learners like and engage with our content? We have over 1 million positive ratings from learners all over the world. And with Ethena's Admin Hub, administrators can easily see employee engagement and training completion at a glance.
Ethena's platform can automate training assignments for:
New hires
Employee promotions
New course enrollments
Employees that move
Supplemental courses that need to be assigned a year-round training approach
For teams like Storybuilt, who want to train effectively while saving precious time for their People teams, Ethena's automated platform took care of the paperwork, so administrators could focus on the people work. Plus, training over time gave their employees the lessons and resources they needed to keep the trainings top-of-mind, while supporting organizational culture-change.
Get your workplace an unconscious bias training that works
Interested in trying Ethena's inclusive approach to training on unconscious bias? Check out a sample of our Diversity, Equity, & Inclusion course, or, for hiring teams looking to eliminate bias from their hiring process, our Hiring & Interviewing training provides best practices and helpful exercises to support your hiring team.
Talk with a member of our team to see how Ethena can support your organization's training needs.