At Ethena, we're no strangers to fantastic training content, but while Team Ethena can take some credit for researching and composing hours and hours of brilliant, modern training, we owe a lot to the artists who help make our training an enjoyable experience.
And since February is Black History Month, we're so proud to introduce you to two of our fantastic Black artists who've made a big impact on Ethena's training content: D'Angelo Simms and Damali Beatty. We've gotten over one million glowing reviews from employees training with Ethena, so we think it's only fair we give fans of Ethena a chance to get to know the humans behind the comics!
Below is a Q&A with each artist, including information about where to find more of their work outside of Ethena.
D'Angelo Simms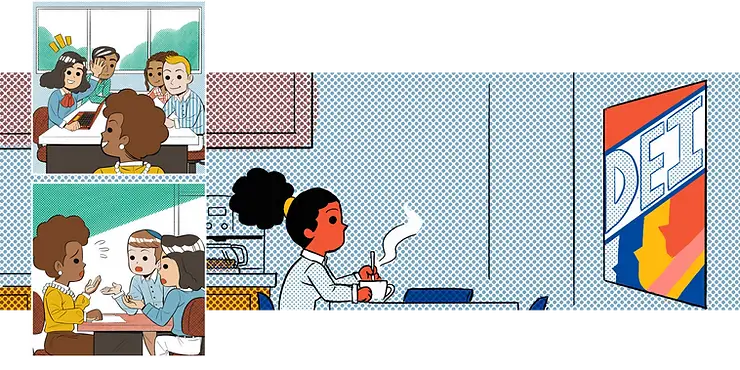 Ethena learners may recognize D'Angelo's work from our Diversity, Equity, & Inclusion training, launched in early 2022. Characterized by a distinct comic book style, D'Angelo's illustrations are a novel mix of nostalgic and modern, with characters that feel unique, adorable, and a little bit silly – a perfect fit for Ethena! C'mon, how could you not look at these characters and smile?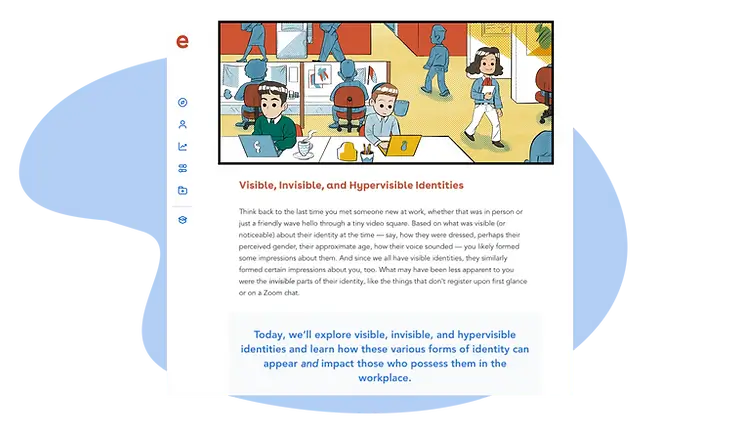 Where to find D'Angelo
If you're in love with D'Angelo's style, we highly recommend you check out his illustrated Valentine's Day cards! For the latest from D'Angelo, including an upcoming comic book, purchasable prints, and more, make sure to follow D'Angelo on Instagram and Twitter as well as his Etsy shop and portfolio page.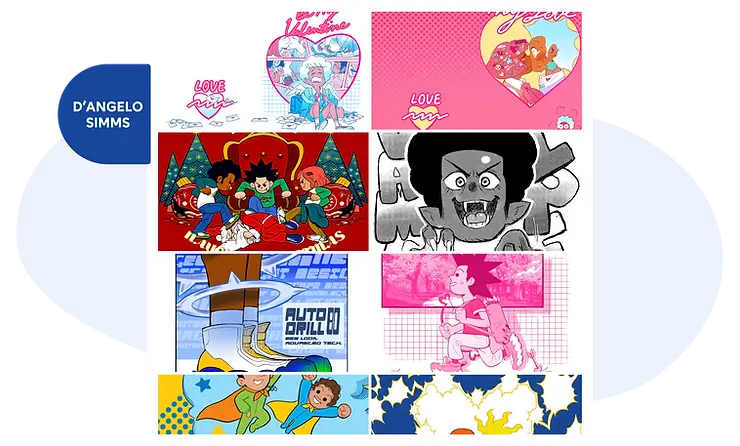 By the way, D'Angelo is available for part- or full-time positions, and he comes with our glowing recommendation. Send him an inquiry!
And now, on to the Q&A…
Q&A: D'Angelo
What does Black History Month mean to you?
To me, Black History Month is both an amazing time, but also a bit somber. I love the amount of representation that comes from celebrating the month, but I don't like that this is one of the only times Black illustrators get any major work.
What gets you inspired these days?
What mainly gets me inspired these days is discovering new artists I enjoy. I've grown a long list of artists that I like to look at who inspire me. That and surprisingly new indie video games. There are a lot of new games coming out with unique styles that I just love to look at.

What does it mean to be a Black artist today?
Being a Black illustrator is interesting today. On one hand, there's so many stories being told through the Black experience which I love. On the flip side, you don't see a lot of Black illustrators. Speaking from experience, it feels like many Black illustrators get overlooked unless they use a certain aesthetic when it comes to Black art.
What's your favorite thing about being an illustrator?
My favorite thing is the types of stories I can tell and the freedom of being an illustrator. I don't have to worry about making insane conceptual art with a deep meaning. I can make cute stuff just because I can. I also have the freedom to tell short stories and deliver direct messages with my art.

What advice would you give younger Black artists today?
I would say to experiment with as many mediums as you can. Especially for the job market today. The more tools you have in your kit, the more likely you'll be able to land jobs. I would also say if you have a vision of what you want to do, don't let anyone persuade you from your goals. I've dealt with that in college, and now I'm finally starting to make art that feels more like me than ever before.
What do you do to unwind?
I like to unwind by either hanging with friends, going out to a restaurant, or catching up on a show or podcast.
Damali Beatty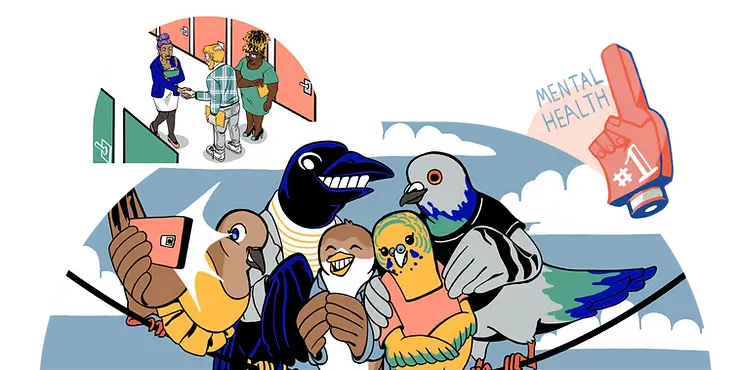 If you've been training with Ethena's Harassment Prevention and Hiring & Interviewing courses for a little while, Damali's striking, colorful illustrations likely caught your eye. Featured in Ethena's year-round curriculum, Damali Beatty's comics are so full of life that they almost seem to jump off the page (or should we say, screen). Damali's illustrations are both fantastical and down-to-earth. Whether you're looking at a worker bee taking the train to work or a rooster sipping some boba tea, it's hard not to connect with the characters Damali has introduced to Ethena's curriculum – which is why we love Damali's work!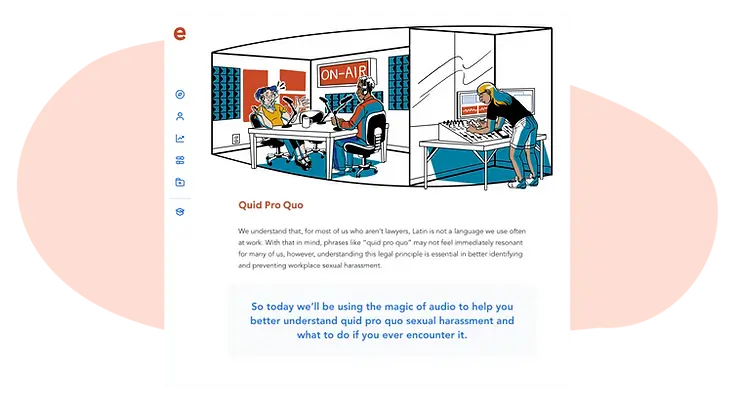 Where to find Damali
If you'd like to find more places to see Damali's comic illustrations, keep in touch with Damali's latest work, or reach out to her for your own projects, follow her on Instagram and Twitter.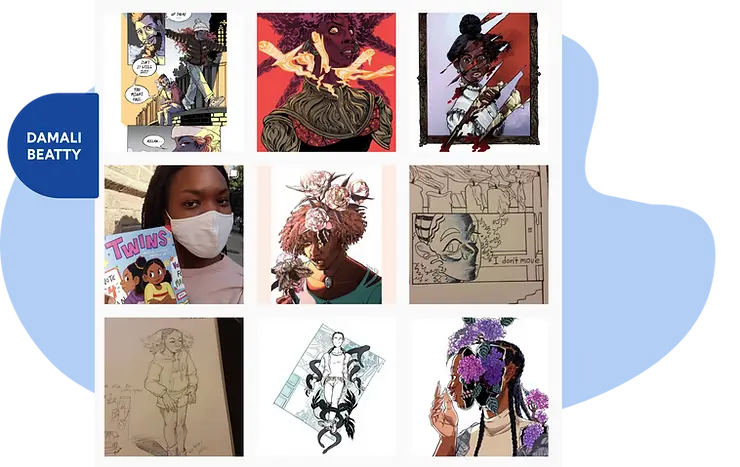 Q&A: Damali
What does Black History Month mean to you?
Black History Month is an important time of year. It is a good period of time to reflect on the works of those who came before us and to celebrate our history in a larger context. However, I think we should all use Black History Month as a jumping-off point for further exploration. After all, Black history is made every day, there's a lot more we can learn from continued exploration.
What gets you inspired these days?
I try to read often, watch documentaries, and visit museums or libraries when I need new material. I get a lot of inspiration from historical accounts or things I've researched for fun. I like to take these real events and try to twist them into something fanciful. At the moment, I'm looking at a lot of medieval illuminated manuscripts and taking inspiration from how they depict animals.

What does it mean to be a Black artist today?
Right now is a very interesting time to be a Black artist. I find we have more opportunities than ever to tell our stories and make our art authentically. Online I have found a lot of other Black creators who are making amazing projects. At the same time, I feel that there is a bit of internal conflict shared between Black artists, the pressure to represent Blackness correctly, through our work or our presentation of self. That our voice is only valuable if it's presenting aspects of Blackness that people find engaging. There's plenty of room for Black art that's historical, tragic, or socially relevant, but is there room for Black art that's mundane, complex, flawed, or joyful? I think a lot of Black artists are asking these questions of themselves and others. Fortunately, I think as our spaces expand room will be made for more variety in our art.
What's your favorite thing about being an illustrator?
My favorite thing about being an illustrator is being able to make little stories within my illustration. Creating illustrations can often feel like creating prompts for a conversation I want to have with others. While creating each work, I am constantly asking myself questions:
How is this person feeling?
What kind of world do they live in?
What does this image represent?
How would this creature's body work?
When possible I like to sprinkle into each illustration small details that quietly answer these questions and or at least flesh out the work. When others see my work and decode these small details, I feel fulfilled in my ability to engage my audience in this form of communication.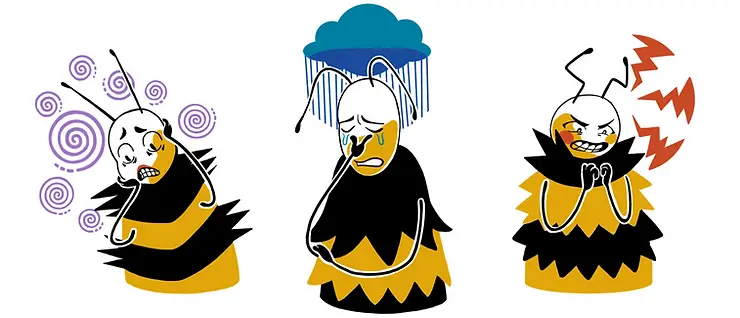 What advice would you give younger Black artists today?
I would tell younger artists to embrace a variety of interests, and to let those experiences enrich their work. Sometimes it can feel a bit unprofessional to fold our other influences into our creative practices. In my earlier years I often imitated the works of professionals in hopes of validating my artistic abilities, but including my personal interests has really helped make my art my own. I've drawn pieces that include my interest in biology, cooking, and history, with visual ties to film, comics, and my own lived experience. I find that seeking inspiration in my other interests helps me stand out and feel more satisfied in the work I make.
What do you do to unwind?
I spend a lot of my free time reading comics, playing video games, and doing sudoku puzzles. I also cook and bake pretty often. I appreciate that cooking lets me both be creative and care for myself simultaneously.
Want training featuring real, working artists?
What makes Ethena's training content so special? Smart research, a sense of optimism, a penchant for punny jokes, and a treasure trove of multimedia content, featuring fabulous working artists like Damali Beatty and D'Angelo Simms. To make a real, positive impact in today's workplaces, training needs to feel modern, relevant, and engaging, and we work tirelessly to find the best artists out there to support our research-backed curriculum. It's one thing to create trainings that delve into cultural awareness, types of workplace bias, and treating everyone equitably. It's another thing to live them out in (almost) everything we breathe and do.
We love working with the best of the best, and we couldn't be more proud of these two illustrators!
Interested in seeing more visuals at work in Ethena's training content? Try a sample of our training now, or talk to a member of our team to see how Ethena can help you with your training needs.