Raise your hand if you've rolled your eyes at your company's harassment prevention training. How about shook your head, stifled a giggle, or physically cringed at the scenarios playing out before you on video? Be honest – how many of you assume your teams multi-task their way through the required training?
Let's face it, the standard harassment prevention training is often produced with a low budget, is poorly scripted, and the scenarios are simply cringe-worthy.
And in many cases, the training actually does more harm than good. Consider this — it's been over 30 years since the U.S. Supreme Court recognized sexual harassment as a form of discrimination, yet the EEOC acknowledges that workplace harassment remains a persistent problem. The commission receives over 20,000 harassment complaints each year including sexual harassment and harassment based on race, disability, age, ethnicity, and religion. The National Institutes of Health found sexual harassment prevention training had a negative effect on the attitudes of some males — meaning they were more likely to harass after viewing the harassment prevention training.
Tone at the Top
Bad harassment prevention training is a reflection of your organization's leadership and sends a clear message about the tone at the top. (Tone at the top" is a term used to describe an organization's guiding values and ethical climate.) Leaders that check a box by mandating a once-a-year training video – and a bad one at that – are sending a message that harassment isn't really that important to them. In today's tight job market, having a culture where the leaders don't actively engage their teams and build an inclusive environment free of harassment will have trouble not only maintaining their current workforce, but filling open positions in the long term.
The Current Status Quo in Harassment Prevention Training
According to Gallup, standard harassment prevention training is:
Ineffective at changing workplace behaviors
Labor intensive for HR teams (ensuring everyone has taken training to stay in compliance takes hours, not including the follow up and manual reminders)
Employees who received poor training were indistinguishable from those who have had no training at all. Bad training was a waste of time and money.
But harassment prevention training is extremely important for the ongoing success of an organization. People need to feel safe and included regardless of their identity so they can form bonds with coworkers and build teams that can ideate and innovate together where everyone has a voice at the table. As a society, we can't afford not to rid the workplace of harassment.
That's why it's time to stop checking the box with the same old harassment prevention training.
Enter Ethena: A Rockstar Harassment Prevention Training Provider
Ethena is changing the paradigm in harassment prevention training. Founded by two women who spent their early careers in male dominated industries – Roxanne is a combat military veteran and Anne a software engineer – they set out to build harassment prevention training that offered best-in-class technology to improve the user experience along with cringe-free, engaging content that actually connects with employees.
Effective Content
Let's talk a little about that content. One of the big issues with traditional harassment training is that it can potentially make every mixed-gender interaction feel like it's going to end in a lawsuit, which puts people on edge and makes them second guess their interactions with coworkers because, you know, they don't want to get fired – or sued.
In fact, 60% of managers who are men report being uncomfortable participating in a work activity with women, including having one-on-one meetings and traveling together for a work related event.
But in a healthy work environment, men and women of all backgrounds need to interact and participate on teams that talk to each other openly and respectively. Companies should encourage informal interactions at work, which starts with not portraying mixed-gender interactions as dangerous.
Ethena's content uses real world, relevant scenarios and situations tailored to your employees needs and corporate culture that models how people of all backgrounds can communicate with each other to make the atmosphere welcoming, enjoyable, and free of harassment.
A Gallup poll showed that only 23% of employees who have participated in a compliance or ethics training session rated that training as excellent. Ethena has a 93% positivity rating from people who have taken our training courses, and has received over 1 million positive reviews since its founding.
Saves time
Ethena's harassment prevention training also significantly reduces administrative tasks with its intuitive admin tool, has flexible delivery capabilities, and supports meeting state and federal compliance regulations. Check out these features and benefits:
Customizable Content
Training content can be configured and customized to meet company needs (e.g. policies, personal messages from leadership, etc.).
Training content is designed to be consistent with your branding and corporate tone to support consistency in messaging. This demonstrates that harassment prevention training is woven into your people and internal communications strategies, not a separate one-off requirement that doesn't fit your culture.
Easy Delivery
Training is delivered where employees spend their time (e.g. Slack, email, Microsoft Teams, etc.).
Training can be delivered when it's most impactful, such as after a company event, aligned to company initiatives, or during a slow season where it won't interrupt workflows.
Automate Assigning of Trainings
Training software integrates with many human resource information systems (HRIS) to automate assignment of training, greatly reducing administrative work.
Training is automatically assigned based on risk, even if the HRIS data isn't clean.
Dig Into Completion Tracking and Other Metrics
Completion data is available in a Business Intelligence tool and can be sliced and diced how you need it, with the ability to filter by variables including department, location, and others.
Department managers can see the completion data of their teams.
Employees can leave both quantitative and qualitative feedback on the training for analysis.
Builds a better workplace
According to Gallup, when employees rated their compliance training as excellent (a 5 on a five-point scale), it means they actually enjoyed it. And from employees who rated their program as excellent:
84% strongly agree that they now know where to go to share a concern about unethical or harassment behavior at work.
72% strongly agree that their organization created an environment where people can speak up.
But those who rated their training as a 1, 2 or 3 were similar to employees who hadn't participated in any such training.
Moving the needle forward towards a healthy and inclusive workplace culture is essential. And an effective harassment prevention training is effective at helping you achieve that.
In a nutshell, Ethena vs. Traditional Trainings: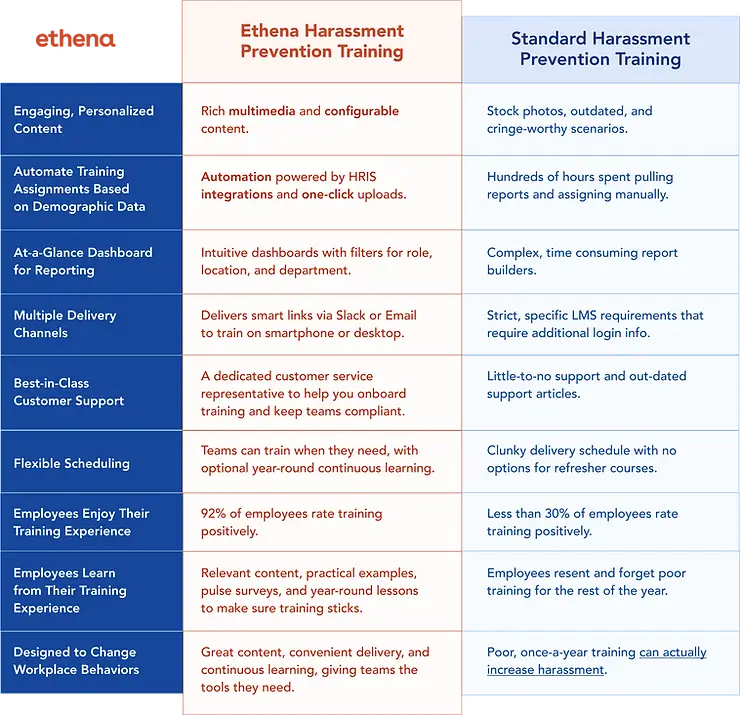 You Have a Choice in Training
Harassment prevention training is more than checking the compliance box. When employers invest in making the workplace safe and inclusive through smart training initiatives that go beyond the cringy harassment prevention training video, they are sending a clear message that their employees are valued. When employees feel valued, they stay engaged with their work.
A recent LinkedIn survey found that organizations with high employee engagement outperform organizations with low engagement by 202%. Engaged employees are 87% less likely to leave their companies. That's the kind of retention you want in today's environment.
Harassment prevention training matters. It matters for employees' health and wellbeing, it matters for collaboration and future growth, and it matters for the bottom line. Be sure to choose a training that really gets the job done – and doesn't just check a box.
Harassment Prevention training from Ethena has been nothing short of a revelation. Thank you Roxanne Bras Petraeus, Anne Solmssen, and the whole Ethena team for your work. As CEO, I'm proud we are offering this thoughtful, nuanced, uber-relevant content to our team. As a member of LGBTQIA community (I identify bisexual), I'm touched and grateful for the work you are doing." –Natalia Panowicz, CEO, Codility
Ready to break the harassment training paradigm at your company? We'll be happy to share a demo with you. Just tell us where to send it, and see what Ethena can do for your organization. Or if you'd like to see a harassment training in action, request a sample today to see it for yourself.