We're sharing some of our favorite metrics from a year chock-full of major milestones
2021 was a busy year for our Content team at Ethena, and to celebrate the hard-working creators and editors who make our training content the best out there, we're highlighting some of our favorite metrics and milestones–à la Spotify Wrapped.
Let's start by seeing how far we've come.
Holy content, Batman!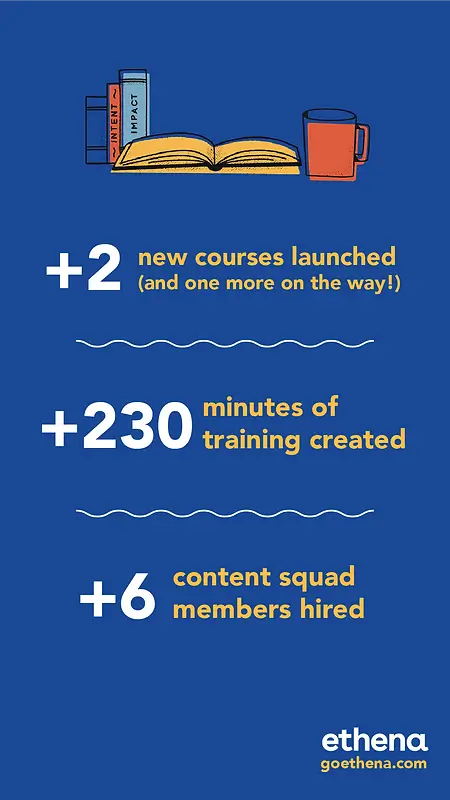 At the beginning of 2021, Ethena was known as a Harassment Prevention training provider. But thanks to the stellar feedback and support from our learners and admins, we expanded Ethena's course catalog to include two new courses, Anti-Bribery & Corruption and Hiring & Interviewing (plus our Diversity, Equity, & Inclusion course, launching January 2022). Every course added is delivered in Ethena's signature style, which means our Content writers and researchers not only created a best-in-class core curriculum for each of our new courses, they're also researching and programming year-round continuous learning courses for each subject! By our count, our Content team has written (illustrated, animated, filmed, edited, and so much more) over 230 minutes of refreshing, engaging training! It's no wonder that our Content team grew exponentially this year, adding six new members to our team.
Ethena's worldwide!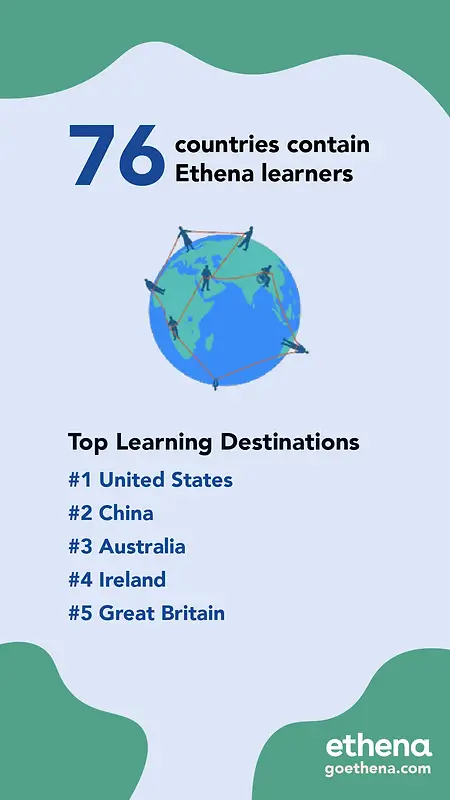 In 2021 Ethena became more worldwide than ever (picture that with a Kodak, Pitbull). Ethena's learner base now includes learners from 76 countries! We've had the pleasure of working with so many global companies (we even partnered with Baker McKenzie to keep our global content legally up-to-snuff), and we've learned so much from our admins and learners around the world. We're looking forward to supporting healthy company learning and culture for every team on our platform, no matter where you're training from.
Now, to our favorite subject: learner feedback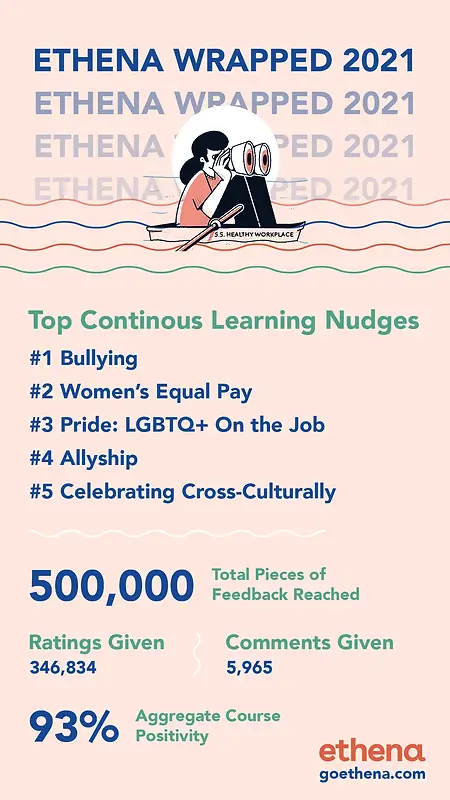 In 2021, Ethena reached our milestone of 500,000 pieces of learner feedback received! Those 500,000 responses let us know what training works for our learners, which means every valuable piece of feedback is an essential part of what make Ethena the best training option out there. We've been blown away by how responsive and curious our learners are, and we're absolutely honored by our 93% positivity rating across all of our courses! Trust us, Ethena learners, the love is mutual!
Our Top Nudges this year for our learners were some of our personal favorites. Starting with our #5 November nudge on Celebrating Cross-Culturally, which covered the often-difficult territory of the holiday season in the workplace. Our #4 nudge is our "oldest" on this list, our April Allyship nudge. Our Allyship nudge touched on the active nature of allyship and gave learners actionable steps to make a difference and support their coworkers in need, and it also received a splashy 90% positive feedback rating in its first month! #3 is our June Pride: LGBTQ+ On the Job nudge, one of our full-comic lessons that centered on the daily experiences of a queer professional. 2021's #2 nudge covered Women's Equal Pay, a half-infographic training nudge that took a historical lens to the fight for women's right to equal pay, including a crash-course history lesson on women in the workforce.
And finally, our Number One Nudge of 2021 was our September Bullying nudge, our first nudge ever to give learners an all-audio training option. Our Bullying nudge said "want to take this month's five-minute lesson on the go?" and learners responded with a resounding "absolutely!" Ethena learners can expect more all-audio options in 2022 after all the positive feedback from this nudge in particular.
---
We were lucky enough to learn a lot from our learners in 2021, and we're looking forward to taking Ethena's training to the next level with our learners' continued support in 2022. Just like our training, we'll be working year-round to make the best training experience possible for employees, admins, and companies.
But as for 2021, as they say, it's a wrap.