Let's start with the good stuff: Thanks to remote work, your company is tapping into more of the nationwide talent pool than ever before. You've hired a tiger team of work-from-home employees and contractors spread out across the country, or even the globe. So blow up some balloons because it's time to celebrate! Except — hold on — you're now faced with the task of training those employees and contractors, even though the full group will never be in the same place at the same time. (Sound of balloons deflating.)
This is where remote training comes in. If that sounds like a burden to administer or a compromise in terms of quality, think again. With the right remote learning software, your remote workforce can have just as great a learning experience as the workers sitting right in front of you — and your managers and HR team will save time, too.
What is remote training?
Remote training is a method that companies use to teach their remote teams and team members about topics that include but are not limited to workplace protocols, technical skills, safety, Harassment Prevention, and Code of Conduct. Training sessions are delivered remotely in the sense that the instructor is not in the same room as the people being trained. In most cases, the remote workers participate via their company computers or mobile devices.
Remote training programs can be either synchronous, which means the lessons are delivered live over a video chat platform like Zoom or Skype, or asynchronous, which means that lesson content is pre-recorded and available for employees to complete at a time of their choosing. Some programs combine both synchronous and asynchronous elements.
5 Benefits of remote training
In the early days of remote training, some corporate leaders and human resources officers viewed it as a compromise — a decided step down from instructor-led training in a big conference room. But as attitudes evolved and online learning management systems got a lot better, workplace training underwent a paradigm shift. Suddenly HR teams started viewing some remote training as superior to the old methods. Here's why:
1. It's cost-effective.
If you have teams working from home or in offices scattered throughout the globe, it's awfully expensive to get everyone in the same physical place. Transporting a single employee can cost hundreds of dollars … and that's just a rideshare to the airport with "surge pricing." By letting workers train from afar, these companies save on travel costs, lodging, catering, auditorium space, rental cars, and more.
2. It can be multi-media.
Remote training tools are able to pull in all sorts of content beyond standard-issue lectures. They might feature interactive training activities, quizzes, pithy videos, podcast-style audio content, and comics. (Ethena's courses include all of the above!) This makes remote learning a lot more enjoyable.
3. Employees appreciate the flexibility.
No one takes a new job thinking, "I can't wait to be summoned to a boring training session at an inconvenient time!" A great remote training platform like Ethena can address both of these issues. It allows workers to pursue learning at their own pace, completing training modules when their schedule allows it. It can also make the training process a lot more fun and engaging than a dull lecture in a stuffy conference room.
4. It saves your HR team valuable time.
The beauty of remote training software is that it handles scheduling and completion tracking for you, so your HR team isn't tracking down workers and begging them to complete a training session. Let your remote training software send out reminders instead.
5. It lets you painlessly scale up your workforce.
Consider the case study of Storybuilt, an urban home builder that is now operating in four cities hundreds of miles apart. Storybuilt turned to Ethena for a training program that would reach workers in all four locations and let them train on a mixture of devices. The relationship saved Storybuilt's people ops team 20 hours of time, and 97% of learners completed their training within 60 days.
Challenges of remote training
Remote training can be a fantastic solution for HR and people ops teams… but only if the online learning management systems are designed for engagement and efficiency. Here are some common issues that come up with remote training, and ways to address those issues with the right training platform.
Challenge #1: Boredom and distraction
Here are some words you won't hear most employees use to describe their workplace training: fun, exciting, stimulating, amusing, chocolate-frosted. Okay, that last one would be weird no matter what. But here's the thing: If your training content is so bad that it bores your employees or feels like a waste of their time, it won't be effective. This is especially true for ethics-based or compliance training. Employees see right through bad training, and actually may be more likely to engage in the sort of unethical behavior the training discourages.
The solution is non-cringy, engaging content that goes beyond remote training's most common format: video. Ethena's remote training is designed to actually help people learn. It uses colorful multimedia formats like comics, short videos, audio, and graphic novels to appeal to multiple learning styles and get employees jazzed about the topic at hand. Skeptical? Consider this: Ethena has collected over 1 million pieces of positive feedback from over 79,000 learners who train on the platform!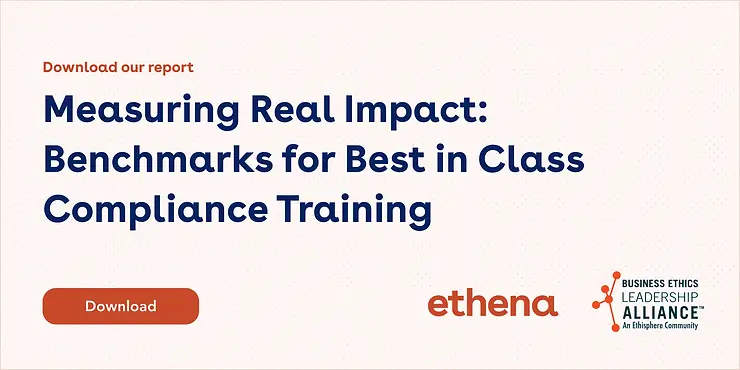 Challenge #2: A lack of supervision
Keeping up with employee progress and completion for a remote training program might seem like herding cats. That's why employee training tracking software exists: to help your HR team track team-wide and per-employee completion rates. But ideally, your training platform should also include tracking. (Yep, Ethena's does that.)
Ethena sends out automated reminders to trainees, sparing your people ops team the awkward task of cajoling people to finish their courses. We also provide tracking tools that give visibility into both course completion and course satisfaction. Positive feedback is a proxy for learning and impact, so you'll know whether your course materials are sinking in based on the kind of feedback you get.
Challenge #3: Technical difficulties or friction
Remote workers (or anyone, really) are less likely to complete their training if it's difficult for them to access. Logging in should be easy. If you ask us, it shouldn't even require a password.
That's why we built Ethena with a login-free experience. Rather than requiring employees to create yet another set of login credentials, we send magic links to their email, phone, or Slack. And because Ethena's course completion system is automated, those links are always going to lead to the exact training module the worker needs to complete. So long to friction, and so long to technical difficulties!
Don't settle for less than the best
Your employees and business deserve better than a second-rate solution — they deserve the best online employee training software. Fortunately, we already built it for you. Now, you just need to get a hands-on demo to see it for yourself.
Schedule a time with a member of our team to see how our compliance training platform can help your employees avoid issues, navigate tricky situations, and save HR and Compliance leaders time and resources.
Want to see a sample first? Make a request, and we'll send you a fully-functioning sample straight to your inbox.