Why we decided on representation over allyship in our latest Pride nudge
At Ethena, we want our continuous learning content to be like pastries—fresh, and made from quality ingredients. Put another way, no one is going to write home about a day-old croissant made with margarine. With that in mind, as we decided what to deliver to our learners in June, we knew we wanted a relevant and research-backed treatment on Pride month. (The compliance version of a croissant made with French butter, fresh out of the oven.)
The nudge we developed resulted not only in a 91% approval rating from our learners, but our 2021 Pride nudge has also come to serve as a touchstone for future content. Knowing that it'll have a lasting impact on our product, we thought we'd share how we decided to create a Pride nudge that differed from other LGBTQ+ content and why our approach has made all the difference.
Centering Queerness Over Allyship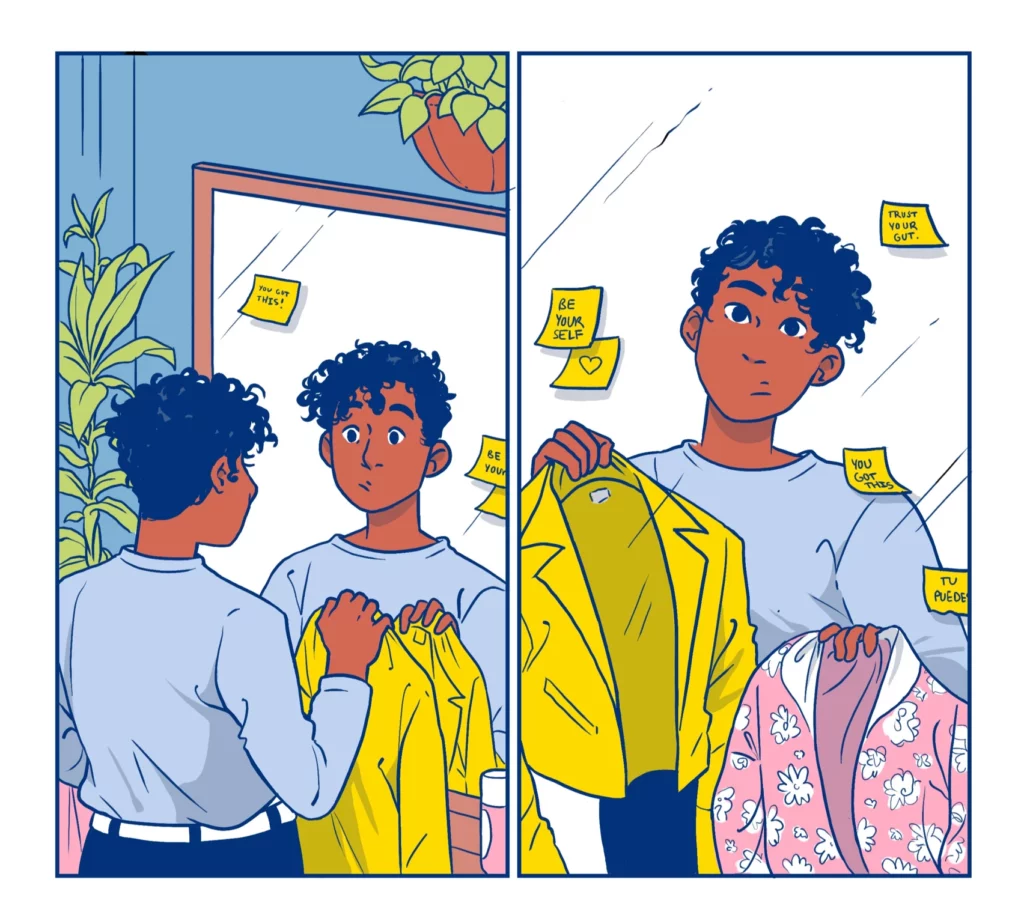 This month, learners received a nudge entitled, "LGBTQ+ on the Job"—a full-comic nudge centered around a queer person—Lou—following her through a day on the job. Over the course of the comic, learners witness how Lou's sexuality impacts her day-to-day life—from being an ally to other queer folks, to attending a town hall, to supporting a bisexual colleague who isn't ready to be out at work. The decision to center a queer person in a more immersive learning experience, rather than highlighting the importance of allyship (which we still promote—check out our post on our April Allyship nudge), was made with two things in mind: 1) as a content team with multiple queer members, we wanted to see our experiences represented and 2) what learning science has to say about experiential learning.
. . . in order to better connect with our learners who might not know what it's like to identify as LGBTQ+, we centered a person from the community rather than giving an impersonal list of "dos and don'ts."
The first reason seems pretty self-explanatory. As queer people ourselves, we have each experienced what it means to see oneself (or not see oneself) represented thoughtfully in the world. We wanted to ensure that queer people like us in the companies who use our training felt faithfully represented.
When it comes to teaching folks about experiences that might not reflect their own, N.K. Jemisin (former counseling psychologist turned three-time-Hugo-Award-winning, science fiction writer) says, in her workshop on world-building, to "increase immersion as difference increases." Put simply, experiential learning is more effective than didactic learning. So, in order to better connect with our learners who might not know what it's like to identify as LGBTQ+, we centered a person from the community rather than giving an impersonal list of "dos and don'ts."
And learning science backs us up. This study about simulation-based training for medics found simulation and immersive teaching led to better perception of live situations. What that means for a comic centering a queer person in harassment prevention training is that learners who are not LGBTQ+ more immediately recognize the scenarios laid out in our content as actual, present scenarios in their own workplaces, which means they can support their queer coworkers as allies and bystanders with the confidence that they're doing it the right way.
Honest Content Rooted in Pride
Every nudge we produce is backed by research provided by subject matter experts. Our Pride nudge was no exception, but it also had the additional benefit of being written, edited, and illustrated by queer artists (including the incomparable Rosemary Valero-O'Connell). It was incredibly rewarding to have a queer team create a nudge centered around queerness! Many of the scenarios presented in the comic were based on real experiences, and we found that being able to provide that kind of honesty and nuance to our content really resonated with our learners.
There isn't one kind of queer person. Being able to provide a variety of examples, from folks who are out and proud at work to those who aren't ready to (or might never want to) share their sexual identity at work, was important to our team and ultimately led to a nudge that is real and relatable.
Flipping the Script on Who Gets Heard
Our content covers topics like allyship and bystander intervention in ways that allow folks to feel empowered to take action in their workplace. What often happens in covering these topics is we speak to those in the majority about rooting out systemic problems like sexism, racism, and bias in order to make the workplace safe for everyone. We could have taken a similar approach to Pride and focused the training to the perspective of a heterosexual employee. We could have presented learners with, "Ways to support your LGBTQ+ colleagues this June!" And, to be clear, we do. But, above and beyond equipping everyone to better support their colleagues, we are also working to flip the script on who gets heard. We want to provide opportunities for people in marginalized communities to recognize themselves in our training—and not just as the target of harassment or bias, but as full and happy human beings. Because everyone deserves to feel like they're seen fully and appreciated for who they are—yes, even at work! And, of course, everyone deserves to be happy.
---
Interested in learning more about how Ethena writes relevant and thoughtful training content? Take a look at how our training platform works, or if you'd like to try Ethena for your own teams, request a demo .