Gallup's 2021 employee engagement study probably shook many managers, business leaders, and HR professionals: A mere 36% of US employees, and only 20% of employees globally, reported feeling actively engaged at work. The number of actively disengaged employees was reported at 15% and ticking upward. It's clear that companies need new ways to connect with team members, get them involved in the workplace, and rally them around a common purpose.
Doing this isn't as easy as just giving everyone free pizza (although free pizza does sound pretty good right now). Company owners and human resources teams also need to explore how employee engagement tools can get their teams on track and keep workers happy and motivated. Fortunately, the engagement software market is robust and varied, with an employee engagement tool for just about every purpose.
What are employee engagement tools?
Employee engagement tools are things that build connections between a company and its employees. These "things" can be either digital platforms or in-real-life practices (IRL) — or a combination of both. For example, a peer-to-peer recognition awards program might include both a digital component (nominations via a software platform) and an IRL practice (company-wide award ceremony with catered lunch).
13 powerful employee engagement tools
When today's corporate leaders seek to improve employee engagement, they at times turn to software solutions. While some employee engagement software is designed to be complemented by in-person components; others function entirely online. We organized these 13 employee engagement solutions by function so you can find one to tackle your specific disengagement issues in this crowded business-to-business (B2B) marketplace.
Employee training and education
One powerful way to engage employees is with their HR trainings. Hear us out! This is a win-win because:
Employees get to expand and improve their skills
The company gets a smarter and wiser workforce
Companies can hear from leadership themselves what company values, initiatives, and causes they care about most
An easy way to re-engage employees occurs when senior leadership shows their commitment to building a safer, more inclusive workplace. This "tone at the top" trickles down to employee morale, employee conduct, and of course, employee engagement. You could do something as simple as introduce Diversity, Equity, and Inclusion (DEI) training annually, quarterly or bi monthly like Tegus did. But to keep them engaged, introduce Employee Resource Groups (ERGs) to follow through on leadership commitments.
Of course, it's essential to choose a good training platform that your employees will actually like, because bad training can actually have adverse effects on your team.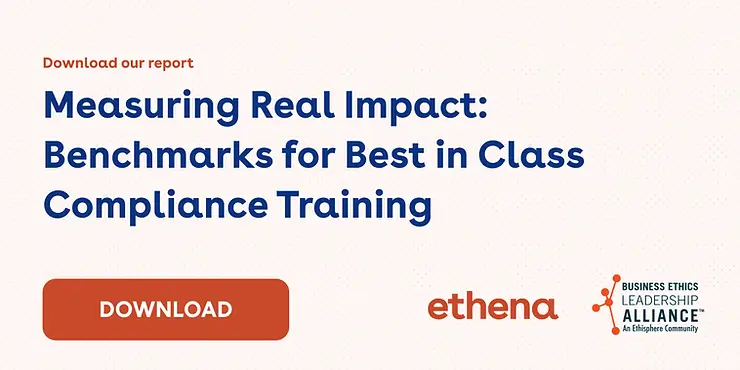 Ethena. That's where Ethena comes in. Ethena is a compliance training platform with intuitive and powerful admin tools, built to make training easy, engaging, and effective. It's our baby — so naturally, we think it's the best compliance training tool out there. Our selection of trainings goes beyond compliance and includes topics like Hiring & Interviewing, DEI, and Data Protection. Other options you might consider include:
iSpring Learn. iSpring Learn is learning management software (LMS) that covers major training categories like employee onboarding, sales training, product training, channel training, and offers an authoring tool so you can build your own trainings.
EasyLlama. EasyLlama is a popular compliance training provider whose catalog also includes code of conduct, unconscious bias, cybersecurity, leadership, and more.
BetterUp. BetterUp is a coaching platform that offers businesses the ability to provide 1×1 coaching over video to their entire team.
Project management and productivity tools
One cause of disengagement? Messy workflows that frustrate more than they empower. That's why project management tools are a component of engagement — because they help set a streamlined, efficient way of working that is shared across the company. The following software and web applications are popular tools for making people's jobs easier, more transparent, and more clearly tied to overarching business goals.
Monday.com. Monday aims to be a single operating system for work, enabling company-wide collaboration and knowledge sharing. They even have a perfect score from Consumer Voice.
Trello. Trello is a visual task tracker whose "board" format has become popular across industries and use cases.
Otter.ai. The Otter.ai platform aids productivity in a less conventional way. It quickly transcribes any audio — like a Zoom recording — to free people up from taking furious notes, allowing them to be more present in meetings.
To really engage employees, project management and productivity can't just live on a screen. Consider bringing these things IRL with project completion or milestone celebrations, or asking team members to share progress in company all-hands meetings.
Survey tools
Employee engagement is a two-way street — meaning the business needs to both give and receive. When we talk about receiving, we mean receiving feedback and input. This is where survey software comes in. You can use survey tools to collect data about everything from overall employee satisfaction to what types of benefits employees want. Some popular survey tools include:
Culture Amp. Culture Amp is designed to promote open communication throughout the employee lifecycle. The platform, which has a high TrustRadius ranking, gives you access to Culture Lab, an in-house research institute designed to help you take action based on the feedback you receive.
TINYPulse. TINYPulse specializes in single-question pulse surveys that generate better response rates than the long, complex surveys that many workers dread.
15Five. 15Five takes its name from the concept that workers can respond to its surveys in 15 minutes, and managers can review them in five minutes. These surveys go out on a weekly basis, and the platform generates automated reports that provide a snapshot of each employee's engagement.
Survey data shouldn't live in a vacuum. Show employees that you value their input by acting on the feedback you receive.
Employee recognition tools
Great work deserves recognition, whether that's breaking a quarterly sales record or saving the office from a phishing attack that started when Jerry from accounting downloaded an email attachment from a Romanian prince. (Silly Jerry! Romania doesn't have princes — it's a constitutional republic)! Employee recognition software engages a team by calling out exemplary behavior, sharing positive feedback, and doling out tangible rewards to high performers. Popular reward platforms include:
Motivosity. Motivosity focuses on gratitude, with a free core product that allows employees to thank each other and receive rewards.
Awardco. You can use Awardco to set up company-wide recognition programs, automated incentive programs, awards for service, and tangible rewards including hotel stays and concert tickets.
WorkTango. You can use WorkTango to praise individuals, specific teams, or the entire workforce. The software platform gamifies interactions with virtual high fives and tokens. When it comes to monetary rewards, WorkTango offers a robust rewards catalog that ranges from fancy merchandise to charitable donations.
As with project management, employee recognition works best when it combines software tools with real-life interaction. Many companies use these products but also choose to have in-person awards ceremonies, team outings, and celebrations. No one objects to a little face-to-face gratitude.
Final thoughts on "tools" for employee engagement
Not quite in the realm of employee engagement tools, but sometimes making your employees feel heard, acknowledged, and supported goes a long way. And there isn't always a "tool" for that. Check in with your frontline managers, are they feeling supported with help on topics like conducting efficient 1:1s? Or easy ways to deliver manager trainings better?
Perhaps your employees are disengaged due to a lack of career development and satisfaction. Or perhaps they don't feel heard or included in your workforce, and recognizing a Heritage month will re-engage them and make them feel a true part of the company. Whatever the issue is, we hope this helped you explore multiple avenues on employee engagement. After all, a hammer (engagement tool) is only as good as the carpenter (the company).
Ethena is a modern compliance training platform that delivers current, cringe-free content that employees actually enjoy. Request a sample course to see for yourself! If you're ready to bring complex issues to life through thoughtful real-world examples, dynamic multimedia, and actionable next steps, let's talk to see if Ethena is right for your company.