What is discrimination?
Discrimination in the workplace happens when a person or group of people are treated unfairly or unequally because of specific characteristics, legally known as protected attributes. These attributes include, but are not limited to, ethnicity, race, gender identity, disability, age, sexual orientation, national origin, and religion. Discrimination can occur anywhere in the workplace, among job applicants, co-workers, and supervisors and direct reports.
While this should go without saying, prejudice and discrimination are illegal.
What is discrimination training?
Discrimination training is, quite simply, compliance training for employees that focuses on preventing any and all forms of discrimination. Similar to harassment prevention training, it's designed to provide a foundation of acceptable behaviors in the workplace – making it safe and equitable for all people.
Additionally, discrimination training topics can include recognizing when discrimination is happening to you or your coworkers, as well as ways to step in, speak up, and report instances of discrimination when it occurs.
What are the types of workplace discrimination?
The following are the most prevalent forms of workplace discrimination:
Direct Discrimination: Deliberate and based on prejudice towards race, gender, class, and other characteristics.
Indirect Discrimination: Often involuntary, this type of discrimination occurs when a regulation, business policy, or behavior that applies to all employees creates disadvantages or unequal treatment for some people.
Victimization: When one person or group is singled out because of biases.
Harassment: Any unwanted behavior, physical, verbal, or suggested, that makes a person feel uncomfortable, humiliated, or mentally distressed.
Why do you need discrimination training?
We've made a whole separate post on why companies need DEI training, but we feel strongly that settling for any ol' training out there might not improve your workplace. The unfortunate truth is that standard discrimination training is often:
Produced with a low budget
Poorly scripted
Full of cringe-worthy scenarios
When HR trainings are ineffective, in many cases they actually end up doing more harm than good. Consider this — it's been over 30 years since the U.S. Supreme Court recognized sexual harassment as a form of discrimination, yet the EEOC acknowledges that workplace harassment remains a persistent problem. The commission receives over 20,000 harassment complaints each year including sexual harassment and harassment based on race, disability, age, ethnicity, and religion. The National Institutes of Health found sexual harassment prevention training had a negative effect on the attitudes of some males — meaning they were more likely to harass after viewing the harassment prevention training.
Not good.
What are some discrimination training examples?
Discrimination training examples aren't too difficult to find when you know where to look. Training courses like Harassment Prevention and Diversity, Equity, & Inclusion (DEI) are some of the top courses that help address discrimination in the workplace. But finding these courses is just the first step. How can you ensure the discrimination training you settle on is effective and engaging?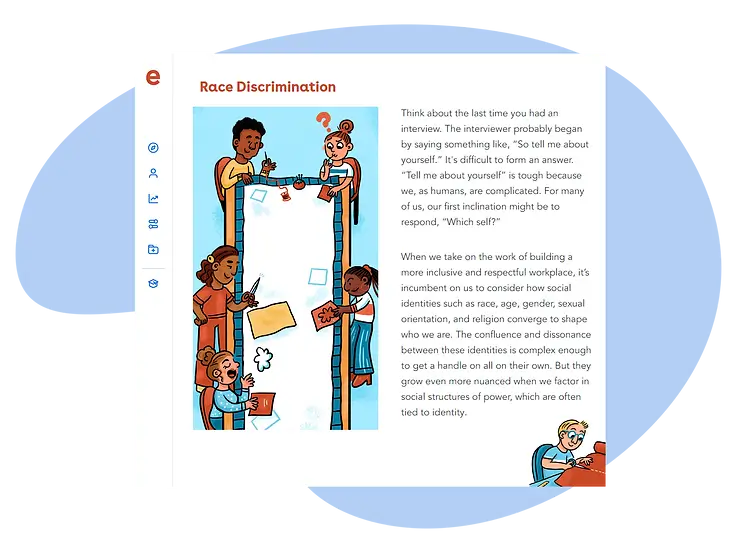 How HR teams can conduct effective discrimination trainings
There are a few options to tackling discrimination training: you can do everything (writing, scheduling, administering, and tracking training) in-house, with outsourced help, or with a consultant to walk you through the correct training and steps. The challenge with in-house trainings is often the medium: many in-house training sessions are held in person, which don't consider a hybrid or remote workforce. Now you need to fly everyone to a central location. Now you need to find a date on the calendar that works for everyone. And now you need to make sure that the training presenter is as engaging and effective as their costly price tag.
Or . . .
Another option is to do it online through an experienced provider. There are several online compliance training providers out there, but all are not created equal.
Why is Ethena's approach to discrimination training the best?
Through an online compliance training solution like Ethena, we pride ourselves in bringing workforce training to employees who are remote, hybrid, global – you name it.
We're passionate about engaging, modern content. We test out new mediums and story formats, we have real, working writers, illustrators, actors, producers, and more to create all kinds of content that we're used to seeing in everyday life. Ethena makes training that reflects the daily lives of our learners, and we tackle challenges that matter to them in the modern workplace.
But don't just take our word for it. We recently hit 1 million positive ratings from employees on the platform – a massive milestone that we don't take lightly. A whopping 92% of employees who have trained through Ethena rate us positively, well-above the 70% mark for effective training.
Additionally, our training is evidence-based. We consult with education providers, legal teams, and HR teams to ensure our training covers compliance requirements, is effective, and connects with employees in such a way that it actually inspires change. Our training is even Voluntary Product Accessibility Template (VPAT®) compliant. We go above and beyond the basic requirements of this standard by meeting multiple times a year with our VPAT consultants to ensure everything translates well for employees who need the assistance of screen readers to complete their compliance training.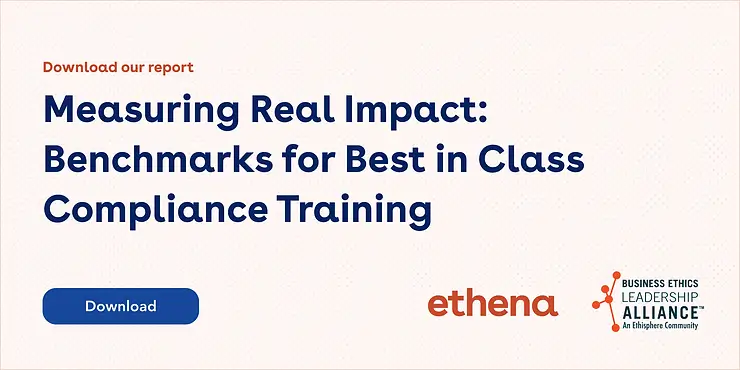 Examples of Discrimination Training
Our DEI training is designed to help learners understand, support and celebrate coworkers with rising identities through compassion and intersectional awareness. The media-rich courses bring complex issues to life through thoughtful real-world examples, vivid comics, imaginative videos, and more.
Our Harassment Prevention training is designed to avoid cringey scenarios, but still deliver solutions to help all employees navigate those gray area situations. No awkward Jim standing over Paula with blatant, inappropriate advances. Just effective examples, and effective methods to report, and prevent, discrimination issues before they ever come up.
Next steps to get started on discrimination training
We offer easy onboarding that allows you to onboard your team quickly with a CSV or through a HRIS integration, with help from our dedicated Customer Success team. From there, you can start assigning discrimination training (and many others) to employees based on role, location, department – whatever you'd like, and just set it and forget it. Ethena's platform automatically assigns and tracks training for every employee, including automatic reminders for folks who fall behind.
You'll even have the option to partner with a dedicated customer success manager (CSM) to help you along the way, helping you set up your training for long-term success.
If you're dealing with discrimination in your workplace, or you'd like to update your training to prevent it from ever developing, Ethena can help. Let's talk specifics of how we can support your efforts in ending workplace discrimination.
Not ready to talk? Request a sample training and see for yourself how engaging (and dare we say, good!) our discrimination training really is.