It's officially here! Ethena's HIPAA training course is officially launched and live for teams training on HIPAA regulations and guidelines.
This course is a long time coming, and we're so happy to bring Ethena's signature style to a training that many U.S. organizations need. So whether you've been waiting on bated breath for this one, or if you're not exactly sure if your team needs HIPAA training, we'll cover it all below.
Let's cover the basics of HIPAA training, who definitely needs this training, and what makes Ethena's HIPAA training so special.
What is HIPAA training?
HIPAA training covers the essentials of the law as it relates to Protected Health Information (PHI). And no, the "P" in HIPAA doesn't stand for "protected," or "privacy."
HIPAA, or the Health Insurance Portability and Accountability Act of 1996, is a law that governs the regulations made to protect the privacy of patients in the U.S. healthcare system. Training in HIPAA means getting a good understanding of this law, the many ways it applies to the daily worklife of employees, and best practices for navigating a number of HIPAA-related situations and avoiding potential risk. It's also not only a best practice, but a requirement for certain types of businesses!
What information is considered PHI?
You may be surprised to learn how much information is considered protected underneath HIPAA. Below is a abbreviated list of types of PHI, but is by no means exhaustive:
Name, address, patient dates (including info on d/o/b, admin, discharge)
Account numbers, fax numbers, driver's license or certification numbers, medical record numbers, health plan beneficiary numbers
Full-faced photos or other images
IP address, telephone numbers, SSN, VIN/Serial numbers, fingerprints, voice recordings
Serial numbers, device ID numbers, URL addresses, biometric ID's (finger, voice, and voice prints)
Any other unique ID numbers, codes, or characters, and anything else which could be used to identify an individual
Which employees need HIPAA training?
When you take into consideration what kinds of information are deemed protected under HIPAA, you may be wondering if your team, or specific members of your team, need HIPAA training.
There are several reasons you may want to consider HIPAA training for your employees:
If your organization works at all in the healthcare industry – even if you work in close relation to healthcare providers, for example, insurance agencies, or healthcare tech. If your organization regularly handles PHI, you need HIPAA training.
If your organization has employees who handle PHI for other employees, like HR and People teams, then again, you need HIPAA training.
If you fall into one of these categories, you'll likely need to consider HIPAA training for the employees that handle sensitive information, and if many of your employees handle or have access to PHI, it's probably a good idea to provide training for the entire organization to make sure every employee is aware of the laws. Everyone should know how to tackle issues when they witness them.
Why HIPAA training matters
No matter who you are, in the U.S., you expect healthcare providers, health insurance providers, and all other related organizations to properly safeguard your most sensitive information.

HIPAA violations are no small issue. Civil and criminal penalties can cost upwards of hundreds of thousands of dollars and prison time. The U.S. Department of Health and Human Services, the Department of Justice, and State Attorneys General take these complaints very seriously, so taking the proactive step to train your team on HIPAA guidelines and regulations can help mitigate the risk of some nasty financial and reputational consequences.
What topics are covered in Ethena's HIPAA course?
Ethena's HIPAA course is meant to be a foundational coverage of everything related to personal health information. This course is geared more towards U.S.-based tech companies, and includes the following course subjects:
Introduction
HIPAA Basics
Covered Entities (CE)
Business Associates (BA)
Business Associate Agreements (BAA)
ePHI
HIPAA Legal Landscape
HIPAA Breach Notification
The Health Information Technology for Economic and Clinical Health (HITECH) Act
Omnibus Rule
Consumer Rights and Privacy
Violations and Penalties
HIPAA Enforcement Rule
Common Violations
Civil Monetary Penalties
Criminal Penalties
Security Safeguards
Hold on, doesn't Ethena already cover HIPAA in other courses?
An additional note on Ethena's Data Protection and configurable Code of Conduct courses, which both include a lesson on HIPAA: this new HIPAA course is a much more robust course designed for teams who regularly deal with sensitive personal information. So if you're not sure if Ethena's HIPAA course fits the needs of your team, get in touch with us!

Why Ethena is the best HIPAA training for today's teams
At Ethena, we're driven to support ethical and inclusive teams through training that actually works for the modern workforce. With colorful, accessible training content, an innovative and time-saving administrative backend, and over one million positive learner reviews, Ethena is the best choice out there for an effective and convenient training solution.
For employees: relevant, engaging training that's convenient to access
Ethena provides a host of course content – from Harassment Prevention to Data Protection – all designed to give employees the information and tools they need to stay compliant and build a better workplace for their peers. Training is delivered to employee inboxes via magic link, so employees can get right to their training with one click. Plus, Ethena's training platform is also mobile optimized. You can listen to your training on a walk, or finish it in-between meetings.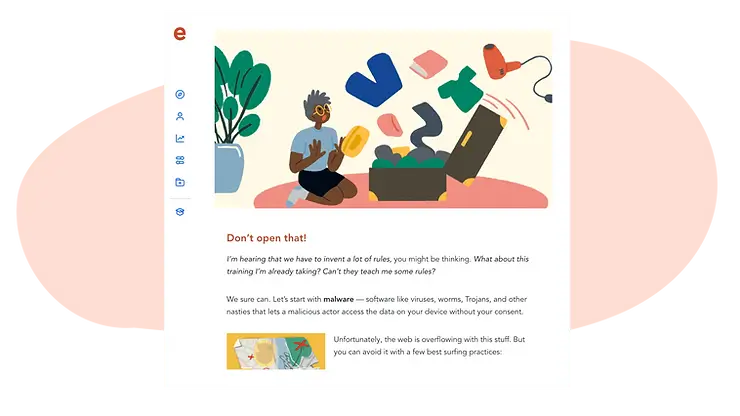 With intuitive feedback options, over 65% of Ethena's 80,000 learners have shared their thoughts on their training, and 92% of learners rated their training positively. Ethena makes training content that employees love (or at least like enough to let us know).
For administrators: smart delivery, reporting, and integrations that save time and money on training
Running a training program is an exhaustive amount of time and effort; Ethena is designed to save as much time and effort as possible to meet the needs of your team. Ethena's platform automatically schedules and delivers unique training to satisfy the compliance needs of every employee, including sending reminders when folks fall behind. With our HRIS, LMS, and SSO integrations, Ethena can streamline the onboarding process, updating training with live employee data and delivering training to where employees work every day. And with best-in-class reporting features, administrators can check in with employee completion and engagement data in seconds, saving teams days of training administration.
If you're interested in trying Ethena's HIPAA course, or any of Ethena's course catalog, get in touch with our team.