When it comes to finding the perfect training solution for an organization, there are many factors – and software solutions – to consider. Features like SCORM (Shareable Content Object Reference Model) file compatibility, robust tracking and analytics, and great ready-made training content could be on your list, but depending on what your priorities are, you may be having a hard time finding the perfect solution.
To help out, we've curated a shortlist of 7 training management systems you should consider when looking for your next training solution below. But first, let's talk about what we mean when we say "training management system."

What is a training management system?
Training management systems are software designed to host an organization's training program. While no two training management systems are the same, an organization may be looking for a training management provider that allows the organization to:
Create and design a training program
Host external trainings (e.g. support SCORM files)
Organize, schedule, and track training data
Save an HR department administrative time
What makes great training management software?
Organizations look into training management software because of the value it would bring to the training needs of an organization. It comes in the form of useful training tools, course content, and training analytics. And for smaller organizations, great software can support a bare-bones Human Resources or Learning and Development team. And for growing organizations, training management software can provide major structural support as teams scale.
In other words, great training management software saves teams:
It does this by addressing their training needs without the need for a full-scale training team.
7 training management software to look into for your training needs
1. Absorb LMS
As one of the top-rated Corporate Learning Management Systems according to G2, Absorb LMS is an excellent training platform for dedicated teams looking to build custom training to fit their needs.
Absorb LMS provides a training course builder, including curated templates for a more professional look. The training platform features a wide variety of training tools that modern teams need, like dynamic quizzes, training notifications, training analytics, multiple languages, options for instructor-led courses, and even external-facing training functions, like the ability to sell custom-made courses to customers. Absorb even has a course library of "turn-key" courses that are ready-made for teams to begin training immediately.
The pros and cons of Absorb LMS
With a product as expansive as Absorb LMS, there are plenty of features to satisfy the needs of a larger, enterprise organization. Absorb LMS is great for broader teams with the time and budget to invest in building their own training program, while leaner teams looking to save time and money may want to look for training management software that works better on a smaller scale.
2. Trainual
Trainual is a training management platform that self-describes as "If an LMS and a Wiki had a baby, and that baby grew up to be way cooler than both of its parents," and they're not wrong. Trainual allows teams to build their own training courses, dashboards, course wikis, and manuals. Like many other training management systems on this list, Trainual provides helpful templates with customizable options for teams to make training that feels unique to their needs. The platform also provides modern reporting tools to track training progress across the organization.
The pros and cons of Trainual
In addition to boasting a great, self-describing portmanteau for a name, Trainual provides the dual benefit of being both a training tool and a place for centralizing important company information, like policies and procedures. If a team has the time to invest in building out their own robust internal manuals and training programs on the Trainual platform, they're likely to see great results, especially with remote teams who need centralized information.
On the other hand, although Trainual's platform is easy to use, it is a bit newer, so as teams invest more time in the platform, they may find a few hiccups along the way.
3. Coassemble
With a custom course-builder that emphasizes ease-of-use for new users, Coassemble is an LMS built for organizations trying out online training software for the first time. With a handful of training templates (including a customizable completion screen for post-training celebrations), options for customer training, and tracking and analytics for training courses, Coassemble covers the basics well for a team looking to onboard an LMS quickly and easily, regardless of team familiarity with LMS platforms.
The pros and cons of Coassemble
What makes Coassemble shine is its accessibility as a basic training platform. The UX is designed to make building and administering a course as easy as possible. That makes this platform great for teams trying out online courses for the first time who may not need their training software to do much more than build a custom course.
Where Coassemble falls short is moving a bit beyond the basics of an online training platform. Teams that are looking to solve more complex training needs may not find what they're looking for with Coassemble, so larger organizations looking for specific automations or more detailed reporting and training functionality might consider another platform.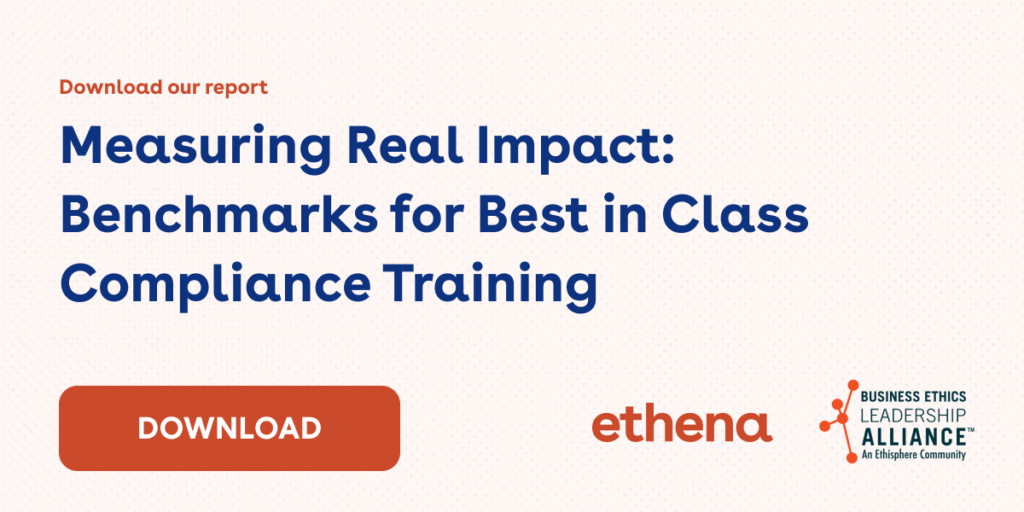 4. TalentLMS
For teams looking for a "full-featured" LMS, TalentLMS is a well-rounded training resource for teams looking to build custom training solutions. TalentLMS's platform allows teams to build training courses with multimedia options, flexible testing and survey features, and even the ability to store and share files via the platform.
The pros and cons of TalentLMS
With so many useful features, TalentLMS gives training admins the power to build courses that work for their teams, and TalentLMS (like other training management systems on this list) provides a catalog of course content as well.
But while the learner dashboard and training experience is straightforward, the admin experience can be a bit clunky and difficult to manage. Especially when it comes to reporting and the finer details, admins may find themselves spending extra time managing the backend of their training program.
5. Whale
With a host of recent G2 awards, Whale is certainly an attractive option for a training management software. Whale's training builder contains over a hundred templates, customization options, and even an AI feature to help with the writing process. Admins can also use a training review function for content reviews by subject-matter experts. The training experience is relatively easy to access for the learner, with a Chrome extension that allows learners to access their training from different locations.
The pros and cons of Whale
Like Trainual, Whale's platform empowers teams to centralize important policy and procedure information alongside their training management system. While it may take a bit of time and effort to initially onboard, Whale has extremely high ratings for useability and an overall logical approach to training.
As a newer product, there are still some finer details that admins may discover as roadblocks in managing their training program, like a slightly rigid text editor and formatting issues. Larger teams with specific needs may not find everything they're looking for.
6. LearnUpon LMS
As a solution more oriented toward larger, more enterprise teams, LearnUpon LMS is a training management system with a lot of available features. LearnUpon has its own course builder, with functionality for learning paths, surveys and exams, multimedia, and more. On the admin end, LearnUpon provides features like bulk upload, training automation, certification options, and even multiple languages.
The pros and cons of LearnUpon LMS
As one of the older training systems on this list, LearnUpon boasts a lot of polish to its product. Many of LearnUpon's reviews are posted by admins who have been using LearnUpon LMS for 5+ years. And we can see why!
That said, some of the newer features on LearnUpon LMS are a bit clunky — like their Zoom webinar integration, for example. Organizations looking for a training management system that they can closely partner with may not get exactly what they hoped for with this platform.
7. Ethena
It wouldn't be a list of some of the best training management software out there without Ethena! A top pick on G2 as well, Ethena's smart training platform allows teams of all sizes, from small-scale to enterprise, to build training programs that fit the needs of their teams. With a host of smart features like automated training assignment and delivery and a course catalog of lessons ranging from Diversity, Equity, & Inclusion to Insider Trading, Ethena empowers teams to get excellent, easily accessible training rolling in just 5 minutes, while saving admin time and effort.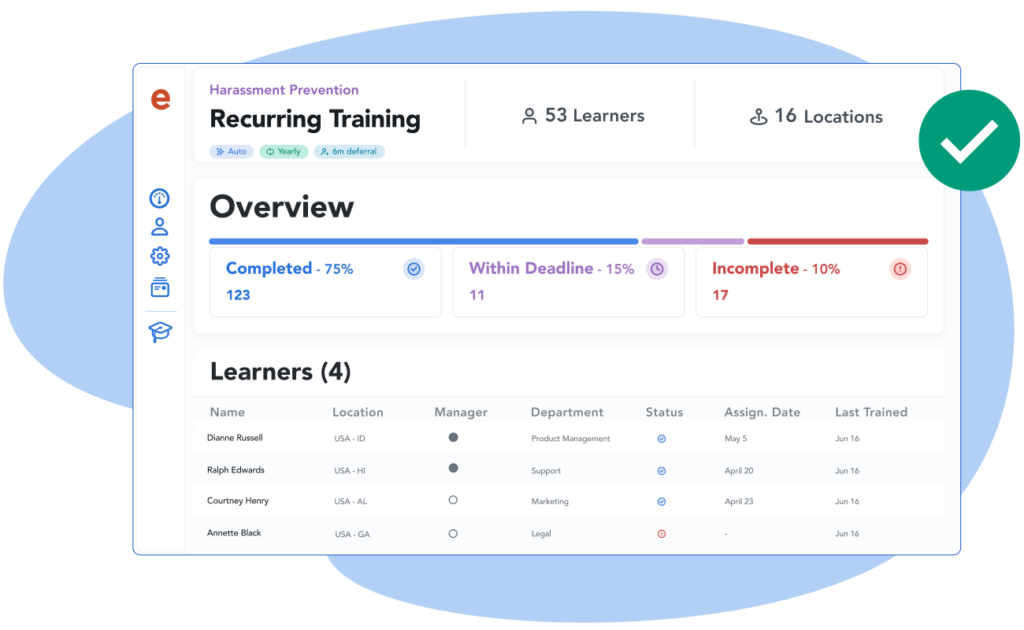 Plus, Ethena's training content features a host of multimedia – with videos, audio options, graphic novels, and more – plus an extra catalog of short, refresher courses for year-round learning.
And with Ethena's LMS Essentials feature, admins can upload their own training content and host it alongside Ethena's training content in the platform. Teams training with Ethena can keep all their training materials in one place, making the training experience convenient for both admins and learners.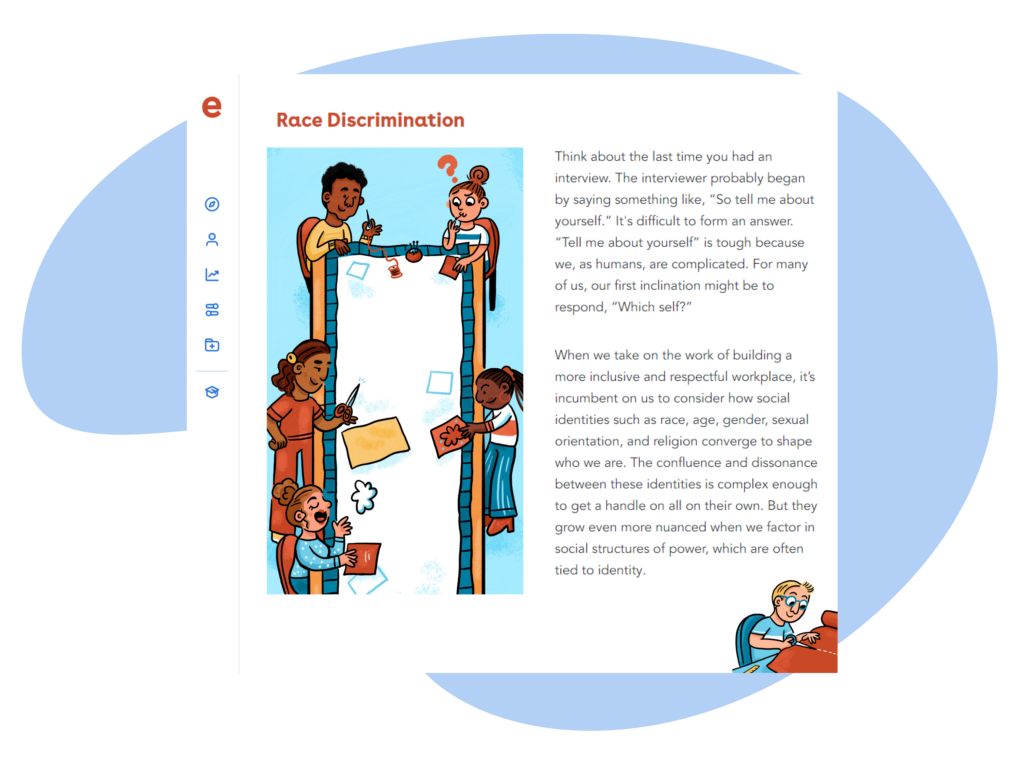 Let Ethena's training management software save you time
Ethena's training experience is built with modern teams (and modern training attention spans) in mind. With over 1 million positive reviews (92% positive feedback overall) from employees training with Ethena, it's easy to see that today's teams love the platform.
Curious to see how Ethena could be the perfect partner for your training program? Why not try a sample of our training and see for yourself? Or talk to a member of our team to see exactly how much time, money, and stress you could save by using Ethena as your training management software.