If your employees have been in a doctor's office, they've almost certainly heard the acronym "HIPAA" thrown around. But when it comes to HIPAA training for employees, the cold, hard facts often have more overlap with the tech sector than the waiting room.
The majority of the compliance training industry has been slow to catch up, but these days, HIPAA compliance training is relevant for anyone who handles protected health information (PHI) — not just healthcare professionals or pharmaceutical reps.
Luckily, Ethena's HIPAA course has stepped up to fill in the gaps, so let's get into the HIPAA training requirements, need-to-knows, and comparison points.
What is HIPAA compliance training?
Starting from the beginning — what is HIPAA training for employees?
First, let's untangle the acronym: "HIPAA" stands for the "Health Information Portability and Accountability Act of 1996." In addition to being a mouthful, it's a set of five laws covering health information privacy and security, details surrounding security and breach notification, and what's expected of both HIPAA-covered entities and those individuals who fall under HIPAA regulations — a group often referred to as "business associates."
The Who of HIPAA
The category of HIPAA-covered entities includes hospitals, healthcare plans, providers, and clearinghouses, and in some cases, employer group health plans. But if you're reading this right now, it's probably because you suspect that at least a portion of your workforce qualifies as business associates.
A business associate is anyone who works for a covered entity or interacts with disclosed PHI in certain ways. And thus, this group of individuals need HIPAA training. This includes:
Administration
Claims processing
Data analysis
Quality assurance
Benefits management
Related legal, actuarial, accounting, consulting, and other data aggregation activities
And more
The What of HIPAA
PHI is anything that can be used to identify an individual, such as:
Name, address, telephone number, or date of birth
IP addresses, URLs, and account numbers
Full-faced photos or any other images
Fingerprints, voice recordings, or biometric IDs
Any unique numbers, codes, or characters
… and truly so much more
In other words, it's a lot to take in and a lot of folks are covered, so HIPAA compliance trainings make it their business to educate all qualifying employees on exactly what's required of them.
Why do I need HIPAA training for my employees?
If any portion of your staff falls under the above definitions, you need a HIPAA training course. But even beyond that, it's important to point out that HIPAA isn't like other laws (it's a cool law).
Whereas under "normal law," you're entitled to do something unless it's explicitly not okay, for HIPAA, it's the opposite — you can only do something if it explicitly is okay. All of which means that employees need a deeper understanding of all things HIPAA.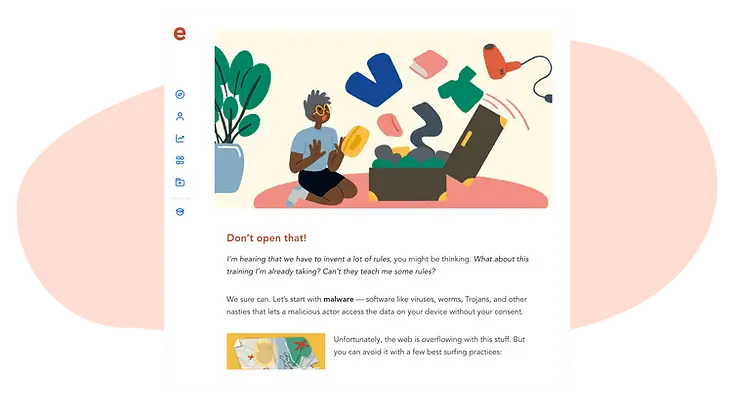 How often should HIPAA training be done?
The guidelines around how often employees need to undergo HIPAA training are notoriously murky, sometimes varying by state and using terms like "a reasonable amount of time" and "periodically." So to stay on the right side of the law, we recommend:
Including it as a part of employee onboarding
Assigning it whenever there are policy changes
How is it different from in-person HIPAA training?
There are definitely some groups that in-person HIPAA training works for, but they're typically "unwired" healthcare professionals — aka folks who spend most of their time in the field and away from their computers. Online HIPAA training focuses on a different group: "wired" employees who sit at a desk and need to absorb (and be tested on) only those HIPAA specifics that apply to them.
What are the benefits of HIPAA training for employees?
What's in it for you, you may ask? Here are three main ways that HIPAA training for employees confers benefits to companies of all sizes.
It helps proactively close knowledge gaps.
The time to discover that your workforce may be lacking an understanding of HIPAA is before a HIPAA violation arises, not after. Prompt, effective HIPAA awareness training gives employees:
A grasp of the legal landscape
Breach notification rules
Company best practices for the proper handling of PHI
And online HIPAA training distributes that information electronically so trainings are always accessible and top-of-mind.
It provides actionable best practices.
When your employees identify an area of risk or witness a potential breach, it's important they know precisely how to escalate it and what steps to follow to protect themselves and the company at large. (Which is why we at Ethena include relevant scenarios and lists of tips, takeaways, and best practices with every training.)
It sets the right tone.
Finally, assigning HIPAA training for employees signals to relevant stakeholders — whether that's employees, shareholders, or the public — that your company takes these privacy issues seriously. Taking the proper steps to guard against legal and financial risk builds corporate trust in both the long- and short-term.
What makes HIPAA compliance training effective?
Online HIPAA training makes sure everyone's on the same page, providing access and information to folks across the healthcare tech space and keeping companies on the right side of compliance requirements.
What makes Ethena's HIPAA compliance training stand out?
Even in a crowded field, Ethena's HIPAA training distinguishes itself. Beyond our innovative focus on the tech sector …
We prioritize an intuitive admin experience.
Our online HIPAA training is literally built for a wired workforce — and the administrators that support it. You can see at a glance which employees are up-to-date with their training, go hands-off with smart reminders and assignments, and get real-time insights about the types of questions and concepts that are tripping folks up. And when HIPAA rules do change, we'll update the material automatically so that reassigning training is as easy as pushing a button. (Your old IRL training could never.)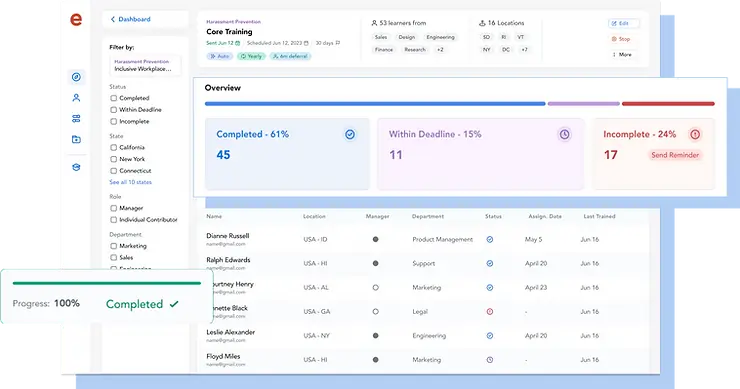 We go above and beyond "checking the box."
We've talked about your team, but what about our team? We work with accomplished writers, editors, course developers, and illustrators for a learner-first and research-backed approach. The result is inclusive, accessible, high-quality content that earns raves from learners and admins alike. (Not to brag, but we have over 1 million positive reviews from employees just like yours. For compliance training! What??)
Our approach works.
We've crunched the numbers and the data is in: Learners are simply engaged with our content, completing their training more than two times faster than the industry standard. They also provide invaluable free-text feedback and often report significant improvement in their understanding of the covered material.
Founded by two women who hated ineffective compliance trainings, we're proud of this benefit.
Ready to make the leap to online HIPAA training?
So what do you think? Are you ready to try tech-centered HIPAA training that's actually relevant to your workforce? Let's talk! Of if you'd like to see a sample of another of our best-in-class courses, you can request a sample training today.