The right software can save you time and money on your compliance training program – here's what to look for.
Many companies these days are looking for software-based training solutions to help with their compliance needs — and for good reason. Conducting in-person training or building your own online training are compelling ideas in theory, but they take a lot of time and effort to create and maintain.
Compliance software, on the other hand, can save time, effort, and money for teams of all sizes. But with so many options on the market now, how do you find the best training compliance software for you and your company?
We cover the high-level points below. If you're interested in the full buyer's guide to compliance software, check out our Vendor Selection Guide!
Four main things to consider when shopping for compliance training software:
✅ Automated Training Assignment
Getting employees on the proper training program should be as easy as flipping a switch, and with the right compliance training software, it is. Modern teams should expect compliance software to have automated assignments that connect with the company HRIS (Human Resource Information System), which can help with onboarding new hires. (Bonus points if the software can assign training based on risk, regardless of the HRIS data, and it can check on people who are falling behind.) Sometimes, just getting someone enrolled in a course is 95% of the battle; good training software should take care of it for you.
Ethena's easy onboarding is already set up to integrate with many of the most popular HRIS platforms, including BambooHR, ADP, TriNet, and Zenefits. Instead of manually moving every employee from your database into a compliance platform, Ethena lets you have the entire employee database launched and onboarded in minutes — saving your mouse hand from that copy-and-paste tendonitis.
Our HRIS integration automates training assignments, delivery, and reminders, and updates to match the employee's home base. That way, every employee, no matter where they are in the world, is set up with compliance training that fits their role, location, and needs.
✅ Configurable, Consistent Content Coverage
In a dream company, compliance training would be custom-written for every employee and would be re-written daily (or, with the current news cycles, hourly) to keep content fresh. Unfortunately, keeping an army of writers and lawyers on retainer is a bit over budget for most companies these days. Which is where configurable content comes in.
Configurable (as opposed to "custom") training content gives you the opportunity to add in your own policies, notes from administrators, and any other resources that are important to your company. (We've found that training content that's consistent with your branding and other company communications is extra helpful in driving key lessons home.)
At Ethena, we want our training to feel like your training. That's why our content team is ready to give your specific company policies an integral place in your company's training courses. Ethena's compliance content library helps you configure training most relevant to your team's needs. You've worked hard to build a company culture that you're proud of. Ethena's configurable compliance training equips you with the tools you need to ensure your company culture is nourished and prepped to grow.
✅ Delivery Done Right
Training software should meet employees where they are. When training is delivered to employees on a platform where they already spend time or are paying the most attention — such on Slack or via email — employees are more likely to start and complete it in a timely manner. Training software with smart delivery removes obstacles for learners by making it as convenient as possible. Your team can even do their training on mobile, if that's best for them.
And we're interested in what's good for you too: Good software should also allow admins to choose to deliver training at times when it will make the most impact, such as events, meetings, or setting up goals and initiatives for the company, just to name a few.
We know it can be exhausting to hunt down employees for whom training just keeps slipping through the cracks. That's why Ethena makes it easy to get compliance training in front of employees. With training reminders delivered via platforms they already use, progress saving every 30 seconds, and a magic link login, we ensure that employees' time is respected from the first delivered course.
Thanks to Ethena's compliance training platform, recent partners have had an 85-91% completion rate within the first three months. We do this by ensuring that our training content is easy to access, can be delivered in different forms and mediums, and offers a flexible training schedule (so your employees can listen to their training podcast-style on their morning commute).
✅ Tracking and Feedback
What's the point of a compliance program if you can't track completion? The best training software should provide analytics that makes data available to you, organized by whatever works best for you — location, department, managerial status, etc. And it should allow managers to track data for their teams, as well. (That way the work of keeping the org compliant is shared around and doesn't all fall on one busy person.)
Modern training requires modern approaches and standards. Now that we're more online than ever, why wouldn't we look to our smartphones or laptops to train us? The right software partner can save you precious time to invest back into your teams, company culture, and other development opportunities.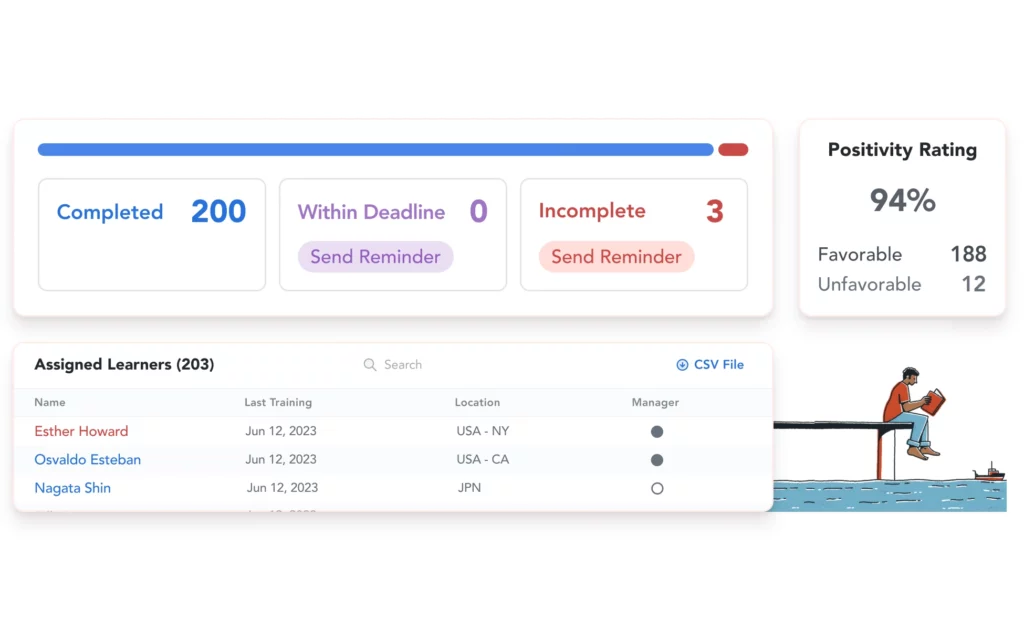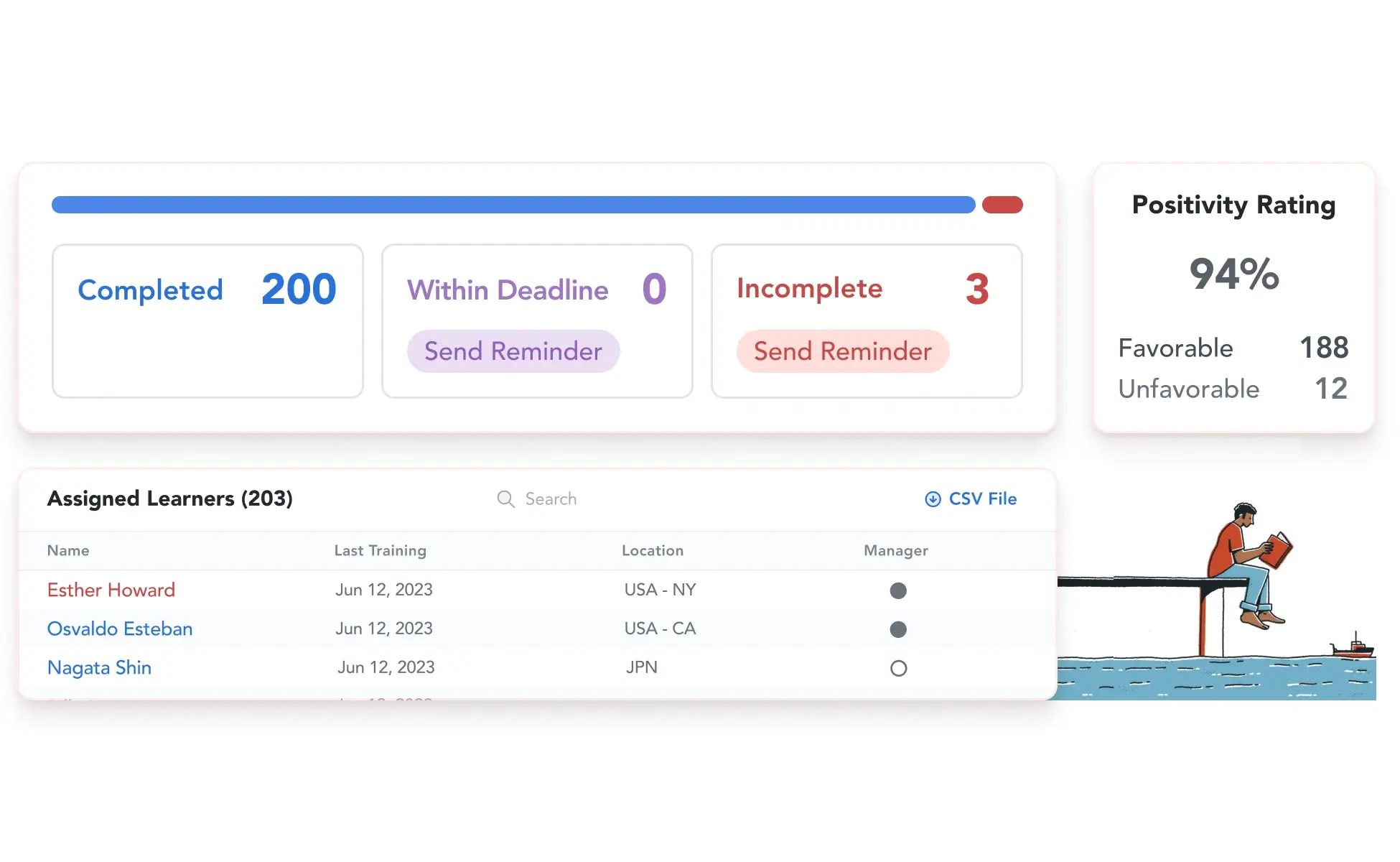 Ethena's easy-to-use tracking tools highlight what's working best for your team with both at-a-glance and custom reports and analytics. Not only will you know who needs a push (or a Slack reminder), you'll also know which courses are getting the message across, and which may require a deeper dive.
Choose compliance software that goes above and beyond with Ethena
At Ethena, we're proud of changing the game for compliance training software. Our engaging, innovative, and timely content goes beyond check-the-box training. Our easy onboarding and supportive tracking tools mean that partnering with Ethena is a no-brainer. But don't take our word for it! Ethena's one million positive ratings from happy learners show that our training platform is fun and easy to use, meaning that compliance training is so much more effective than ever before.
---
Interested in finding a training solution that meets your compliance training platform requirements and then some? Take a look at Ethena's Courses page or get started by talking to a member of our team.
This article was updated for relevancy in August 2023. It was originally published in July 2022.