That yearly training we all click through isn't just bad. In some cases, it's making workplace gender dynamics worse. We have thoughts.
If you've been a person these last five years, you know the dialogue on gender — everything from workplace sexual harassment, to discrimination against pregnant employees, to the #MeToo "backlash" — has changed. What hasn't changed is the way that most companies address these complex issues. Annually, employees are subject to the same old rigamarole, which boils down to, Check the box if it's inappropriate to touch your colleague. Then we all giggle, make some joke about how it's too bad Ted is missing this training, and go back to work.
Fun/profoundly disappointing fact: the training you've been taking every year since you first got that internship (the one you bought sensible shoes for) doesn't work. The EEOC acknowledged that 30 years of training has proven ineffective, and can actually increase harassment. You've since ditched the Clarks, and it's time to do the same with your standard sexual harassment training.
Enter, us. Hi, we're Ethena, sexual harassment training that works and considers "don't grope your colleague" way too low of a bar. We guess that's just our contrarian viewpoint.

We started this company because:
The personal harassment experiences from our co-founders Roxanne, a former army officer, and Anne, a software engineer made them fed up. Today, they use them to inform how they approach gender dynamics at work.
If there is so much sexual harassment training in the workplace, why isn't there progress on this front? We began to question the status quo.
Why does everyone tolerate sexual harassment training that is bad, given how important gender-inclusivity is?
We dream of a world where everyone can go to work and be their best selves. (We also dream of clean office-microwaves, but that's for another time.)
Current sexual harassment training is not good
In fact, it's bad. See: this article by the NYT, research by Harvard sociologist Frank Dobbin, or this usefully titled Vox article.
But you, astute reader, want to know why it's bad.
Well, there are many reasons, but one big issue we have with training is that training makes every mixed-gender interaction feel like it's going to end in a lawsuit. You know the scene…Karen and Mark head to a bar after work. Suddenly, the lights dim, and that dangerous music starts playing. Like a horror movie, you want to yell, "Don't go in, Karen!"
Except what if instead of a lawsuit monster hiding behind the bar, Mark just wants to talk with Karen about her long-term ambitions? There's an opening in Product he knows about, and he thinks Karen's a good fit. We should encourage informal interactions at work, because that's how people get promoted. (Side note: we think boutique fitness should be the new golf course and deals should get done as an instructor yells, "Be your best self!", but that's a different Medium post.)
Coming back to the issue, we shouldn't portray mixed-gender interactions as dangerous. Male managers are already more hesitant to mentor women at work; and that's bad because, um, we hope we aren't the first to tell you this, but the majority of managers are men.
Because numbers are helpful, here are some interesting ones: 60% of male managers are uncomfortable participating in a common work activity with a woman. That's a 32% jump from 2018! In a post #metoo world, we need compliance training that addresses, not exacerbates, this nervousness; a training that doesn't make us feel like we're isolated in our confusion over whether it's okay to tell someone, "nice blouse." (Is it more appropriate if we call it a shirt? Why is blouse such a sexual word? Again, we digress.)
Where is the tool to help us navigate office mentorship, off-site meetings, after-work drinks, and straight-up friendship? Oh right. That tool is us. (But please don't call us tools.)
Work towards culture change, not compliance
Ethena advocates for culture change rather than compliance. How?
Training is delivered via digestible, interactive "nudges", or microlessons, that are sent monthly, since preventing harassment requires actual change in workplace culture. Also, everyone in education told us that repetition is key.
Our training focuses less on what not to do (because research shows the majority of people got that memo) and more on the things we should be doing to promote inclusivity.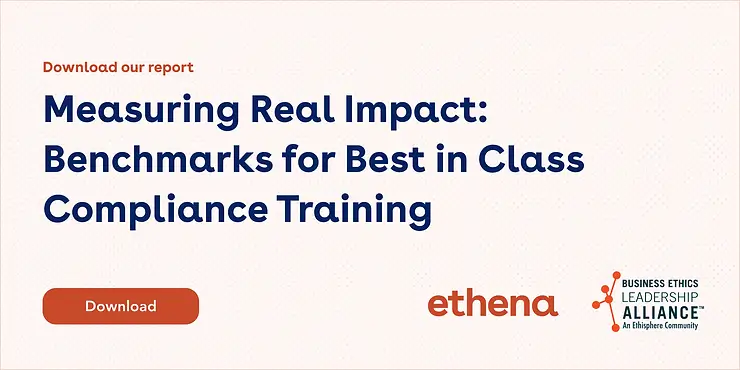 Learn from Ethisphere's third-party research on what makes a Best-in-Class Compliance training provider.
And yes, our training checks the compliance box, so it "counts" for your company's mandated annual training.
A better way to workplace harassment training
By now, you've probably noticed that we aren't your mother's sexual-harassment training. (Partially because your mother didn't receive sexual-harassment training. Sad face.) Not only do we aim to keep our information up-to-date and applicable to today's office culture, we deliver it in a way that keeps your employees engaged. Why? Because we are literally fighting with Instagram for your attention, and the Dodo is so good. We know that. (And we want to rescue every pit bull.)
But rest assured, our wit remains second to our expertise. Our curriculum, anecdotes, and examples are informed by:
The academic experts who develop our content
People Ops/HR professionals who advise us
Legal counsel who keep us abreast to changing laws and regulations
And our own personal experiences
Roxanne, CEO, is a Harvard and Oxford graduate, U.S. army combat-veteran, former McKinsey consultant, and a Rhodes Scholar. Anne, CTO, is a Harvard Computer Science graduate and former senior software engineer at public-safety startup Mark43. With their combined experiences in fields that struggle with gender inclusivity, they decided to apply their respective talents to changing the future of office culture. And so, they founded Ethena.
Anne was excited to use technology not just as a means to deliver training but rather a way to improve training, including personalizing the content and format to the individual. Roxanne was interested in re-packaging academic research and legal jargon to capture participants' attention, to invite them to question and engage with their workplace culture, and, ultimately, to empower them to create change where it is long overdue.
Talk soon
Feel that? It isn't your office's A/C kicking in in November, it's the winds of change. We've got out work cut out for us, but you can be sure we'll keep you updated. We will remain transparent about what we're going through, both as a company — the feats of glory, the growing pains — and the issue we care most about: making the workplace work for all.
Let's build a better workplace together. If you're fed up with ineffective workplace harassment training – let's talk details. Or if you'd like to see our sexual harassment training in action, request a sample today to see it for yourself.

This article has been updated for relevancy in November 2022. It was originally published in February 2020.