You've invested in corporate swag. The caterer is all lined up. And you've invested in some pretty sweet team bonding activities to boot (one day, we'll try out ax-throwing…maybe.) Your next corporate shindig is going to be a blast, and your employees and colleagues will leave refreshed, motivated, and with morale sky-high.
But what do you do if Bob in accounting has had a little too much to drink? And what if . . . stay with us here . . . that leads to inappropriate misconduct like spewing company secrets, or making awkward comments to Amarilis the intern?
How to set expectations and (still) have fun in-person corporate events in 3 easy steps
From holiday parties, happy hours, company offsites, or other in-person corporate events – these are all common places where problematic issues can come up. (Did I mention holiday parties? I have personally witnessed and heard from fellow HR peers that a number of people lose their jobs for inappropriate behavior during holiday season celebrations.)
Step 1: Set expectations on what appropriate behavior looks like – ahead of time
Remind employees of your company policies. Of course it's okay to have fun and let loose. But it's sort of like the old saying: "It's not a joke if you're the only one laughing."
Behavior that makes others uncomfortable, violates company policy, goes against the company values, or would feel inappropriate in any other context is not okay.
Holiday parties are not an excuse for poor behavior. And the rules don't magically disappear once alcohol is involved.
You're still at a work event with work colleagues, and it's important that you behave as such. That means:
No spilling company secrets
No inappropriate comments
No pressuring others to drink more than they'd like
No behavior that you wouldn't be perfectly comfortable having broadcast on the front page of the morning paper
So our top tip to remind everyone is: Have fun. Just don't make it weird.
*Pro tip: Don't just communicate with policy-violators in mind. Think about the employees who might get inadvertently stuck on the other side of poor behavior. Make sure they have clear guidelines on: setting boundaries, speaking up for others, and who they can reach out to if they find themselves in an uncomfortable position.
Step 2: Plan your corporate event with inherent risks in mind
As much as we'd love to live in an ideal world where nothing ever goes wrong, the truth of the matter is, that's just not the case.
When planning the event, it's important that you acknowledge the reality that there will be inherent risks any time you host a corporate event where alcohol is involved. The sooner you do this, the sooner you can make sure to approach your event planning with the right considerations in mind. Whether it's an informal happy hour, holiday party, or offsite, remind yourself that you need to plan around the potential for risk, and it's your job to try and mitigate this to the greatest extent possible.
Some companies approach this by removing alcohol from the equation altogether. While that's certainly one option and your choice to make, that decision comes with its own set of risks, namely:
Lower turnout
A sense of distrust
General employee disgruntlement
Personally, I recommend treating your employees like adults and letting them make their own decisions. Just make sure you're doing your part to help them make better decisions.
In addition to setting clear expectations and reminding your employees not to make it weird, think about the structure of the event itself.
Are you inadvertently encouraging your employees to drink on an empty stomach by kicking the event off with a cocktail hour?
Are you providing enough easy access to food and water throughout the event?
If you have an open bar, are drinks unlimited, or are there a set number of drink tickets you're giving out to each employee?
Are you pairing that ax-throwing event with alcoholic beverages? (Gosh, I hope not.)
*Pro tip: Don't forget about your alcohol-free employees! Non-alcoholic options are a must.
Step 3: Send them training reminders (with Ethena)!
Don't be afraid to lean on less-than-subtle reminders. Send employees training reminders. No, really.
In the context of a holiday party or happy hour, it's woefully easy to forget that you are, in fact, still at a work event and therefore bound by work policies. In that mindset, it's equally easy to forget that there are very real risks and consequences to your behavior, up to and including losing your job.
Your goal shouldn't be to scare your employees. (Nothing kills a good holiday cheer like the threat of job loss hanging over your hand.) But it is important to remind your employees what policies and behaviors they agreed to when joining the company.
By sending them resources like your Code of Conduct policy, refreshers on misconduct trainings, and/or any policies you might have on alcohol consumption prior to your corporate event, you'll cut your risk in half by curbing bad behavior before it gets a chance to start.
So how can you determine which training(s) or company policies to send around ahead of your next in-person social event? It depends.
Microlesson on drinking excessively
There is a time and place for a cool, hoppy beer or a perfectly pink cosmopolitan. But remind everyone – in a human and conversational way while being straight with them – that the rules don't stop applying once you're in-person or the drinks come into play.
Yes, lean on empathy. You don't want to be the person doing "the thing" (see: unwanted behavior from our Harassment Prevention training). But you also don't want to be the person on the other side, having to deal with someone else doing "the thing" to you.
For customers of Ethena, they can use our Code of Conduct – Appropriate Conduct with Alcohol Training Nudge (a short microlesson) to remind all employees of gray area situations prior to your next holiday party or shindig.) Just search the title, find the nudge, schedule the training reminder to go out on your designated date and time – and voila! An automated training refresher has been sent.
Microlesson on what to do at the hotel or bar
If the corporate event I am planning involves a hotel or bar, sending a training in advance to employees with this in mind is also important. For customers of Ethena, they can use our Harassment Prevention – Mentorship and Office Romance Training Nudge to learn (or relearn) how to handle any tricky situations that might come up in those environments.
Below is a sample page of one section of that training, going over consent.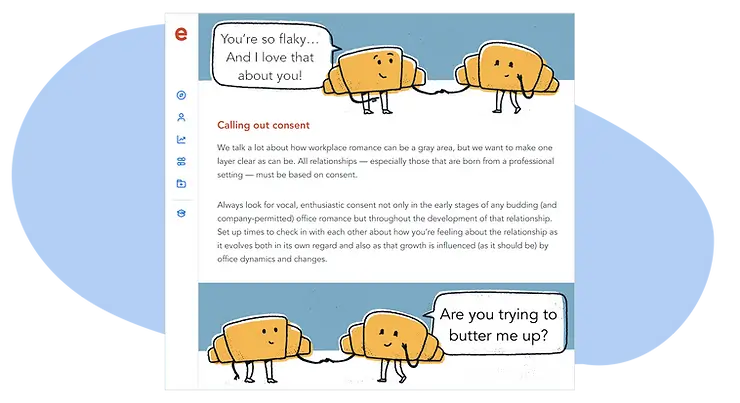 In a nutshell, don't make it weird while at corporate events
Our final takeaway: people get drunk and do not okay things. But now they know the rules: "Have a drink if you like. Hang out with peers. Just don't make it weird."
And if you currently can't send microlessons from your Code of Conduct training to employees yet – why not? Before your next work event, let's talk. Ethena can help!