I spoke with Shelby Wolpa on how she figured out that consulting was right for her. Shelby shares the top questions every HR professional should ask before taking the plunge.
More and more people are starting to refer to their careers as a portfolio rather than as a traditional ladder. Gone are the days of climbing up the proverbial rings and fixating on particular milestones. You know the kind: enter the workforce as an entry level HR Specialist and then one day, if you work really hard, you just might get to be a Chief People Officer.
In its place, people have started prioritizing the buildout of a diverse suite of experiences they can draw from — regardless of tenure or title — as they take on new and previously unexplored challenges. (Check out this HBR article for more on the idea of portfolio vs ladder, plus Ethena CEO's take on the generalist path on Elpha.)
In fact, our Ethena CEO Roxanne Petraeus and I interviewed someone who's taken exactly that kind of portfolio approach to her career: People Leader, Advisor, and Consultant Shelby Wolpa. As someone who's made the leap from salaried HR professional to Consultant extraordinaire, Shelby had some great advice for those of us thinking about consulting as a career path, whether now or just setting ourselves up for it in the future.
Figure out if you really want to make the jump
Making the jump from employee to business owner is a big one! Asking these questions can help you figure out if it's right for you:
Will I be happy consulting?
"It seems that more people than ever are considering making the move from corporate jobs to consulting," Shelby noted. "The ability to have more control over your work and life is appealing given all the uncertainty in the world around us. However, the transition can be full of fears, unknowns, and self-doubt." You may be asking yourself:
Will I be happy working on my own?
Do I have the financial stability to step away from the recurring semi-monthly paycheck?
Do I want to deal with the hassle of setting my own business up?
Do I have a network to leverage? What partners will I need?
What companies want to hear the learnings I have to share?
Indeed, making the leap to freelance work is more complex than making sure the bills are paid. Are you emotionally ready for the uncertainty of where your next consulting job will come from? Will you be happy working with the ups and downs?
Being a great consultant means you already have:
Great people, organizational, and problem-solving skills
A positive attitude
A realistic outlook
Keep in mind that, although you'll find more flexibility in a consulting role (no two jobs will be the same), not every consulting gig will work out. You'll face many failures along the way, and not all client-consultant relationships end in success. Keep a learning-focused mindset, believe in yourself and the experience you have to offer, and take each failure as an opportunity for growth.
Does this further my career goals?
Here's how Shelby answered the question, "What are your personal & professional goals that make consulting appealing?"
In Shelby's case, she had a few goals for this next chapter of her career:
Scale the learnings she had gained in her career to lots & lots of companies to grow her impact; not just her impact with her one employer at a time.
Ability to work more in the areas of her field that she was most passionate about, which for her was hyper-growth people strategy and remote/distributed work, and no longer having day-to-day operational responsibilities.
Mentor the next generation of up & coming people leaders.
Select clients that she aligned with philosophically – where she believed in their mission, values, and culture.
Work less, and earn more.
Have greater flexibility with how she spent her time and have more time for herself, her family, and her community.
Knowing your goals is one of the most important first steps. Make these specific, write them down, and refer to them often when preparing to make the leap. They'll help guide you through the first year or so, and they'll help you measure your progress.
Can I run my own business?
Starting your own business is a handful of small headaches in itself, and there's no guarantee that you'll start making regular income right away. Are you ready to tackle the task of setting up your business and are you financially stable enough to start this phase of your career?
Eventually, most consultants will need:
A professional website
An emergency fund
An LLC and corporate bank account
And a million other things that pop up along the way
Can I market myself?
It can be easy to forget this crucial step when thinking about emotional and financial instability, but knowing how to sell yourself is essential for running your own consulting business. What unique skills do you have to offer? Do you have a solid network and/or partners to help you get started? Think back on your own career history: What kinds of companies would be thrilled to work with you and gain from the lessons you've learned in your career so far?
If you're uncertain about this last point in particular, ask around. Talk to your connections that have made the transition into consulting already and reach out to potential future customers. For Shelby, who's worked with many successful venture capital firms (VCs), for example, reaching out to her network meant an affirmation she was making the right choices and some great first steps for building a customer base: "When I started pitching to [VCs] the idea of me going out on my own, they were excited and could think of many companies in their portfolio I'd be a good fit for."
Another Marketing Angle: What Types of Roles Should I Fill?
HR Consultants are hired for all kinds of different roles. Start with your experience and the types of roles that excite you the most. It may be helpful to market yourself as a specialist in Recruiting and Hiring, Compensation, Benefits and Total Rewards, or specifically interim Director of HR roles.
What's next?
If you went through these questions and feel like you're ready to at least dip your toe in the water, check out Shelby's Getting Started as a Consultant Guide where she offers much more detail and learnings on setting up your own company, as well as our 3-step guide to becoming an HR consultant.
Less tactical, but more on the emotional side: you'll want to prepare yourself for the inevitable mistakes and failures that come with taking a big leap. These are good and show growth! But they're also hard – check our CEO Roxanne's blog post on how she changed her relationship with failure. If you've got the experience, know your network, and are emotionally ready for running your own business, you're already a step in the right direction.
About the expert: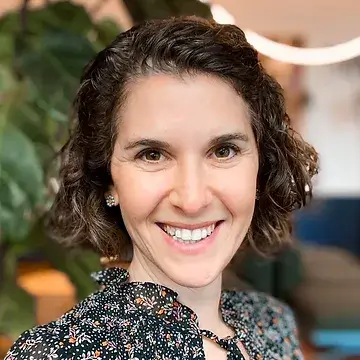 As a People Ops expert whose experience ranges from scaling hypergrowth startups to unicorn+ status (like Instacart, Palantir, and others) to advising CEOs, People Leaders, and Venture Capital firms at Shelby Wolpa Consulting, Shelby has a lot of experience making the transition from salaried employee to independent consultant.
---
Ethena is a compliance training platform with intuitive and powerful admin tools, built to make training easy, engaging, and effective.
Interested in exploring Ethena's training solution? Talk to a member of our team.