We want our Engineers to stick with us for the long run, and how we pay them should reflect that.
This article was originally published to Medium.
I'm excited to announce that today we're making Ethena's engineering salaries and formula-based pay structure completely public. To add context to these numbers, we're also publicizing our engineering levels documentation (so everyone can know what we mean by a "Software Engineer II"). All of this is an exciting experiment, and one that stems from our desire to grow our organization thoughtfully and transparently. I've written in the past about tech companies paying generously to win talent in the open market, but then struggling to retain that same talent with short-sighted approaches to rewarding their existing team.
At Ethena, we want engineers to stick with us for the long run, using their ever increasing domain knowledge to build their impact over time. This is why we've designed a salary structure that grows predictably year over year and increases even more aggressively with strong performance reviews. Additionally, all future increases we make to our base salaries in order to win top talent in the open market will be given to our existing team, full stop. If you just came for the headline and want to check out our numbers, see below. The remainder of the article will talk through how the formula works in more detail and how we plan to adjust these numbers over time.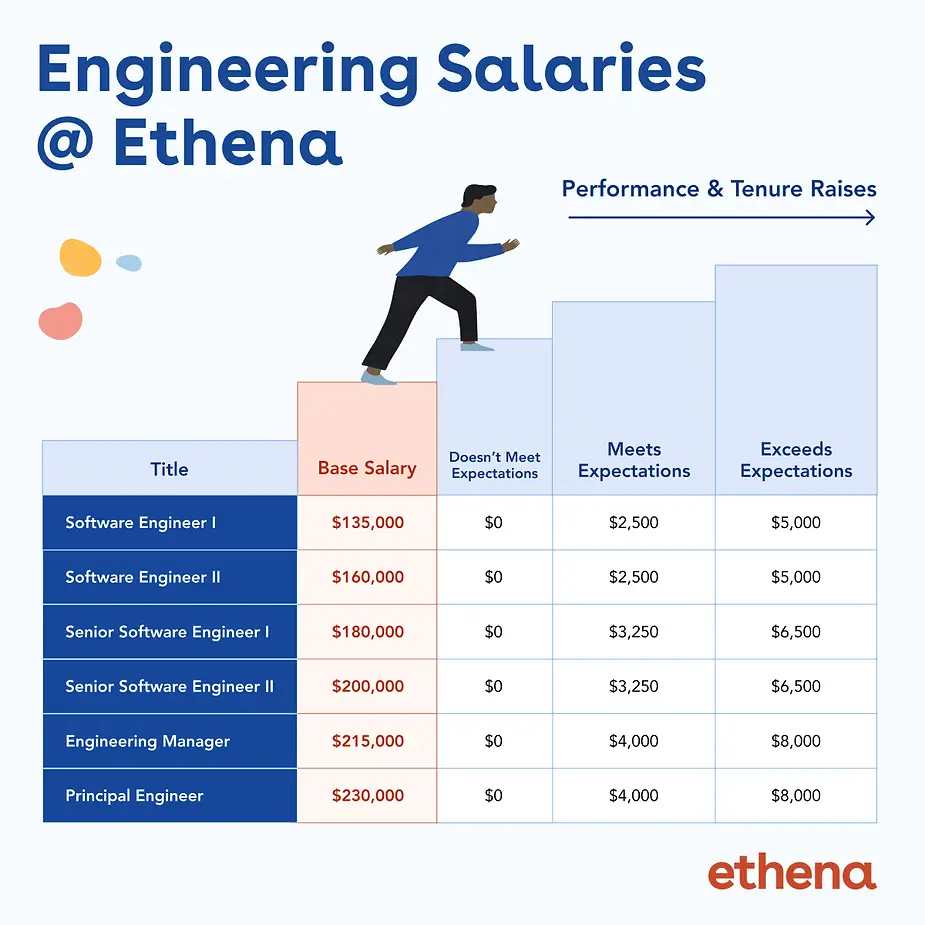 Now for the fun part, math! An engineer's base salary is determined by their current level. Every 6 months, Ethena holds performance reviews, and engineers will receive a raise based on their performance as laid out in the chart above. The interesting part is that this raise is cumulative. So for example, let's say you were to join Ethena as a SSE I with a base salary of $180,000. You spend 18 months with the company, participating in 3 performance review cycles, meeting expectations with each one, so . . . *checks the chart, multiplies by 3* . . . your base salary is now $189,750. Now, that might not seem like the largest raise in the world, but if during the next performance cycle you were to be promoted to SSE II, your total compensation would jump to $209,750, keeping all of the performance and tenure base increase you have accumulated so far at Ethena. An engineer who exceeds expectations for 3 cycles before being promoted would have a total cash compensation of $219,500!
The long and short of it is that we want to incentivize our engineers to stick with Ethena, build domain knowledge over time, experiment with different areas of focus, and most importantly find opportunities to grow within our organization. These cumulative raises will also apply retroactively to our early team, and in our humble opinion, they deserve it!
Additionally, every engineer at Ethena will benefit from all future increases to our base salaries. We will adjust them over time in response to market pressures and as the company moves through rounds of funding and matures. The rule is simple: the recruiting team and I can only offer our base salary to candidates, no exceptions. If we find that we are unable to meet our hiring goals with our current level of pay and we need to increase it, everyone on the team benefits. This creates balanced incentives, where on the one hand we have a responsibility to our investors to use capital efficiently, but on the other hand, we need to present competitive salaries to the open market in order to hire great engineers and build amazing things.
One last note: Ethena provides generous equity in addition to cash compensation, but the details of equity are a bit trickier to make public. I can say that we share this information openly with candidates who make it to the later stages of our interview process, including the % of the company that your stock options are worth.
---
If you're interested in joining our engineering organization, we're actively hiring engineers and engineering managers for our remote-first teams out of the US and Canada, and pay does not change based on your location. Canadians, you get the CAD equivalent to the USD in the above chart