Hip-hip-hooray for the existence of HIPAA! We've written previously about what is HIPAA training, why you would need it, and how it could apply to your workplace. But today, we're going to dive into more specifics on online HIPAA training, why you may have ignored it in the past, and who it may be geared towards.
What exactly is online HIPAA training?
While most online HIPAA training for employees is geared toward medical professionals, that leaves out the many folks who work with sensitive personal health information (PHI) on a regular basis (we're talking daily here).
With that in mind, Ethena's online HIPAA training was designed to approach need-to-know HIPAA material through the lens of a tech company, offering up the best ways to both identify and correctly handle PHI. Its purpose is to ensure that everyone — not just leadership and managers — receives the same foundational understanding and knowledge of how to be HIPAA-compliant.
What does PHI actually include?
PHI covers a wide range of information. It typically includes:
Individually identifiable health information for physical and mental health
The provision of care surrounding these health services
The payment of care for the above health services
It's important to note that the protective umbrella of security applies regardless of when this information has been collected, i.e. even if it was collected in the past, is presently being collected, or will be at a later date.
Here are a few examples of PHI:
Date of birth
Hospital admittance and discharge dates
Medical record numbers
Social security numbers
Biometric data (like finger and voice prints)
Telephone numbers
Email addresses
Facial photos or other images
And more
In other words, a lot of information can fall under PHI. One way to look at it is if a person can be identified with a specific piece of health-related information, it's likely to be considered PHI.
What's the difference between in-person and online HIPAA training?
Ethena's online HIPAA training is designed for U.S.-based tech companies with a workforce that primarily sits at a desk with a desktop or laptop. This can include contractors, part-time, full-time, and temporary workers. You could say this is a "wired" workforce (folks wired in to work through Wi-Fi).
Whereas, a workforce is "unwired" when employees typically spend their day not "wired" into a computer – think professions in retail, hospitality, or in a hospital.
So while most HIPAA trainings out there are intended for "unwired" professions and can typically be conducted in in-person settings, our online HIPAA training was designed for "wired" professionals. And it lets them learn foundational knowledge to collect, use, handle, and store PHI –– keeping it secure at all times.
Another benefit of online HIPAA training is it can be accessed anytime and anywhere! Either from a mobile device or on a laptop, the information is always accessible and easy to keep top-of-mind.
Some background on HIPAA
Let's start at the top: HIPAA stands for the Health Insurance Portability and Accountability Act. HIPAA is comprised of a series of five laws, established between 1996 and 2013, all of which were designed to manage PHI.
In essence, this series of laws ensures that an individual's health information is not shared without their awareness or consent. That's the key takeaway here –– HIPAA ensures data privacy is maintained for every individual as it relates to their health information.
How does HIPAA work?
HIPAA compliance certifies that individually identifiable health information is kept private and secure by those who handle it. It sets forth the procedures to follow if an informational breach occurs, and establishes the standards and requirements required to enforce these rules.
The takeaway: Taking online HIPAA training (like the one we offer at Ethena) assures that those who touch or use PHI are aware of the best practices –– and abide by them –– in regards to keeping sensitive information safe and secure at all times.
So… how do I know if I need HIPAA training for my employees?
In a nutshell, if your employees handle health information that pertains to an individual, they likely need to take HIPAA training. For full context, "handling" includes:
The processing of claims
Administrative tasks
Data analysis and aggregation
Legal
Accounting
Actuarial
Benefits management
And more
Those who manage such sensitive health information are typically known as BAs or Business Associates. BAs touch or use PHI in coordination with CEs, or Covered Entities.
CEs can include:
Healthcare providers
Hospitals
Health plans
Healthcare clearinghouses (and at times, employer-based health plans as well)
To ensure all parties are clear on the standards and requirements, BAs and CEs usually enter what's known as Business Associate Agreements (BAA).
What all goes into online HIPAA training?
We cover a broad scope of topics in our HIPAA online training:
Orientation (what HIPAA is and its purpose)
HIPAA Basics (including common terminology and its real-world application)
HIPAA Legal Landscape (includes HITECH and Omnibus Rule, split into two short modules)
Consumer Rights and Privacy
Violations and Penalties
PHI and Security Safeguards
But not only do we cover a broad scope of topics, we deliver it in an engaging, effective way. From graphic novels, narrative stories, and media-rich content, we pride ourselves in delivering unique and quality content so that our training can both equip and stick.
Okay, HIPAA training is important. But what makes HIPAA online training effective?
Online HIPAA training provides seamless access to people in every sector of the healthcare tech space –– from those who frequently are in business with healthcare providers, medical device companies, or clients who handle PHI. It's also key for internal teams who may come into contact with company health plans, like HR for instance, to have training around keeping employee PHI safe.
Many (many) people can access our online HIPAA training.
How does Ethena's online HIPAA training stand out?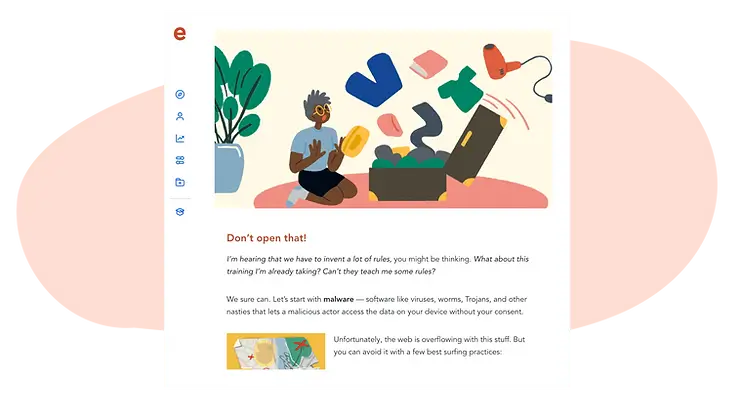 Our HIPAA training is written for tech employees (not doctors).
Our course gives learners the tips, tools, and best practices for identifying and properly
handling sensitive personal health information, with an emphasis on tech-relevant
specifics. So we're skipping situations with scrubs and suits, and serving up scenarios
that make sense for employees in the tech sector.
Stamped with the Subject Matter Expert seal of approval.
We work with subject matter experts (SMEs) throughout the content-creation process. From curriculum-building all the way through to quality assurance (QA) — we ensure that our training is both relevant and up-to-date. And before publishing, all material is reviewed and vetted by our team of legal experts (we're not kidding around about being accountable here, folks).
Short, relatable, and inclusive content.
Look, we're familiar with the groan that tends to emanate from employees when the word "training" pops up on their calendars. But that's not Ethena. Our content is produced by creative writers, includes real-world (timely) examples, and is peppered with plenty of visual appeal (we work with everyone from comic book artists to animators and video producers to keep courses like our HIPAA online training as enjoyable as possible).
And though the training you're used to may not typically align with your company's DEI initiatives, that's not us either. Ethena uses a research-backed approach to include racially- and culturally-diverse identities, plus inclusive language to keep scenarios feeling authentic, relatable, and validating.
Delving into the world of HIPAA employee training
Ready to ditch your outdated HIPAA training? Let's talk! And if you'd like to see a sample of another one of our trainings to get an idea of how our content delivery and quality has no competition, request a sample training today.