The secret recipe to a positive work environment starts with filling out a "How to Work with Me" questionnaire
As a remote team, Ethena has tried out many team activities in an effort to help our teams work better together and feel closer to one another between their home offices. As our team has grown, there are a handful of practices that we've found to be essential to building an inclusive, healthy, enjoyable, and communicative workplace.
Ethena's "User Manuals" are one such idea that has become a permanent part of our onboarding process for new employees. During their first week on the job, employees are given their own User Manual template–a short list of insightful questions on how they like to work–and pointed to the already-filled-out manuals of their teammates as a reference. Filling out a User Manual involves answering some questions about their personality, work style, communication preferences, what they need in a manager, and more. And once they're finished, they pass it to their new team to read while studying up on the manuals of their peers, so everyone starts on the same page.
We see our User Manuals as a useful way to engage new hires, learn more about them, and give them a jumpstart to better conversations with their new team. It is especially impactful in a remote work setting, and it certainly beats your run-of-the-mill icebreaker. What's important here is understanding how everyone works best, and we appreciate how people with different learning, working, and thinking styles help make our workplace more efficient and inclusive.
Curious about getting started with your own User Manuals? Start with our downloadable template!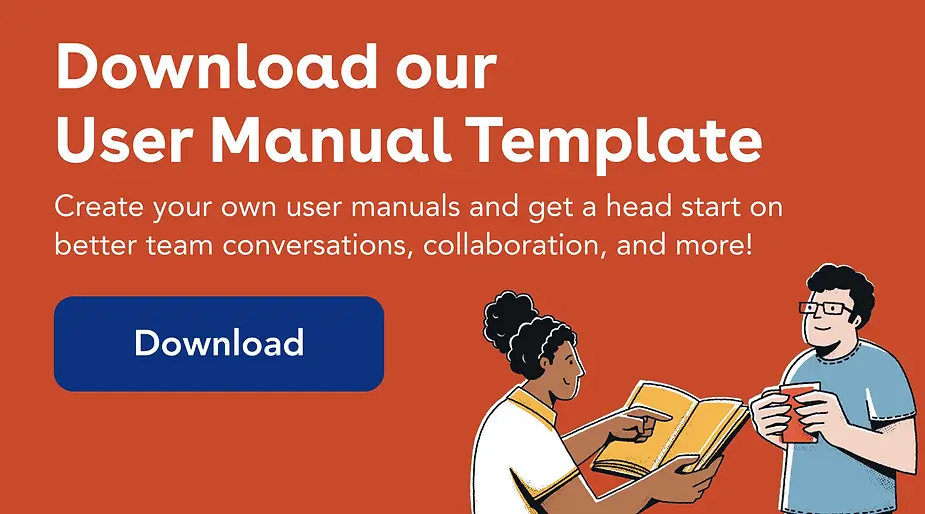 Why It Works
Whether you're a manager with a batch of new hires or a new team member looking for a shortcut to better team communication, User Manuals can be a low-lift, flexible solution. Here are some of the benefits:
Get to know each other faster
When starting a new job, most people get introduced to their supervisors and key coworkers, but it can take months of working together to truly get to know everyone's working styles, habits, strengths, and weaknesses. And long-term issues with communication can lead to frustration and disappointment.
Starting with the User Manual questions and their answers is a great way to manage expectations up front in an equitable way. By starting with transparency and openness, User Manuals also helps build a foundation for the best possible communication and collaboration.
It helps with remote teams
Whether working fully remote or hybrid, those of us who interact with coworkers without seeing them in person from day to day (if ever) don't get the same cues from body language, tone of voice, and other physical things you tend to pick up on when working alongside others. User Manuals help bridge the gaps in remote communication.
It allows for vulnerability early
A year ago, the CEO of HVR Software, Anthony Brooks-Williams, shared how he started User Manuals with his leadership team in Inc. Magazine. He was surprised by the amount of vulnerability he saw in the responses, and he learned a lot of new things about his colleagues that he'd been working with for years. Sharing candid responses this way can create an opportunity for all workers to feel seen and heard in their workplace.
If you're interested in starting User Manuals for your own team, here are a few tips!
Start with a template! Research to find questions from other User Manuals that you like. Click here to access the template we use here at Ethena.
Leadership buy-in: Bring this up with your supervisors and explain the benefits, which can include relevant articles. Share your perspective on the idea to get their approval. If you are in a management position, think about the best way to roll this out to your company. Discuss and plan with other supervisors if applicable.
Start small. Depending on how big your company is, it might be beneficial to start with a smaller team and go from there. See how your core group of colleagues responds to it and then roll it out to the rest of the company in stages.
Take it from us . . .
For Ethena's employees, User Manuals have been a welcome tool to get to know each other in our remote workspace. Here are just a few of the glowing things our team has to say about them:
"They are super helpful for onboarding! Getting to know people can be tough but the added context from a User Manual makes it easier!" –Laura Kuhn, Content Operations Lead
"It's always so helpful to know any team member's preference for feedback and the way they'd like to receive information. I've been able to leverage user manuals before giving a team member feedback and also before I ask them a question/favor or provide them an update. For example, some of my team loves to have context ahead of time and others prefer to be caught up live about an update." –Amanda Porter, Sr. Talent Acquisition Specialist
"As humans, we tend to allow all sorts of biases and assumptions to enter our brains whenever we interact with someone new. But rarely, if ever, do you get the chance to correct or improve your opinion of someone once those opinions are formed. So how brilliant is it to have access to a tool like our colleagues' user manuals, where we can glean insights into their mindset, approach, and temperament and presented in their own words!" –Swathi Reddy, Sr. Content Writer
"It's a really great opportunity for goal-setting and self-reflection. 'How do I best like to give and receive feedback?!' she ponders over her Google doc." –Mallory Weiss, Sr. Content Writer
"I love revisiting mine months after writing to see the things I thought I needed to worry about that were such an issue at previous jobs . . . and have never come up once at Ethena. ????" –Alexis Rhiannon, Principal Content Writer
---
Interested in building a healthy company culture for your remote team? Start with Ethena's best in class training platform! Take a look at Ethena's Courses page to get started.