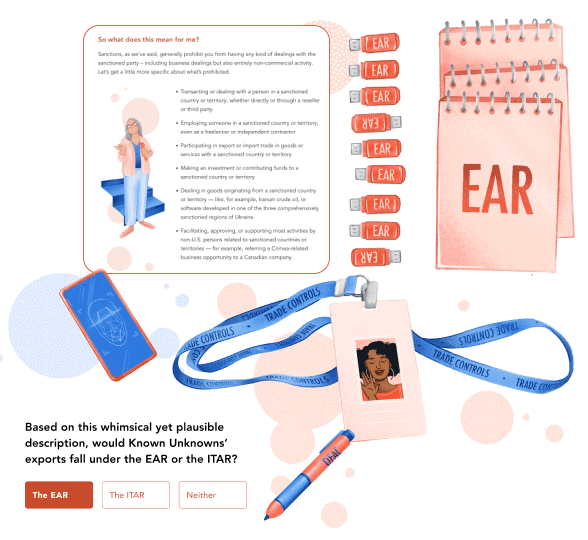 U.S. Export Controls & Sanctions Training
94% Positivity Score
1.4M Learner Ratings
Did your eyes just glaze over with that title? We know export controls and sanctions can be a little dry – and a little daunting. Don't worry, we designed this course with real world examples and a clear, concise approach that learners relate to. No eye drops necessary.
Try our export control training for yourself:
What's covered in Ethena's Export Control training?
This course gives learners a baseline understanding of U.S. export controls laws as well as sanctions. With real-world examples of litigation and scenarios that resonate with a learner's actual workflow, we demonstrate that learners are likely closer to export controls and sanctions concerns than they might realize.

14 minutes
3 training modules
Additional languages available
Customize content
Created with U.S.-based tech companies that work with international companies
Deliver via Ethena's LMS or your LMS solution
US Export Controls
Foundational terms and concepts
Defining exports
Employees' critical role in following the letter of the law
Rules & Regulations
International Traffic in Arms Regulations (ITAR)
Export Administration Regulations (EAR)
Office of Foreign Assets Control (OFAC)
Red flags, risk areas, consequences of noncompliance
Export Licenses / Classification
Embargoes and Sanctions
Which countries are off limits
Which lists to check
How software is classified as an export, importance of classification
Distribution concerns
Red flags, risk areas, consequences of noncompliance
Skills learned
How to recognize areas of risk concerning U.S. export controls, sanctions, and anti-boycott laws
How to identify workflows in which U.S. export control regulations might be at play
How to react to potential exports concerns — and the tools to respond appropriately
Why train your teams on U.S. Export Controls & Sanctions?
While the internet doesn't have borders, the real world does, and it's up to each organization to understand how shipping product across the globe might cross the invisible line between legal and illegal. It's critical for tech and software teams dealing with global distribution to offer export control training in order to understand the basics around properly exporting within the law.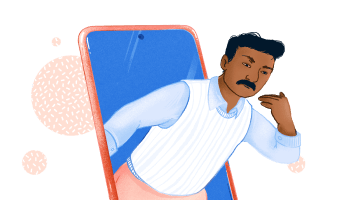 Oh, FAC
Many software tech companies are caught by surprise when large fines are handed down by the Office of Foreign Assets Control. The best offense is a good defense, so prep your learners with the knowledge and skills to avoid litigation and fines.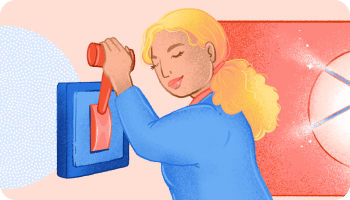 Let's get technical
There is very little about U.S. export controls and sanctions that is "common sense" (lots of regulatory language and checking government watchlists) so training is essential to ensure employees understand their legal obligations.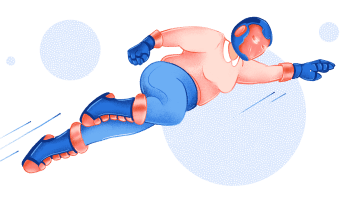 Sanctions come, sanctions go
Exporting is complicated at the best of times, but when sanctions are actively being employed as a means for global political influence, employees need to have a solid foundational understanding of the role sanctions play in their work to keep up and out of danger.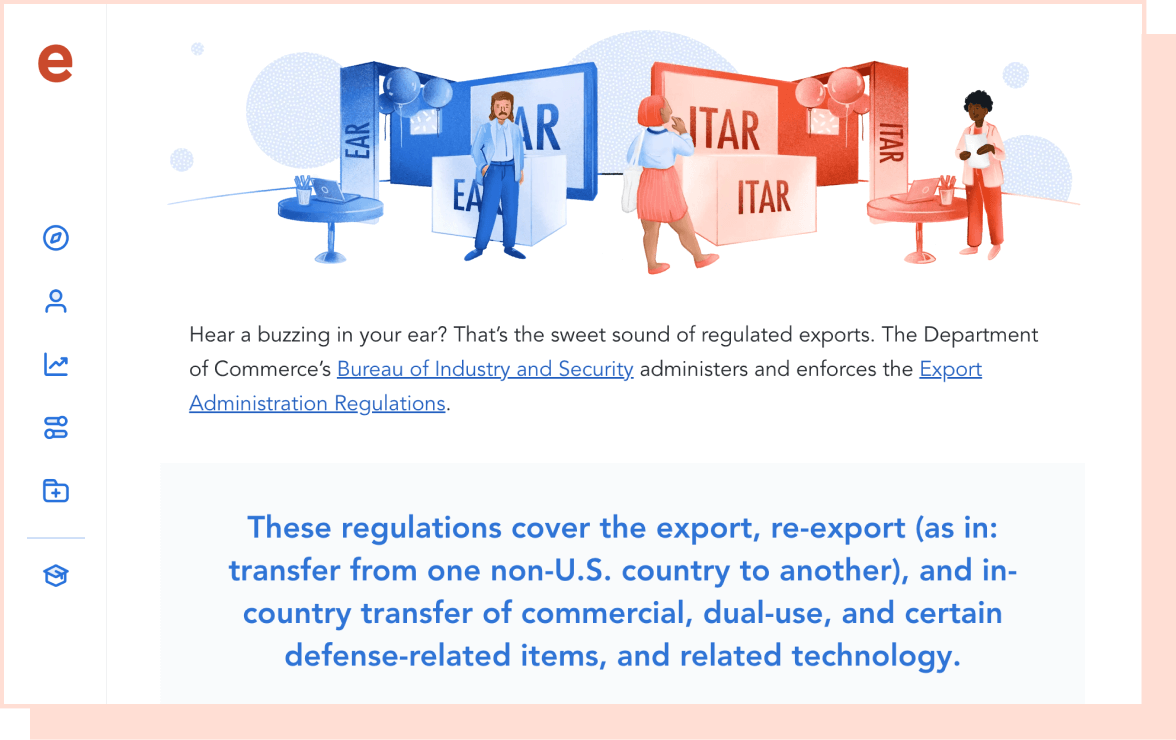 Try it yourself – for free!
We know seeing is believing, so we've made it possible for you to test-drive our best-in-class Export Control training today — on us, naturally.

The right content, on the right platform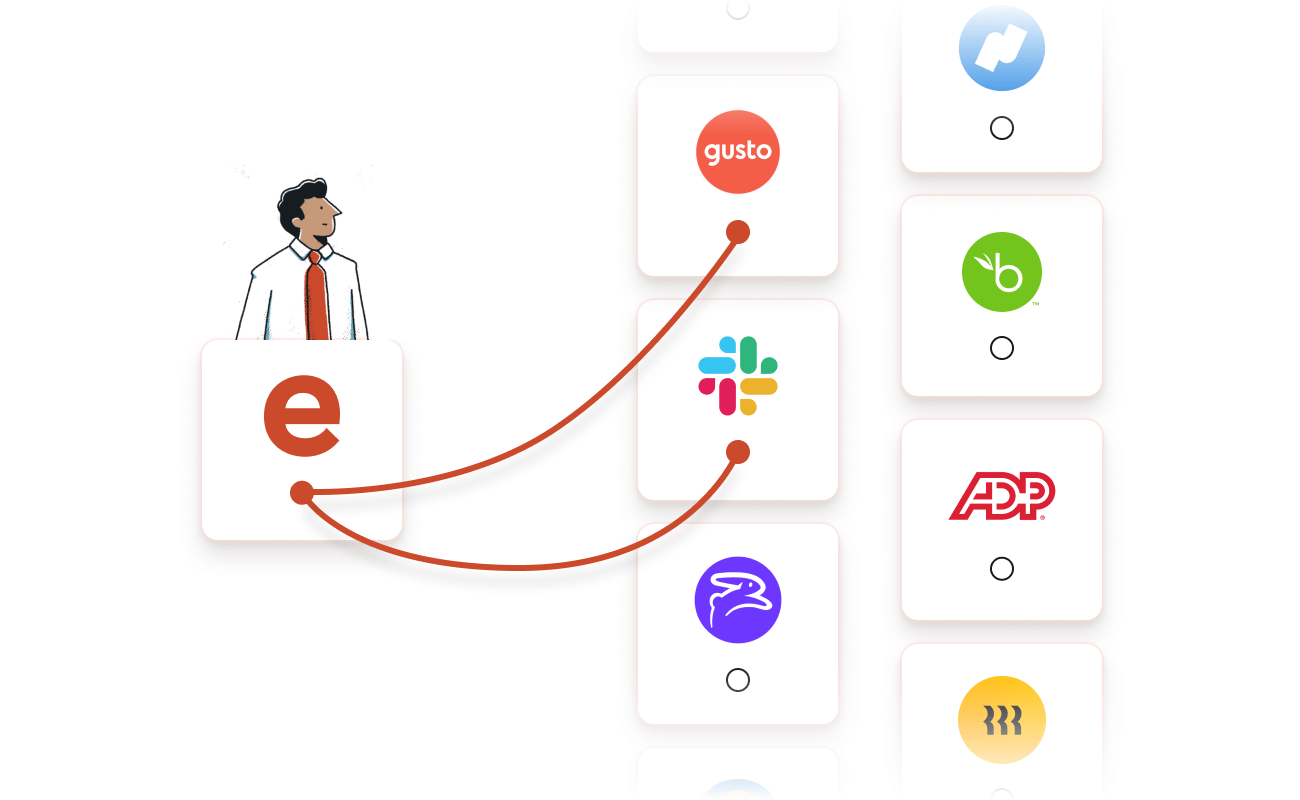 Flexible integrations and training delivery
Deliver training exactly where you want with hundreds of integrations.
Host Ethena training on our LMS or yours
HRIS integrations for seamless employee management
Email, Slack and ZoomChat training notifications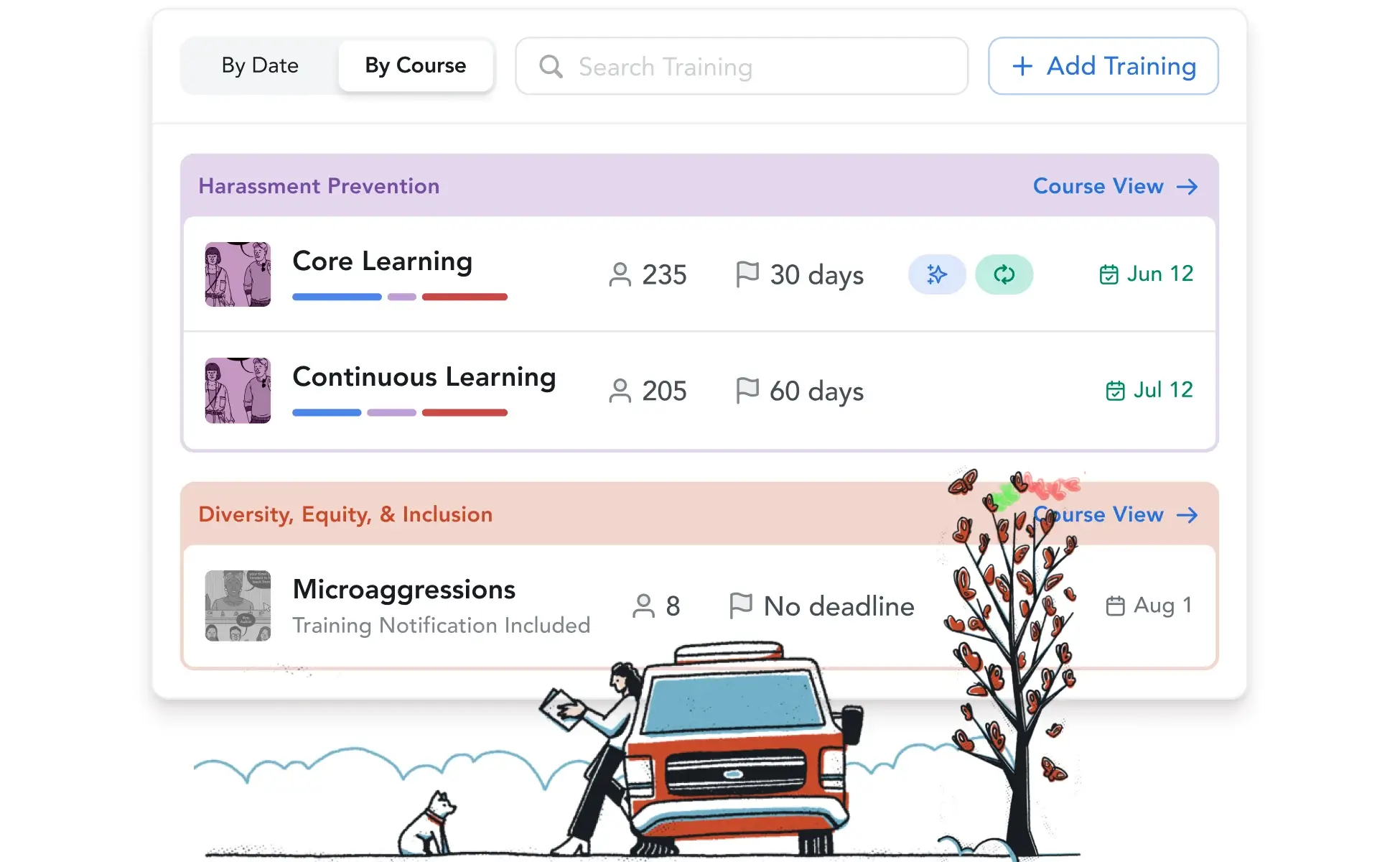 Easy and accurate reporting tools
Our analytics dashboards track training completion and provide in-depth reports.
Slice metrics by department, location or role
Export reports for regulators or third parties
Dive deeper with custom analytics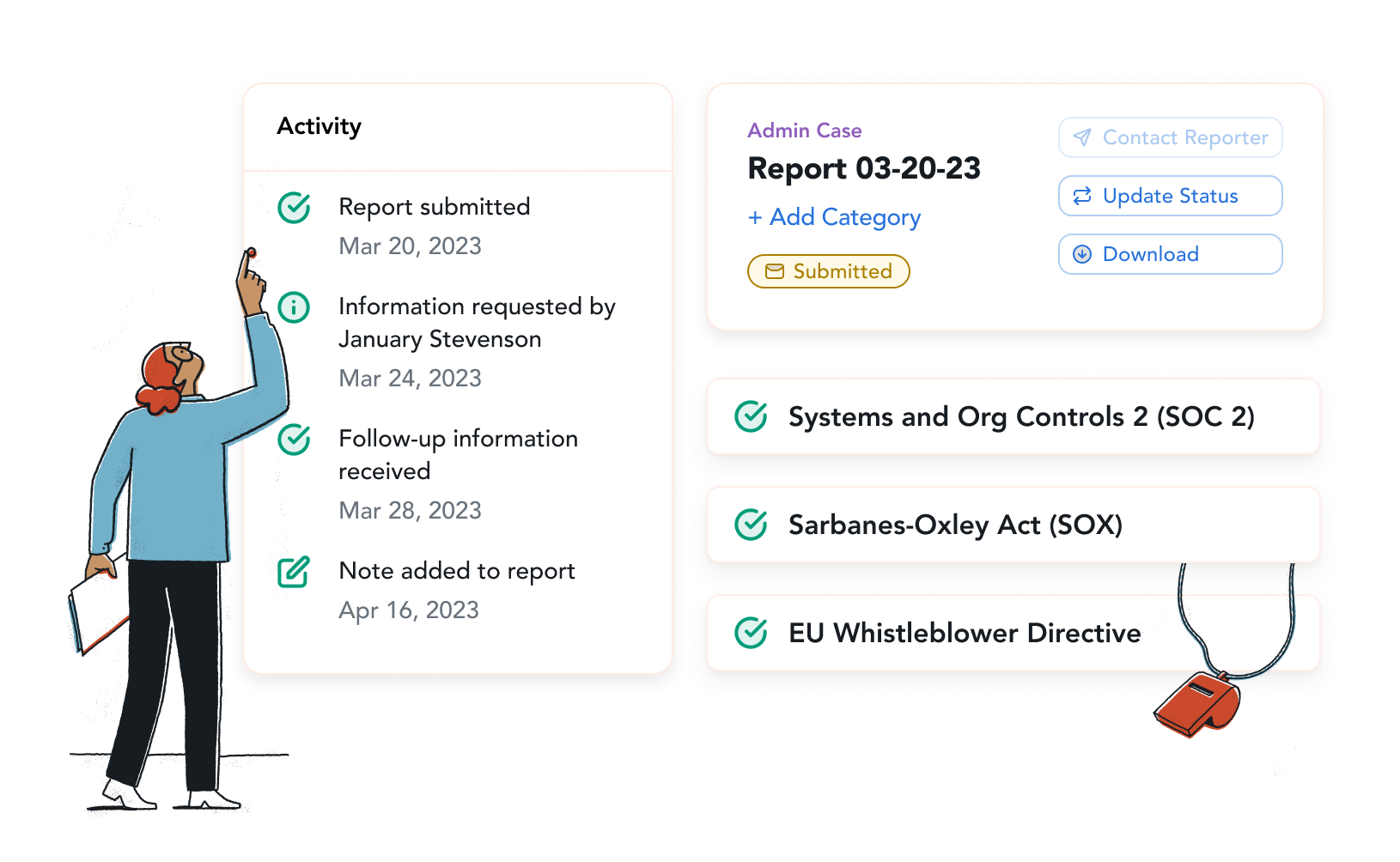 Enhanced hotline and case management suite
Give your team the tools to navigate tricky situations at work.
Encourage employees to speak up with misconduct reporting
Track and respond to concerns with case management
Meet whistleblower hotline requirements (SOX, SOC II, EU Whistleblower Directive)
Other courses we think you'll like
This course pairs well with a white wine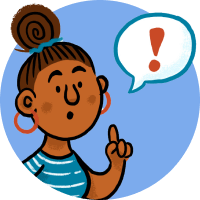 Harassment Prevention
Go beyond check-the-box regulation requirements to inspire your learners to foster healthy and inclusive workplaces with our Harassment Prevention course.

Take a look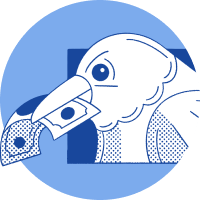 Anti-Bribery and Corruption
Give a foundational understanding of the legal do's and don'ts with our Anti-Bribery and Corruption course – all without heavy legal jargon.

Take a look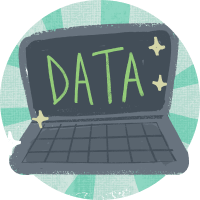 Data Privacy
From GDPR to CCPA/CPRA and beyond, our Data Privacy course covers the complex legal landscape of data protection.

Take a look